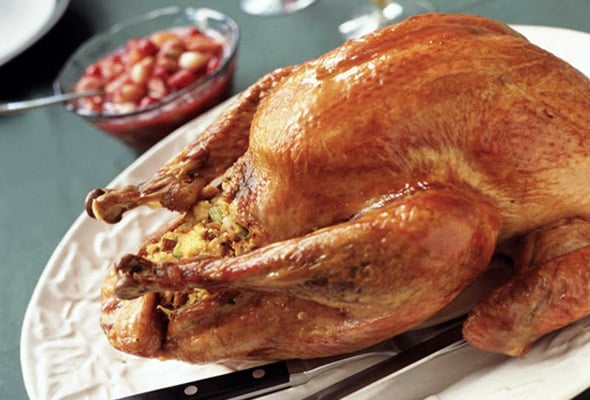 To make this stuffing, you'll need to first dry the bread. Spread the bread cubes out onto 2 large baking sheets and dry in a 300°F (150°C) oven for 30 to 60 minutes. Let the bread cool before using in the stuffing.–Editors at America's Test Kitchen
LC Storied Stuffing Note
This rich stuffing recipe turns out the stuffing of our dreams, a turkey accompaniment that's just like we'd always imagined in our Rockwell-ian musings about what Thanksgiving could be like. We suspect it has quite a lot to do with the pound of bacon….
Bread Stuffing with Bacon and Apples Recipe
Quick Glance
25 M
1 H

Makes about 12 cups
Ingredients
1

pound

bacon

, cut crosswise into 1/4-inch strips

6

medium (about 7 cups)

onions

, peeled and thinly sliced

1

teaspoon

salt

2

(about 2 cups)

Granny Smith apples

, peeled, cored, and cut into 1/2-inch dice

1/2

cup

fresh parsley leaves

, finely chopped

3

tablespoons

minced fresh sage leaves

1/2

teaspoon

freshly ground black pepper

3

pounds (about 12 cups)

high-quality white sandwich bread

, cut into 3/4-inch cubes

1

cup

turkey or homemade chicken stock, or low-sodium canned chicken broth

3

large

eggs

, lightly beaten
Directions
1. Cook the bacon in a large skillet or Dutch oven over medium heat until crisp and browned, about 12 minutes. Remove the bacon from the pan with a slotted spoon and transfer it to paper towels to drain. Pour off and discard all but 3 tablespoons of the bacon drippings.
2. Increase the heat under the skillet to medium-high and add the onions and 1/4 teaspoon of the salt. Cook until the onions are golden in color, making sure to occasionally stir and scrape the sides and bottom of the pan, about 20 minutes. Reduce the heat to medium and continue to cook, stirring more often to prevent burning, until the onions are deep golden brown, another 5 minutes. Add the apples and continue to cook another 5 minutes.
3. Transfer the contents of the pan to a large bowl and add the parsley, sage, remaining 3/4 teaspoon salt, and the pepper and mix to combine. Add the bread and gently stir again.
4. Whisk the broth and eggs together in a small bowl. Pour the mixture over the bread, add the bacon, and gently toss to distribute the ingredients. Once the stuffing is evenly coated, stuff it in your favorite roast turkey recipe or place it in a casserole dish, cover, and bake while the turkey is in the oven. If you prefer a crisp topping, uncover the stuffing during the last 45 minutes or so of baking.
Hungry for more?
Chow down on these:
Testers Choice
Testers Choice
Nov 12, 2009
This stuffing awakens memories of home and family. It's easy to prepare, perfumed the house, and was even better to eat. I found that 2 loaves bakery bread gave me the 12 cups bread cubes, plus a little extra. I used only the 12 cups called for in the recipe. I did have to search for fresh sage but was finally able to find it. I think a suggestion for the use of dried sage would be helpful if fresh was not available. The apples added a nice sweetness to the stuffing and the bacon added a delicate smokiness. We baked this in the oven as we were smoking our turkey outside. I baked the stuffing with 4 turkey thighs on top to add that "stuffed turkey" flavor we all wanted. The end result was a stuffing that was moist, delicious, and brought back memories of past family gatherings.
This recipe is a real keeper for the holidays.