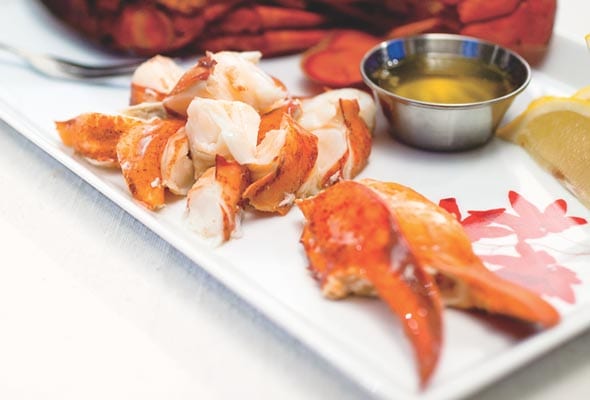 Steaming lobster is a great way to prevent overcooking its delicate meat. Knowing how to properly crack and eat a steamed lobster is as impressive a skill as being able to cook one. Special equipment needed for cooking and consuming lobsters are kitchen shears, tongs, crackers, bibs, and, of course, napkins to wipe your chin!–JoAnn Cianciulli
LC Plain and Simple Note
The aromatics added to the steaming liquid and the drawn butter impart a lovely lilt to the lobster, although they are, of course, optional for those of you who prefer things plain and simple.
Steamed Lobster with Drawn Butter Recipe
Quick Glance
15 M
30 M

Serves 4
Ingredients
1

tablespoon

kosher salt

1/2

bunch

fresh thyme

4

bay leaves

4

lemons

, plus more for serving

4

live lobsters (about 2 pounds each)

1

cup (2 sticks)

unsalted butter

1

tablespoon

finely chopped fresh flat-leave parsley

1

tablespoon

finely chopped fresh basil leaves
Directions
1. Fill a large steamer or stock pot with about 2 inches of water and add the salt, thyme, bay leaves, and the juice of 1 lemon. Add the halves of 2 lemons for extra flavor. Bring to a boil.
2. Place the lobsters in the steamer basket or directly in the pot, cover, and allow to steam until done, about 15 minutes. The lobster shells will be bright red and the tail will be curled when they are done. Remove the lobsters from the pot and cool to room temperature. Chill thoroughly in the fridge before cracking open.
3. Meanwhile, heat the butter in a small pot over low heat. Warm it up gently so the milk solids begin to cook and sink to the bottom of the pot. Keep a close watch because once the milk solids collect and fall, they burn easily. Carefully pour the clear butter into a small serving dish, leaving the solids behind in the pan. If necessary, strain the drawn butter to remove any pesky lingering solids. Squeeze the juice of 2 lemons into the drawn butter and stir in the parsley and basil. Serve the steamed lobster with the drawn butter and lemon wedges.
Mastering the Basics: Cracking Steamed Lobster
1. Twist off both of the claws from the body. Separate the claw and knuckle by snapping it like a twig.
2. Pull off the small legs from the body and remove the meat with a lobster fork or, if you prefer, suck out the meat and juice. Turn the body over and scoop out the meat from the pockets. There may be a green substance called tamale, which is actually the liver and is considered a delicacy by some but certainly not all.
3. Use a lobster or nutcracker to crack the large claws just below the tip. Pull off the shell and remove the meat in one piece.
4. Twist the head and tail of the lobster in opposite directions, separating the tail from the body.
5.Break off the tail fins. Stick a fork inside the tail to pull out the meat in one piece, taking care not to tear any of the flesh.
Hungry for more?
Chow down on these: