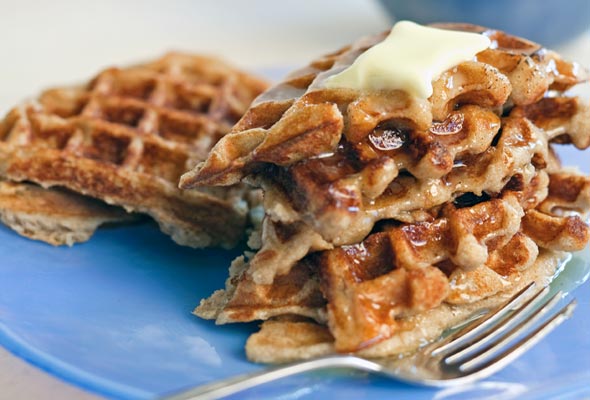 One of the ironies of going gluten-free is that you'll be forced to start eating more whole grains than ever before in your life. Without enriched white flour, you have to turn to more interesting grains. Use these multigrain and gluten-free waffles will actually improve your health. And they taste like more than cardboard.
We both grew up eating Eggos waffles occasionally. If you miss the pop-and eat convenience, you can make up a big batch of these gluten-free waffles ahead of time and freeze them in airtight containers. Bingo—healthful toaster waffles!–Shauna James Ahern and Daniel Ahern
All About Teff Note
This recipe calls for several whole-grain flours, including teff. Teff flour is dark in color and has a taste almost like molasses. Originally from Ethiopia, teff is the smallest grain in the world and is packed with a nutritious wallop: one-quarter cup of whole-grain teff has one-third of the iron you need for the day.—Shauna James Ahern and Daniel Ahern
Gluten-Free Multigrain Waffles
Quick Glance

(1)

10 M
1 H, 15 M

Makes 8 waffles
Print Recipe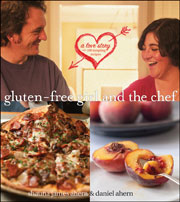 Ingredients
Email Grocery List
Directions
Place the tapioca flour, sorghum flour, oat flour, and teff flour into a small bowl. Stir, then sift through a fine-mesh sieve into a larger bowl. Add the xanthan gum, guar gum, baking powder, salt, and sugar to the flours and combine.
Place the milk, eggs, and vanilla in a small bowl and whisk together. Add the melted butter and stir again.
Make a well in the center of the flour mixture. Pour in the liquids and stir until combined.
Now, patience. Let the batter stand at room temperature for at least 1 hour before making the waffles. For best results, make the batter the night before you intend to make waffles and refrigerate it overnight.
Turn on the waffle iron. When it has come to heat, brush both surfaces of the waffle iron with oil or butter. We like walnut oil. Pour about 1/3 cup of the waffle batter onto the waffle iron. Cook until the waffle is well browned. Serve immediately with whatever accoutrement(s) you please. Repeat with the remaining batter.
Print Recipe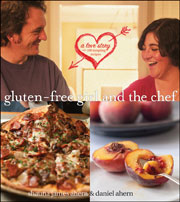 Variations for other allergies
Play with other whole-grain flours for this mix—that's what we do each time we make this recipe—but keep the potato starch and sweet rice flour so the mix remains light. If you don't tolerate dairy, you can make these buttermilk-style by adding 1 tablespoon of lemon juice or apple cider vinegar to soy or rice milk and letting it stand for 15 minutes before using, and use extra oil in place of the butter.
Recipe Testers Reviews

The combination of starches and flours in this recipe is very good, as it's often difficult to find a good ratio for GF recipes. I'd still prefer gluten waffles, but these are among the best GF I've tried. I was unable to find GF oat flour, so I made my own from GF steel-cut oats that I whirred in my spice grinder. After the batter is made, don't forget to allow it to rest for an hour, as with most other GF recipes such as cakes, breads, etc.

These were just yummy: crisp on the outside, fluffy on the inside, and topped with a nutty, caramel flavour. I made it the night before as suggested, using sour cream, as I had no milk on hand. In the end, I still needed milk to thin the batter the next morning. No mention is made about the consistency of the batter, but since it was as thick as bread dough, I thinned it with approximately 1 cup of milk to make a looser consistency. It was still quite thick, but worked very well in the finished product. This recipe made 8 delicious waffles, but to sufficiently cover my waffle pan, I needed closer to 1/2 cup of batter for each. They toasted up wonderfully the next day as well, and were delightful to have for breakfast. I'll make these again most definitely!
Gluten-Free Multigrain Waffles Recipe © 2010 Shauna James Ahern | Daniel Ahern . Photo © 2010 Lara Ferroni. All rights reserved. All materials used with permission.
If you make this recipe, snap a photo and hashtag it #LeitesCulinaria. We'd love to see your creations on Instagram, Facebook, and Twitter.