This easy Cincinnati chili is made with, as main ingredients, ground beef, onions, spices, and dark chocolate, and is served on spaghetti and smothered with cheese. (You heard us right.) And folks are calling it the best Cincinnati chili they've ever had.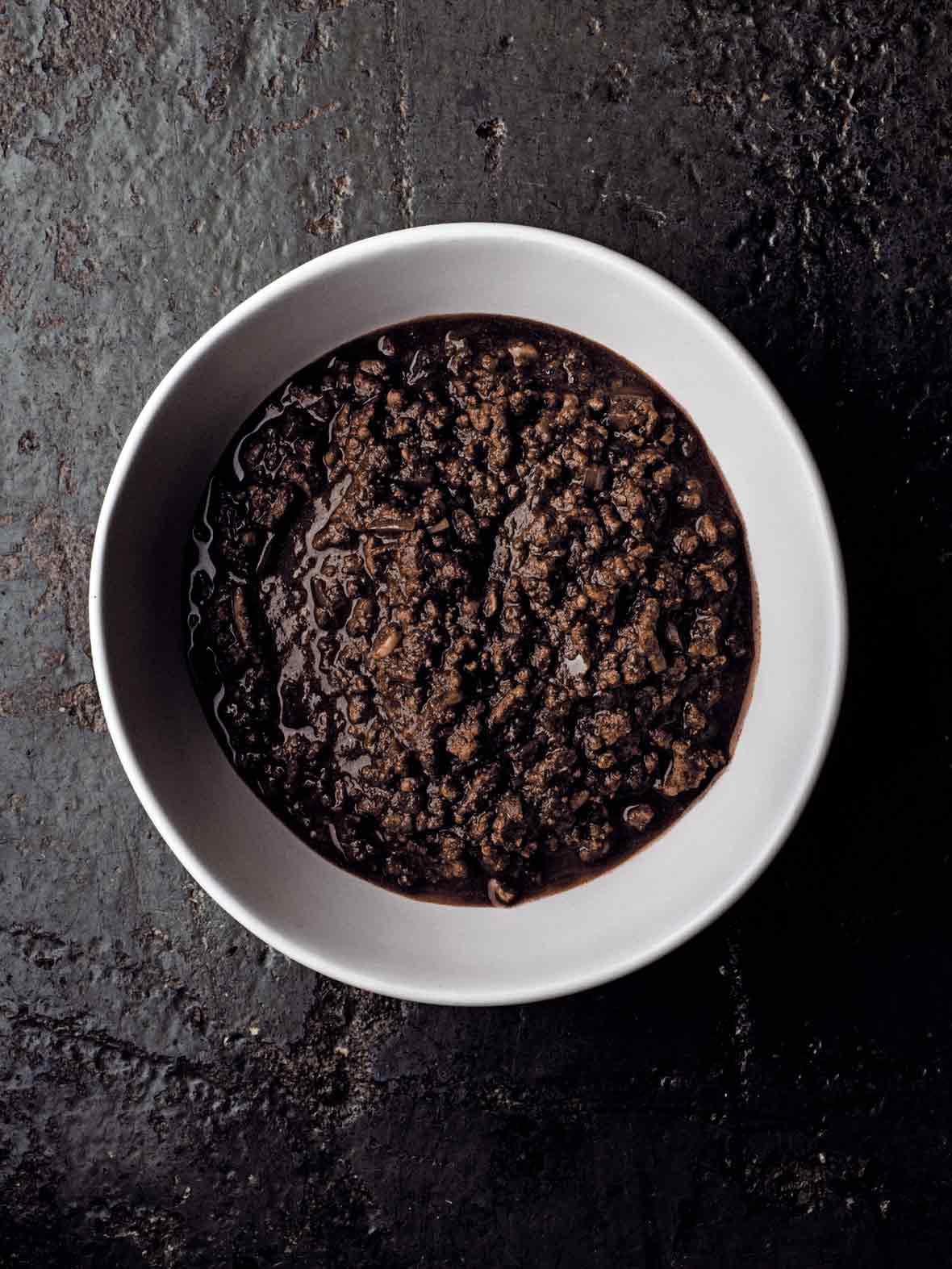 One of the most popular chains of Cincinnati chili parlors—yes, they call them parlors, isn't that quaint?!—in Ohio is Skyline Chili. If you're ever driving past, we suggest you make a detour and dally long enough to sit down and have a bowl full.] The chili is served atop spaghetti and is smothered with shredded cheese. And the chili itself is different than what you're accustomed to calling chili. It's spicier—as in full of warming spices like allspice, cloves, and the like. It's dicier—as in punctuated with wee bits of ground beef rather than hulking behemoth chunks of chuck. It's runnier—as in much soupier than the stick-a-spoon-in-it style of chili to which you may be accustomed. It's chocolate-ier—as in graced by the enveloping and oh-so-slightly sweet goodness of dark chocolate that rounds out the spices and lends a slight mole-like character to the whole shebang. Oh, it's less bean-ier, too—they get added later, as an optional afterthought. Still, despite its questionable right to the name "chili," we really, really like this little number. Here's how you'll find it—and need to order it—in Cincinnati:
Two Way: Chili plopped on spaghetti
Three Way: Chili plopped on spaghetti and smothered with cheese
Four Way: Chili plopped on spaghetti and smothered with cheese and sprinkled with diced red onions or beans
Five Way: Chili plopped on spaghetti and smothered with cheese and sprinkled with diced red onions and beans–Rick and Michael Mast
Cincinnati Chili
Quick Glance

(1)

20 M
1 H, 40 M

Serves 8
Print Recipe
Ingredients
Email Grocery List
Directions
In a large pot, heat the oil and sauté the onion over medium heat until translucent. Add the ground beef and cook until browned. (If you feel you must, go ahead and skim most of the fat rendered from the beef, but we encourage you to leave it and skim it after the chili has simmered. Fat equals flavor, don't you know.)
Stir in the chili powder, cumin, allspice, cloves, bay leaves, cayenne, and tomato purée. Cover and simmer for 20 minutes.
Add the beef stock and stir. Simmer, uncovered, for 1 hour. If desired, skim any fat from the surface of the chili.
Add the chocolate and vinegar and stir until combined. Remove and discard the bay leaves. Season the Cincinnati chili with salt and pepper. (For instructions on how to serve Cincinnati chili, look at the headnote above. Originally published January 20, 2014.
Print Recipe
Recipe Testers Reviews
Cincinnati Chili Recipe © 2013 Rick and Michael Mast. Photo © 2013 Tuukka Koski. All rights reserved. All materials used with permission.
If you make this recipe, snap a photo and hashtag it #LeitesCulinaria. We'd love to see your creations on Instagram, Facebook, and Twitter.