About Curtis Stone
A custardy dessert that makes a lovely last course, clafoutis may be the easiest French thing that we know.
Lamb racks have the perfect ratio of meat to fat to bone, giving them a delicious flavor. They're an easy. hassle-free way to make a meal special.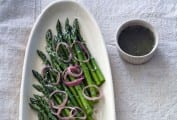 We think the asparagus are beautifully complemented by this warm-weather raspberry vinaigrette. If the spears are thick, peel the bottom third.