You're here:
Home
| Archives for David Leite
And, on the seventh day, God created gianduia (zhahn-doo-yah). The world has been a more glorious place ever since.
Quick Glance
25 M
1 H, 15 M
There's a bit of France in these cookies, which evoke all the familiar flavors of the traditional pain d'epice bread (that's just fancy for "spice bread") in a far more festive form.
Quick Glance
1 H
1 H, 15 M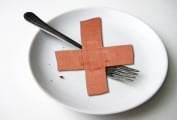 The idea that food can heal all was tested when David cooked for a family member, hoping to help, to persuade, to no avail.
Perhaps the easiest jelly doughnut recipe ever, this recipe doesn't require you to fill the cloud of dough with jelly. Instead you simply spoon some on top. Bliss.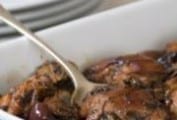 We offer the best Hanukkah recipes from the past and present by some of your favorite authors, such as Joan Nathan and Rozanne Gold, Ina Garten, and Arthur Schwartz.
Serve this candied orange peel on its own, toss it in granulated sugar after it dries for a festive look, or dip it in melted chocolate.
Quick Glance
50 M
12 H, 50 M
A decidedly Umbrian dish in which pork sausages and plump grapes are coaxed to tender goodness and jammy sweetness, respectively. You're welcome.
These fork-mashed spuds are indulgence defined with their easy execution, deceptively rich taste, and lack of bowls and beaters to clean.
This pretty little number is sweet and tart and sassy enough to hold its own against all manner of menus, whether holiday or more humdrum.
Mashed sweet potato gets slathered all over a marshmallow, coated in crushed corn flakes, and deep-fried until crisp. Talk about something to be thankful for….
Tender braised dark meat, moist roasted white meat, and skin so crisp you could weep. The best of all parts of the bird, minus the traditional hand-wringing.
Quick Glance
1 H
6 H, 15 M
This Sugar Syrup Recipe is suitable for most recipes calling for simple syrup. Use at your discretion, depending on how sweet you like things.