David practices proper Southern gentility by whipping up batch after batch of that good old-fashioned party must, pimento cheese.
Why make homemade ketchup? Because you can. And, as David explains, because no one can tell you that you shouldn't. No one.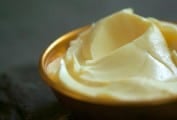 David recounts his first experience with homemade butter, in which he didn't even recognize the beauty in front of his face. Recipe included.
You've not "made it" until you've an eponymous cocktail all your own. Witness the Fatty Daddy, a sweetly surprising number that packs a punch, just like our own dear David.
David comes to understand that corned beef hash is far, far more than mere sustenance for The One.
If we had to choose just one roast chicken to spend the rest of our lives with, this would be the one.
Forever? Completely? Sounds like words used only in conjunction with things that inspire lasting love. Like this cake.
David divulges his fetish for puff porn, a habit that conveniently requires no confession with Father Fraga come Saturday afternoon.
Think you know lasagne? As Giuliano Hazan explains, what you know may be sadly mistaken. His recipe will fix that.
Quick Glance
1 H, 30 M
4 H
David tells the tale of the two drama-ridden dressings he grew up with at his family's Portuguese Thanksgiving table.
David tries his hand–and The One's patience–at making a luxuriously rich, make-you-go-wobbly-in-the-knees duck stock. And he succeeds, on all counts.
Is anything more soothing than standing before a burbling pot of Marcella Hazan's bolognese sauce? That's what we thought.