David surprises himself and all of us by trying something that's actually healthful—quinoa. His response surprised us all even more.
A cheat sheet containing all our best Thanksgiving recipes and troubleshooting tips. And, yes, there's pie.
Oh, my, my, my, my. That's what we think of this lovely little summer cobbler in a skillet.
Yep. We smoked, pickled, and fried these spuds. And we've no regrets. David divulges—and indulges—all in this blog post.
David divulges why he bothers to make his own ingredients, from breakfast sausage to, well, you'll just have to read about it.
When David decides to DIY bacon, he really decides to DIY bacon. Seriously, folks. You gotta taste his take on cured pig.
Quick Glance
25 M
7 D, 4 H
Practice proper Southern gentility by whipping up a batch of that classic crowd-pleasing party must, pimento cheese.
Why make homemade ketchup? Because you can. And, as David explains, because no one can tell you that you shouldn't. No one.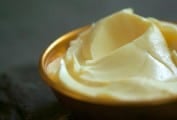 David recounts his first experience with homemade butter, in which he didn't even recognize the beauty in front of his face. Recipe included.
You've not "made it" until you've an eponymous cocktail all your own. Witness the Fatty Daddy, a sweetly surprising number that packs a punch, just like our own dear David.
David comes to understand that corned beef hash is far, far more than mere sustenance for The One.
If we had to choose just one roast chicken to spend the rest of our lives with, this would be the one.