David interviews Shauna Sever, aka the Next Door Baker and author of Real Sweet, who discusses alternatives to refined sugar.
In 2003, Tara Whitsitt converted a school bus into a fermentation lab called Fermentation on Wheels and teaching across the country.
David tells the tale of the two drama-ridden dressings he grew up with at his family's Portuguese Thanksgiving table.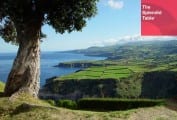 Lynne Rossetto Kasper interviews me about the food of Portugal, my cookbook, and the Portuguese seasoning: massa de pimentão.