Dumbledore always seemed to have some magic to pull out of his hat. This is our version of that.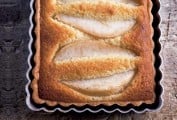 French. Foolproof. Froufrou. Fuss-free. Fenomenal. (Work with us.) Rarely does elegance come together with such ease.
Feel like a kid again as you swoon to these peanut butter blondies slicked with a layer of jam smack in the middle.
Wouldn't you rather dunk your biscotti in something sweetly boozy as opposed to strongly coffee-y? That's what we thought.
Quick Glance
25 M
1 H, 15 M
Authentic German-style soft pretzels with a yeasty center and a dark, burnished crust punctuated with the crunch of coarse salt.
Quick Glance
1 H, 15 M
10 H
Much as we love lard, we gotta say, this all-butter pie crust has a special place in our hearts—and on our thighs.
Quick Glance
35 M
2 H, 20 M
Never again eat a stale-tasting, preservative-laden, ickily-sweet, foil-wrapped bar again. These little lovelies will change all that.
An unconventional approach to apple pie that happily involves rum and lotsa butter. We guarantee it's as memorable as the classic.
Quick Glance
45 M
4 H, 25 M
The stuff of urban legends, this recipe has been circulated via chain letters for decades. And hoo boy, can we understand why.
Quick Glance
45 M
1 H, 30 M
What light through yonder window breaks? It is the east, and this flaky pie crust is the sun. (That's how much we love this crust.)
Quick Glance
25 M
2 H, 45 M
What's easy peasy to make, lovely to look at, even lovelier to taste, and certain to impress? This cake.
Quick Glance
30 M
1 H, 30 M
Not familiar with the term "crostata"? We have a hunch you're going to like what it means, which is essentially "less fussy than pie."
Quick Glance
20 M
2 H, 20 M