Regardless of whether you're from Cincinnati or have ever experienced Cincinnati chili, you've gotta try this recipe. Trust us.
Quick Glance
20 M
1 H, 40 M
A classic. And even better than we remembered. It's like childhood 2.0. (We mean that in the best possible way, Mom.)
Easily the easiest no-fail chocolate fudge recipe ever. But that's not the only reason why we make batch after batch. Oh no.
Quick Glance
30 M
1 H, 30 M
We got nothing against the Lärabars we've been noshing for years, save for the fact that they're not homemade. Until now.
The stuff of urban legends, this recipe has been circulated via chain letters for decades. And hoo boy, can we understand why.
Quick Glance
45 M
1 H, 30 M
We're food folks, not number crunchers. But perhaps our most favorite equation ever? Chocolate + hazelnuts = gianduia.
They look like fudgsicles. They taste like fudgesicles. Yet they're made with real cocoa, coconut milk, and honey. Paleo-friendly!
Quick Glance
10 M
2 H, 10 M
We're not certain what exactly to call these diminutive, dunkable desserts that are crunchy as a cracker, less sweet than a cookie.
Quick Glance
50 M
2 H, 20 M
Some things are so good you want to eat 'em all yourself. And some are so good you can't help but share. These are the latter.
She went through labor to bring you into the world. Surely you can fashion some dark chocolate taffy flowers for her.
Quick Glance
1 H, 50 M
1 H, 50 M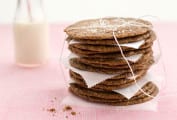 What's so twisted about this twist on Toll House cookies? Guess you'll have to try these chipper champs to find out.
If you're going to splurge on brownies, you may as well, you know, SPLURGE on brownies. But not in terms of effort or expense.