The Christmas cookie that celebrated pastry chef Christina Tosi of Momofuku Milk Bar fame just can't imagine life without.
Wowsers! (We can't really think of anything else to say about these stunning cookies, except they're far easier to make than you'd expect.)
Wouldn't you rather dunk your biscotti in something sweetly boozy as opposed to strongly coffee-y? That's what we thought.
Quick Glance
25 M
1 H, 15 M
Never again eat a stale-tasting, preservative-laden, ickily-sweet, foil-wrapped bar again. These little lovelies will change all that.
The stuff of urban legends, this recipe has been circulated via chain letters for decades. And hoo boy, can we understand why.
Quick Glance
45 M
1 H, 30 M
We're not certain what exactly to call these diminutive, dunkable desserts that are crunchy as a cracker, less sweet than a cookie.
Quick Glance
50 M
2 H, 20 M
Some things are so good you want to eat 'em all yourself. And some are so good you can't help but share. These are the latter.
Tender and crumbly like shortbread, yet subtly flavored and sweet like cookies, these beg the question, which are they?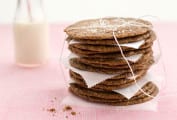 What's so twisted about this twist on Toll House cookies? Guess you'll have to try these chipper champs to find out.
If you're going to splurge on brownies, you may as well, you know, SPLURGE on brownies. But not in terms of effort or expense.
Sweet, moist, tender, can't-stop-at-just-one coconut macaroons that are reminiscent of what's found at the loveliest bakery in town.
New York Times' reporter Julia Moskin divulges the recipe for City Bakery's Peanut Butter Sandies. You're welcome.