Tender and crumbly like shortbread, yet subtly flavored and sweet like cookies, these beg the question, which are they?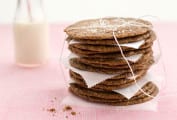 What's so twisted about this twist on Toll House cookies? Guess you'll have to try these chipper champs to find out.
If you're going to splurge on brownies, you may as well, you know, SPLURGE on brownies. But not in terms of effort or expense.
Sweet, moist, tender, can't-stop-at-just-one coconut macaroons that are reminiscent of what's found at the loveliest bakery in town.
New York Times' reporter Julia Moskin divulges the recipe for City Bakery's Peanut Butter Sandies. You're welcome.
Okay, these cookies may not contain literally a thousand layers, but you gotta admit, the title made you count, yes?
Quick Glance
30 M
1 H, 30 M
Crisp at the edges, chewy in the center, and (sorta) wholesome through and through, these are a revelatory riff on the classic.
Lovely and delicate, these shortbread cookies with a lemony lilt have a crunch that gives way to sweet, sweet nothingness.
Sophisticated palates accustomed to European-style cookies will swoon to this subtly sweet and slightly crumbly treat.
Quick Glance
45 M
1 H, 25 M
Believe it. Wheat-free, slice-n-bake cookies that taste like the real deal without fuss or crazy ingredients. You're welcome.
Quick Glance
20 M
1 H, 5 M
We're not certain which we find more incredulous, the sheer genius behind these bacon fat gingersnaps or the flavor of said genius.
We find these unabashedly unconventional biscotti bewitching beyond belief. Different form. Same function. Far less fuss.