Desperation dinners just got a heck of a lot less boring since we stumbled upon this genius grilled cheese combo.
Entertaining is a cinch when you have really easy and reliable recipes, like this one, at the ready. Go on, call some friends.
A Thanksgiving classic revisited with an added emphasis on sugar and spice and, yes, everything nice. A sweet potato mash topped with marshmallow and—believe it or not—crushed gingersnaps. Heresy? Or high-five-worthy? You tell us.
This roux-less—and fuss-less—creamed spinach isn't quite the classic, though no one's complaining about that.
Green beans? Check. Creamy mushroomy sauce? Check. Can opener? Uh…no thank you. Not this Thanksgiving.
Quick Glance
45 M
1 H, 15 M
Strange how such a sweetly stunning sensation can be just sugar, cream, flour, and vanilla. Couldn't be easier—or more addictive.
Truly impressive and a heck of a lot less fussy than it looks. Tastes pretty darn phenomenal, too. Sign us up.
Quick Glance
1 H
2 H, 10 M
Magnificent. Marvie. Munchable. Manchego-y. Mmmm. That's what we think about these glammed-up potato chips.
Who knew that baking legend Jim Lahey's brilliance extended not just to bread and pizza maverick but béchamel whisperer?
We got nothing against the Lärabars we've been noshing for years, save for the fact that they're not homemade. Until now.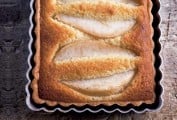 French. Foolproof. Froufrou. Fuss-free. Fenomenal. (Work with us.) Rarely does elegance come together with such ease.
Yup. You can make your own chunks of porcine indulgence with nothing more than thickly sliced bacon and a sturdy skillet.