Awarded And Applauded
Awarded And Applauded
David recounts how he destroyed two Thanksgiving desserts and, in so doing, almost burned down his house.
You haven't truly experienced cherry season 'til you've owned a cherry tree. Darlene West has the purple-stained hands—as well as the perfect clafouti recipe—to prove it.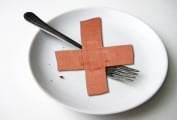 The idea that food can heal all was tested when David cooked for a family member, hoping to help, to persuade, to no avail.
While saffron picking in Washington state, Jess Thomson learns a thing or three about crocuses, back-breaking work, and la rosa de saffron.
Allison, our managing editor, discovers the blessings of making a phanouropita, a traditional Greek cake said to help the baker find missing things when it's given away.
A far cry from their tinned cousins, European sardines are at their plumpest perfection in June. Writer Mary Ann Castronovo Fusco explains it all for you.
What happens when food writer Jess Thomson is faced with a future without gluten? A weekend of unbridled break-up sex.
Renee Schettler Rossi and David Leite take opposite sides on the issue of cooking from cookbooks or a computer. Which offers you more while at the stove?
For these ultimate chocolate chip cookies, our ever-persistent David researched for three months and ate plenty of cookies in the process. Here he shares his discoveries.
Food writer and humorist Jess Thomson recounts her hilarious and daunting visit to the mecca of molecular gastronomy in the States: Grant Achatz's Alinea.
Food writer Monica Bhide uses cooking and languages to bridge worlds and cultures to answer some of the difficult questions posed by her curious son, Jai.