You're here:
Home
| Archives for Kim Graham
Kim Graham, Recipe Tester
A list of all the recipes Kim Graham has tested.
"Lovely." "Perfectly light, fluffy, and irresistibly good." "Easy peasy!" "Wow. Just wow." That's what folks are saying about these biscuits.
Despite this recipe having a cheater-like profile, it does actually taste like real posole. We swear.
Quick Glance
25 M
1 H, 10 M
Why make banh mi at home? Uh, why not? Besides, you'll never find this swanky salmon rendition anywhere else.
Why make your own mustard? Uh. Because you can. Duh. As if that's not reason enough, this recipe is all natural, with no sugar.
Quick Glance
1 H, 15 M
1 H, 30 M
All'Amatriciana—go on, roll that "r" like they do in Italy—means a spicy pasta sauce of tomatoes and pancetta or bacon. Prego.
Dust off that waffle iron. You're going to want to give these crisped dimples and the ooey, gooey cheese they contain a whirl.
Wouldn't you rather dunk your biscotti in something sweetly boozy as opposed to strongly coffee-y? That's what we thought.
Quick Glance
25 M
1 H, 15 M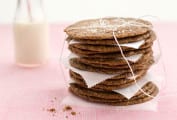 What's so twisted about this twist on Toll House cookies? Guess you'll have to try these chipper champs to find out.
If you're going to splurge on brownies, you may as well, you know, SPLURGE on brownies. But not in terms of effort or expense.
Breakfast made in a muffin tin has perhaps never been so enticing as with this nifty ooh- and aah-inducing riff on the classic croque madame.
You could call this sausages with mashed potatoes. But we sorta feel obliged to say bangers and mash. Faux British accent optional.
Think you don't need a recipe for roasting spuds? Try this technique, which we think works to a faretheewel. Then get back to us.