Who knew that baking legend Jim Lahey's brilliance extended not just to bread and pizza maverick but béchamel whisperer?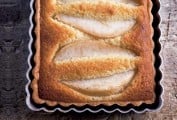 French. Foolproof. Froufrou. Fuss-free. Fenomenal. (Work with us.) Rarely does elegance come together with such ease.
Breakfast made in a muffin tin has perhaps never been so enticing as with this nifty ooh- and aah-inducing riff on the classic croque madame.
A simple, step-by-step recipe for the classic French crêpe that can be mastered by anyone. Yes, anyone. Even you.
Sorta like potato gratin, except the nutty, cheesy white sauce swaddles leaves of spinach, not sliced spuds. Sure beats salad.
Nothing says sassy like swapping pears for apples in the classic French tarte tatin. What can we say? We like to live on the edge.
What to do with late summer abundance? Chef Alain Ducasse's fancy-pants interpretation of a Provençal classic.
David blogs his way through Paris, embracing wining, dining, and a magically slenderizing manner of thinking that just may offset all the foie gras, fromage, and frites.
The only real trick to this stiff summery sensation is resisting the temptation to snitch a swig before it's time.
French-y but not at all fuss-y, these superbly chocolate-y crepes satiate a certain je ne sais quoi.
A tarte Tatin is nothing more than a tart turned upside down, nothing less than pastry perfection. Its name is French for "caramely apple goodness atop a buttery crust."
Quick Glance
25 M
1 H, 30 M
You haven't experienced cherry season 'til you've owned a cherry tree. Darlene West has the purple-stained hands and the perfect clafouti to prove it.