Who knew these buttery, airy, delicate little cakes were so simple to make…and so irresistibly delicious?! (Well, Proust, for one…)
Quick Glance
20 M
2 H, 30 M
Stylish on any salad, this versatile little number is a staple in every discerning cook's recipe wardrobe.
You may be stunned at just how easy this sorta elegance can be to pull off in your own kitchen.
David finally learns to make pain d'epi, the loaf of bread that he's been lusting after for decades, and finds it to be easy peasy. Whew.
Quick Glance
15 M
2 H, 15 M
No, this isn't quite the classic cooked-for-days cassoulet you'll find in Gascony. This is cassoulet casserole. You'll find no complaints here.
Quick Glance
1 H
10 H, 45 M
Quiche for one? It sounds a lot more ambitious than it actually is. It's truly a cinch to make. So go on. Love yourself a little.
Boozy prunes. So damn good that in Gascony, you're not invited over for coffee, you're invited over for these little lovelies.
Served in every beer hall in eastern France, choucroute garnie is the hot dog and sauerkraut dish of Alsace. To which we say, oui!
Quick Glance
45 M
5 H, 15 M
David measures his friends on how true, honest, and kind they are—and how superlative their baking skills. His friend Cindi measures up.
Who knew that baking legend Jim Lahey's brilliance extended not just to bread and pizza maverick but béchamel whisperer?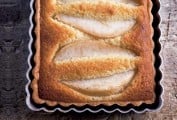 French. Foolproof. Froufrou. Fuss-free. Fenomenal. (Work with us.) Rarely does elegance come together with such ease.