Matzoh. Roast beef. Lamb.
Pastrami. We consider it the other corned beef. We also consider it darn easy to make it yourself.
Quick Glance
45 M
5 D, 7 H
These unconventional latkes are gonna rock your world. They're lovely at all times of day and on all occasions.
Quick Glance
30 M
1 H, 10 M
No more excuses about how there's a dearth of decent bagels in your neighborhood. Nope. Not when you can make these.
Quick Glance
3 H
3 H, 50 M
What's chrain, you ask? It's a heck of a traditional condiment with a bite to it. And it's coming to a holiday table near you.
This blueprint for thin, crisp matzoh couldn't be simpler and, natch, tastes incomparable to what you buy in a box.
Babkalicious! Best babka ever! Holy Cow! Holy Babka! Those are just some of the responses we're hearing 'bout this indulgent loaf of buttery, chocolatey, Jewishy goodness.
Turns out an old brandade can learn new tricks. Here smoked sable stands in for salt cod, bringing a smoky richness to the garlicky potato purée–to great effect.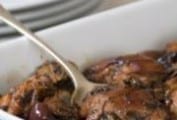 We offer the best Hanukkah recipes from the past and present by some of your favorite authors, such as Joan Nathan and Rozanne Gold, Ina Garten, and Arthur Schwartz.
A kissing cousin to the latke, this whopping plate-size potato cake ensures you're not standing at the stove all night long turning out one wee pancake after another.
Quick Glance
15 M
1 H, 15 M
As buttery and airy as brioche but with a far weightier responsibility than its breakfast chum, challah ensures a sweet new year in Jewish tradition. We'll break bread to that.
Quick Glance
30 M
3 H, 15 M