Who knew fresh avocado, agave, coconut milk, and lime juice could produce such a luscious, lappable avocado sorbet. And it's vegan.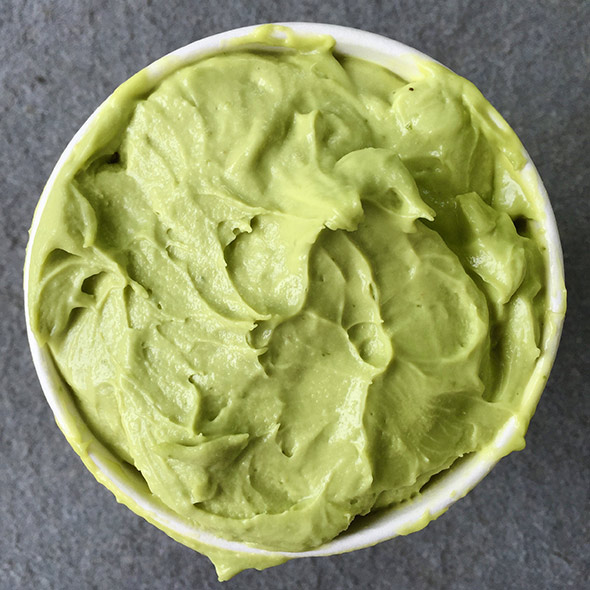 Dear vegans, I owe you a long-overdue apology.
Back in my youth, as I hunched over meat-filled plates grunting away with my brutish friends, who were likewise hunched over their own meat-filled plates, I would clear my throat as if I were going to make a proclamation and say, "You know, if you put two fire-and-brimstone vegans on a deserted island with no kind of life, only one avowed carnivore would be rescued." Everyone knew the joke was coming, and they still sniggered and snorted. It was a ritual and no meatfest was complete without it.
I'd like to think I've become enlightened. We have vegetarian and vegan sections on the site. I even have friends who are vegans! But for a long time, in my privacy of my own heart, I felt they don't necessarily have to eat at our house, do they? I was already dealing with a group of friends who are gluten-intolerant, pescatarian, ova-lacto vegetarian, white-meat-only. Welcoming vegans into the fray would just about break me. No, I was happy to go to their houses and choke down a bowl of twigs and sticks in the name of friendship.
Ah, but karma's a bitch. One of our closest friends, Ellen, was diagnosed with metabolic syndrome last year. The unqualified, non-medical definition: She was a hamburger away from a massive heart attack or stroke. This woman, who had been for more than a decade one of our great meat compatriots, was now suddenly denied meat of any kind. Plus sugar, dairy, alcohol, and grains were taken off her plate. She was, yes, a vegan, and it was a death sentence (metaphorically speaking, since this was saving her life, but you get my drift). Oh, how we weeped and keened. I don't mean Ellen and us. I mean The One and me. How were we going to invite her over to our house for dinner, as we always did, and serve–gack–salads? And, and–tofu?
Ellen, who was never a very good cook (sorry if you're reading this, El, but it's the truth), suddenly grabbed the soy-substitute bull by the horns and dug in her heels. She bought a stack of vegan books and taught herself how to cook. Some of her earlier ventures left The One and I cocking eyebrows when she left the room (and him guzzling glasses of water because some of the dishes were incendiary). But in time, damn, that woman cooked us some amazing meals.
"Are you sure you didn't put meat in some of this," The One would say, "for David and me?"
"Nope it's all vegan, guys," she'd say with relish at our disbelief. The only clue that it was tempeh or tofu was when The One would suddenly waft the bedclothes creating a gust that would fell a lumberjack.
That's when I finally picked up Robin Asbell's book Big Vegan. We figured if Ellen, an abominable cook, could suddenly start whipping out amazing spreads that we happily devoured, the least we could do was return the favor. (Plus I was getting a little competitive. Ellen cooking better than me?) The first recipe out of the gate was this avocado sorbet. The One made it. We dipped our spoons into the ice cream maker and tasted. It was sublime. Tart, sweet, creamy, and rich as hell.
Nowadays, I hear vegans have moved into our little hamlet of Roxbury. Imagine that: Vegans in the town that once claimed Arthur Miller and Marilyn Monroe as residents. And I have it on the best authority, there's even a little girl in second grade who has same-vegan parents. My, how the world is changing.
Avocado Sorbet
Creamy avocado makes this sorbet just a little richer than the usual fruity version. This makes a great dessert or palate cleanser for Mexican or other warm-climate cuisines.–Robin Asbell
LC What Folks Are Saying About This Recipe Note
"Brilliant." "Simply astounding!" "Sublime." "Perfect." That's what folks are saying about this avocado sorbet recipe.
Avocado Sorbet
Quick Glance
15 M
15 M

Serves 4
Special Equipment: Ice cream maker
Print Recipe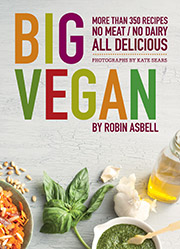 Ingredients
80 grams avocado, cut into chunks (1 medium avocado or 2/3 to 3/4 cup)

1/2 cup (120 milliliters) agave syrup

1/2 cup (120 milliliters) light coconut milk

1/4 cup (60 milliliters) fresh lime juice (from 2 to 3 limes)

2 teaspoons finely grated lime zest, preferably organic (from 2 to 4 limes)
Directions
1. In a blender, purée the avocado until sorta smooth. Scrape down the sides, add the agave syrup, and purée again. With the motor running, add the coconut milk, a little at a time, and process until everything is completely smooth. Add the lime juice and lime zest and process until well mixed and once again smooth. Transfer the mixture to a storage container and refrigerate until chilled through, at least 4 hours and up to overnight.

2. Process the avocado sorbet mixture in an ice cream maker according to the manufacturer's directions. If you prefer a soft-serve consistency, serve immediately or, if you prefer a firmer texture, transfer to a resealable container and freeze for at least 6 hours or up to overnight prior to scooping.
Avocado Sorbet Recipe © 2011 Robin Asbell. Photo © 2015 David Leite. All rights reserved. All recipes and photos used with permission of the publisher.
If you make this recipe, snap a photo and hashtag it #LeitesCulinaria. We'd love to see your creations on Instagram, Facebook, and Twitter.