This chocolate sandwich recipe is crazy easy to make and requires just bread, chocolate, olive oil, and a smidgen of sea salt. Chances are you've got those at the ready.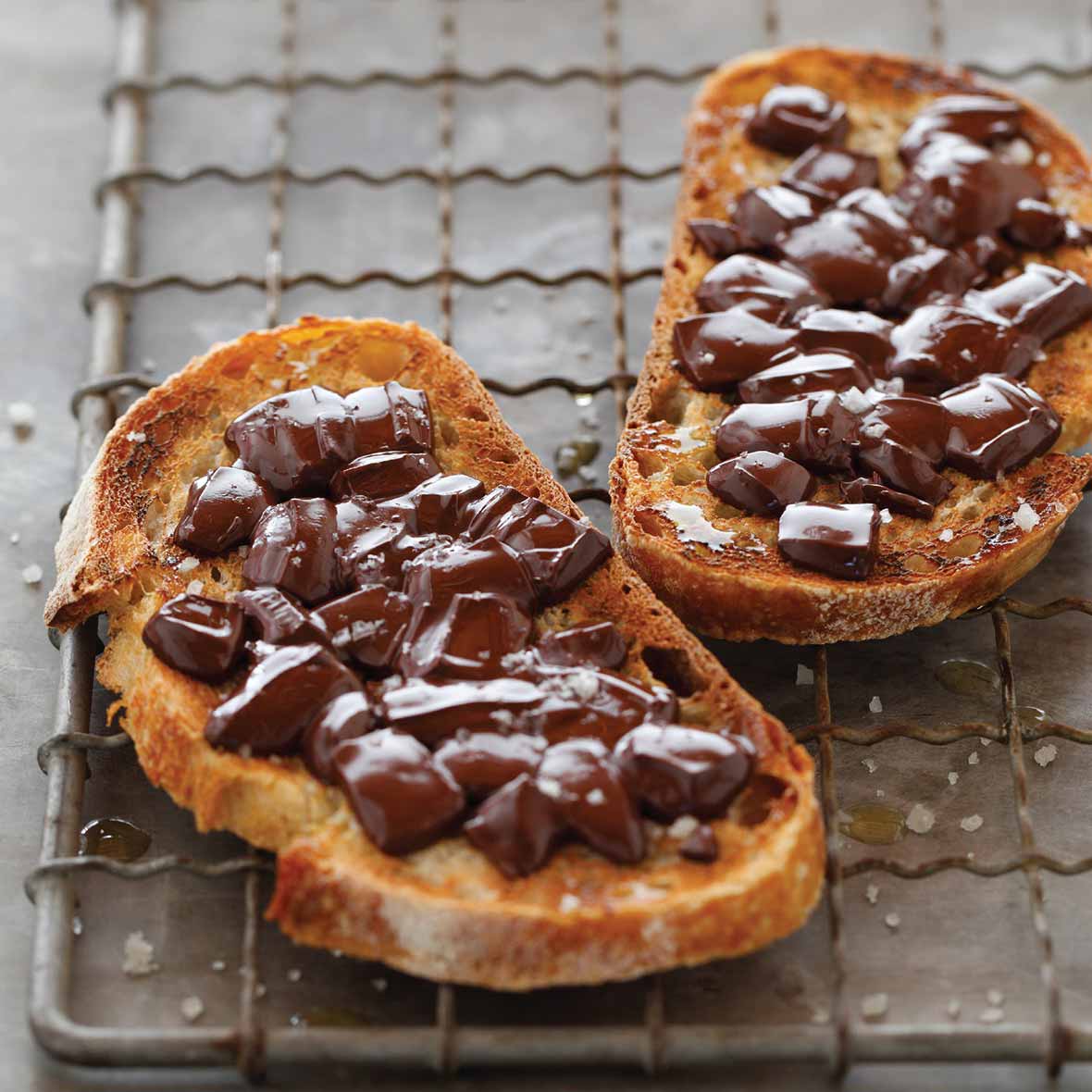 Before we tell you how to make a chocolate sandwich, we want to share a little history related to this rather inspired creation. Cookbook author and sandwich aficionado Susan Russo explains, "According to Mark Zanger's American History Cookbook, the Toasted Chocolate Sandwich first appeared in a 1938 collection of recipes from a ladies auxiliary group in Idaho. It consisted of nestling several pieces of a Hershey's milk chocolate bar between two crunchy slices of toasted bread. Whether the recipe was from the ladies or from Hershey's is unknown."
Rest assured, dear readers, that the chocolate sandwich recipe that follows is a far cry from Hershey's plunked on Wonder bread. Oh so far. Although while on the topic of white bread and chocolate, in France they oft forego toasting the bread and just plunk a lovely chocolate bar on a torn baguette. We daresay that would do the trick quite nicely given the character of the bread and chocolate the average French person has access to on any given day.–Renee Schettler Rossi
Chocolate Sandwich
Quick Glance
5 M
5 M

Makes 1 to 2
Ingredients
Email Grocery List
2 slices crusty French bread (each about 1/2 inch thick)

1 teaspoon extra-virgin olive oil

1 to 2 ounces your favorite milk or dark chocolate

A couple pinches coarse sea salt
Directions
1. Preheat your broiler.

2. Place both slices of bread on a baking sheet and broil until the top is lightly toasted, 30 to 60 seconds. Flip the slices over, drizzle with olive oil, and cover with the squares of chocolate. (Ideally the chocolate would be about the thickness of a Hershey's bar and just cover the surface of the bread. But if your favorite chocolate bar is thicker, so be it.)

3. Broil just until the edges of the bread are golden and the chocolate begins to melt, 30 to 60 seconds. You don't want to melt the chocolate completely. Remove from the oven and sprinkle with salt. If a closed sandwich is preferred, sandwich the slices together. Otherwise leave them open-faced. And indulge.
Tuxedo Variations
Chocolate and Peanut Butter Sandwich
Omit the olive oil and salt. Spread 1 tablespoon of your favorite creamy or crunchy peanut butter on the bread, cover with squares of either dark or milk chocolate, and if desired, add sliced bananas. Broil, grin, eat.


Chocolate and Raspberry Jam Panini
Omit the olive oil and salt. Cover the bread with squares of dark chocolate and 1 to 2 tablespoons raspberry jam and sandwich the slices together. Make the sandwich in a panini grill or waffle iron. Press, grin, eat.
Recipe Testers Reviews
Chocolate Sandwich Recipe © 2011 Susan Russo. Photo © 2011 Matt Armendariz. All rights reserved. All materials used with permission.
If you make this recipe, snap a photo and hashtag it #LeitesCulinaria. We'd love to see your creations on Instagram, Facebook, and Twitter.