WATERTOWN, CT–This Wednesday, August 12th, is World Elephant Day, a global effort to raise awareness of the plight of African and Asian elephants. In Africa alone, 96 elephants are needlessly killed each day. Master Luca, the youngest member of the Leite's Culinaria family (he's the son of executive assistant Annie Musso), decided to help these gentle giants in his own very LCish way—via food and drink.
Master Luca—who is 3 3/4 and fond of mac and cheese, swings, and creatures from both land and sea—approached his mother two weeks ago saying, "I want to help animals." Subsequently, Ms. Musso started researching ways young children can become involved with animal welfare. She discovered that most hands-on volunteer experiences are geared for older children. Undeterred, Master Luca insisted he and his mother find a way that he can contribute. That's when they devised a plan to participate in the classic childhood summer ritual of selling lemonade. Because the Mussos live on a quiet street, Ms. Musso was concerned proceeds would be low. Gramma Eastman, Master Luca's grandmother, suggested they set up their stand at the Watertown Farmers' Market. This past Saturday, the group was more than happy to accommodate the wee entrepreneur, one of the youngest in the market's history.
Besides hawking homemade lemonade, Master Luca also sold brownies that he helped bake at 50 cents a pop. (His choice? All-natural Immaculate Brownie Scratch Baking Mix. When asked why, Ms. Musso replied, "He liked the picture of the elephant on the box. It was a natural fit for him.")
At the market, customers were so taken by Master Luca's passion, business savvy, and love of animals that not a single one asked for change. His total take for the day was a whopping $50 (including not just sales but spontaneous donations). The proceeds were donated to 96Elephants.org.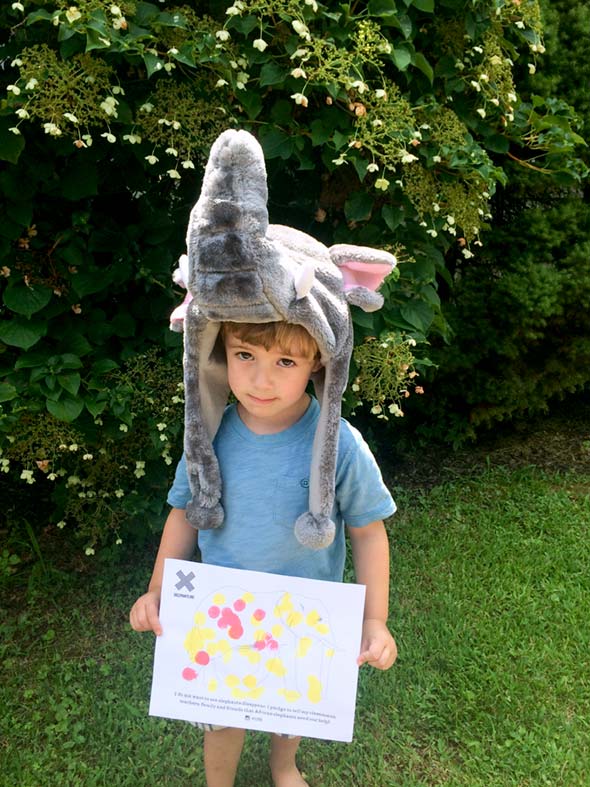 Exhausted by his success, Master Luca was chauffeured home right after the market, where Ms. Musso and Master Luca's father, Tony Musso, took what the Wildlife Conservation Society calls "elphies," or selfies that include a color-it-yourself picture of an elephant. Master Luca, who also enjoys painting, is featured here with his work titled, "Pachyderm Study in Red and Yellow."
Fiercely devoted to the welfare of these endangered creatures, Master Luca has pledged to the Society that he will, "tell my classmates, teachers, family, and friends that African [and Asian] elephants need our help!" He encourages all of you to visit 96Elephants.org and pledge your support, too. Next month, Master Luca kicks off his worldwide lecture tour entitled, "Why I Love Elephants" after which he will enter negotiations with Focus Features about a film based upon his exploits. It is rumored President Obama will invite the Musso family to the White House for a bowl of mac and cheese and a game of tag.
© 2015 David Leite. Photos ©
The Mussos
. All rights reserved. All materials used with permission.