Despite our penchant for humor, we take our monthly list of best cookbooks pretty seriously. Week after week, we're patronizing local bookstores, obsessively clicking refresh on Amazon's New Cookbooks releases, perusing publisher catalogs, and, we confess, keeping half an eye on what new cookbooks all the other cool kids are mentioning on their blogs. But that's not it. We're also looking to see which cookbooks have staying power on our shelves and keep us coming back time and again. And before we finalize our list, we take several recipes from each cookbook and put them through their paces in our home kitchens to ensure they're worthy of your ingredients, your time, and your expectations. Without further ado, here's what we have to show for our legwork this month.—Frances Kim
TWELVE RECIPES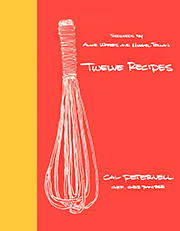 This cookbook was inspired by an emergency phone call Cal Peternell, a longtime chef at Alice Waters' legendary Chez Panisse, received from his oldest son after he'd left for college. Twelve Recipes walks and conversationally talks us through a dozen fundamentals: how to cook with toast; eggs; beans; starches (rice, polenta, and mashed potatoes); vegetables; how to make salads; pasta; sauces; cake; how to roast a chicken; and how to braise and grill. Many recipes are accompanied by step-by-step photos, and Peternell also proposes countless variations that parlay a simple basic into any of several different meals capable of satisfying novice or experienced cooks alike. The eggs chapter unearthed an ingenious Leftover Pasta Frittata and a quick marinara recipe led me to the Pasta alla Norma that I've been making all summer. Next on my agenda is leftover pasta alla Norma frittata, and I know exactly who to call if things go south.—Frances Kim, Associate Editor
FRANKLIN BARBECUE
[Editor's Note: Franklin Barbecue makes me want to quit my job, retire to my backyard, and tend my smoker day and night. Thing is, I don't know a thing about smoking. Thanks to this book, I don't need to look any further for my education…or so it would seem. I asked longtime Leite's Culinaria recipe tester and my personal smoking guru, Larry Noak, to tell me what he thought. This is what he had to say.—Renee Schettler Rossi, Editor in Chief]
Franklin Barbecue is a manifesto, a manual, a cookbook, a coffee table book with gorgeous photographs. It takes us from purchase, trimming, and smoking through slicing and serving. If, like me, you have spectacular fantasies of becoming a backyard pitmaster, you will also have step-by-step, detailed information on how to source and choose your wood, build your own rig, and purchase premium meats. Even if you have no intention of building your own smoker or even smoking your own meat, this book still has the power to entrance you. Although Aaron Franklin would more than likely deny this, anyone who has been paying attention will tell you he is the darling of the barbecue universe, the "It Girl" of barbecue, a rock star if you will. Despite his rise to guru status, he remains steeped in his simple, old-fashioned, Texas BBQ lifestyle, which only seems fitting considering his Buddy Holly looks and his humble mannerisms. Franklin included only a dozen or so recipes—the basic meats as well as a few sides—in the book. I'm not a bean eater or a mustard potato salad guy and I usually go for sweet slaw, but these beans are KILLER, the potato salad GREAT, and the coleslaw is PRETTY DAMN GOOD, too. Franklin, like most barbecue savants, keeps no secrets. He understands that the trick to exceptional barbecue does not lie with the recipe but with the understanding of wood, fire, and smoke. And he shares this understanding with us all in Franklin Barbecue.—Larry Noak, Leite's Culinaria Recipe Tester
SERIOUSLY DELISH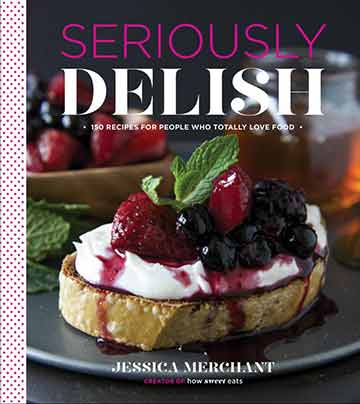 Seriously Delish by Jessica Merchant, creator of the How Sweet It Is blog, is my first foray into the world of blogger cookbooks. The front cover promises "150 recipes for people who totally love food," but I think that even if you only like food you will love this book. I was pulled in by the photos, the casual writing style, the fact that Merchant has a great sense of humor, and, natch, the recipes. The roasted beet salad with honey and goat cheese is divine. As for the Breakfast Cookies, well, who doesn't want cookies for breakfast? And the chorizo and balsamic Brussels nachos are totally amazing—cheesy with a kick from the sausage. (Did I mention I HATE Brussels sprouts? But make them like this and I will fight you for 'em.)—Kim Medalis, Editorial Intern
FRESH AND LIGHT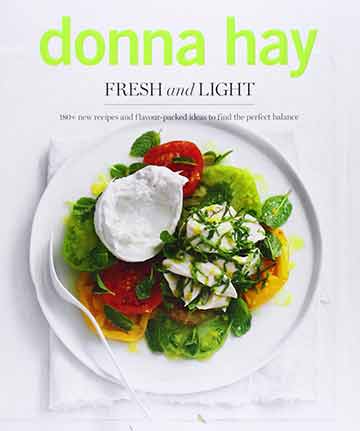 Donna Hay has been described as Australia's answer to Martha Stewart and Nigella Lawson, but flip through any of Hay's two dozen cookbooks and I think you'll agree that she's in a league all her own. Her unfussy, seasonal recipes are simple but never boring, beautifully styled but never intimidating. Hay's latest title to be released in the United States, Fresh and Light, is no exception. Divided by breakfasts, lunches, fast dinners, snacks, and so on, the recipes show that harried meals can still be elegant and healthful, including a Feta Dip that comes together in less than 10 minutes, Kale Slaw tossed in a tangy buttermilk dressing, and juicy peppered beef with farro and roasted vegetables. Hay strikes the perfect balance between comforting and virtuous, emphasizing vegetables and incorporating whole grains in ways that still feel indulgent. Shot against a white background—a hallmark of all Donna Hay's creations—the recipes really pop off the page and always manage to change my mind about ordering takeout.—Frances Kim, Associate Editor
DINNER SOLVED!
My favorite book this month may seem like an odd choice for me. It's Dinner Solved!. It's from Katie Workman, author of The Mom 100 Cookbook. This is actually a pick by proxy. See, when my assistant, Annie Musso, saw a galley version of the book (a softbound black and white advance version of the book sent to reviewers), she asked to look at it. Soon it was riddled with stickies marking recipes she wanted to try out on her husband and son, the adorable Master Luca. "That good?" I asked. "Oh, yeah," she replied. That's when I put aside the fact that I'm no one's momma and flipped through the book. The recipes are simple and clear. Katie offers up "What the Kids Can Do" sidebar ideas as a way to get them youngsters into the kitchen and away from their iPhones and iPads and, just maybe, interested in cooking. There are also make-ahead notes, which I always find useful in any book. Some of Annie's picks—and now mine, too—include lemony parmesan artichoke dip, ricotta berry breakfast crostini, kale and quinoa salad with dried cranberries (more Annie's than my pick), shortcut chicken udon soup (with a wonderful picture of one of her sons slurping it up), and big chewy brownie cookies. And our recipe testers are raving about the ease and chocolatiness of the One-Pot Cocoa Brownies. It's big, it's easy, it's family dinner.—David Leite
© 2015 David Leite. Photo ©
William Meppem
. All rights reserved. All materials used with permission.