How festive are homemade sprinkles? And they're a cinch to make. Just a little meringue powder, sugar, food coloring, and water. They're great for cupcakes, birthday cakes, cookies. P.S. The kids will love you.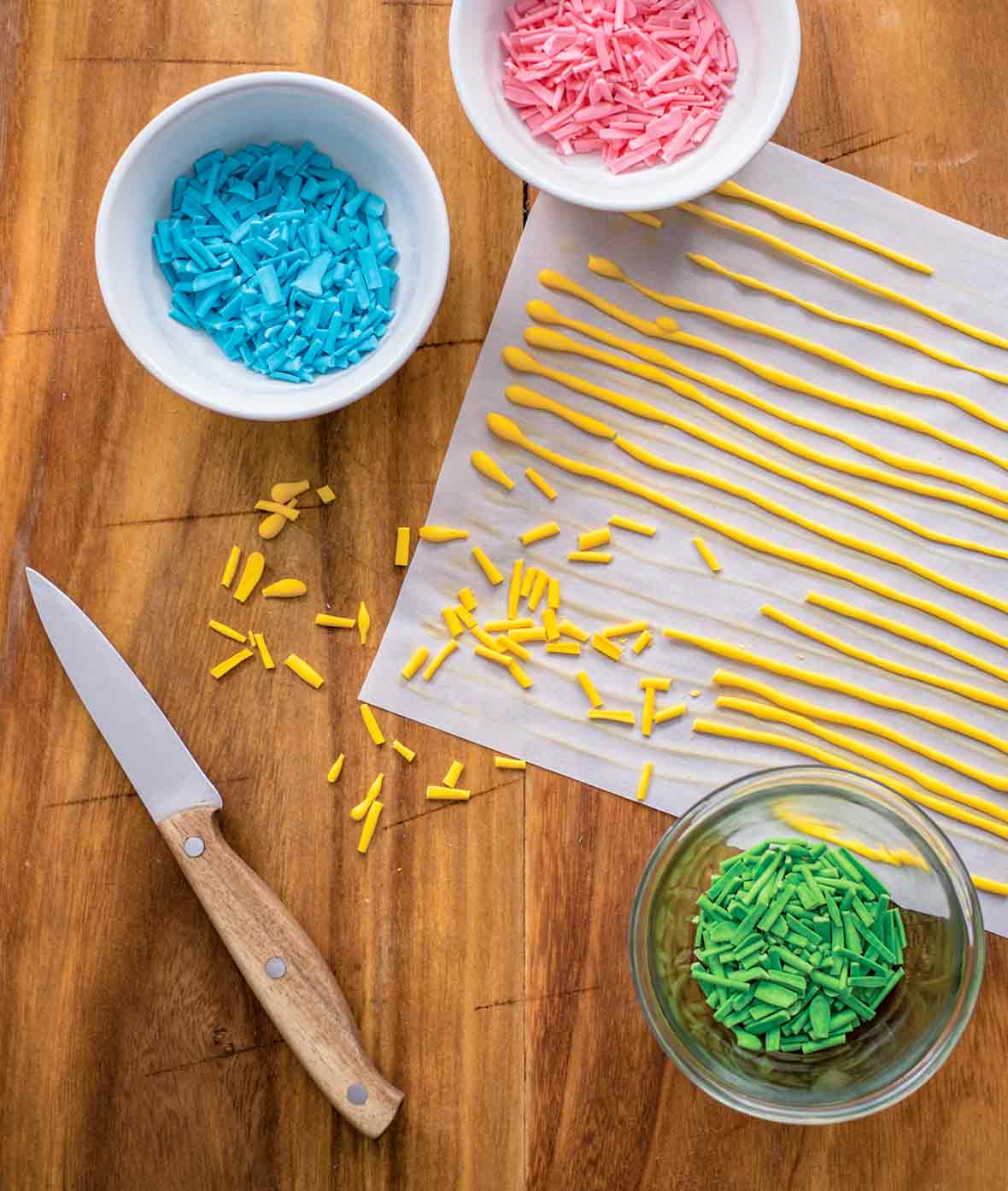 You can create your own custom colored homemade sprinkles with this recipe. Using store-bought sprinkles now feels like coloring inside the lines. You can flavor and color these however you wish for a special occasion or simply to celebrate your favorite color combinations. Use your sprinkles for Confetti Cookies or one-of-a-kind cake toppers. Originally published November 29, 2015. –Judith Fertig
LC 'Heirloom' Sprinkles Note
In the spirit of full disclosure, these homemade sprinkles are not going to be as precisely shaped as those symmetrical commercial sprinkles that get farted out of industrial machinery at the sprinkles factory. Nope. These are going to be slightly misshapen and maybe, at first, even a little clumsy looking. That's okay. Actually, that's to be expected. We find the imprecise nature of these practice sprinkles to be quite charming, actually.
Homemade Sprinkles Recipe
Quick Glance
Quick Glance
30 M
1 D

Makes about 3/4 cups
Print Recipe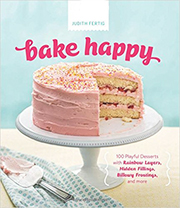 Special Equipment: Piping bags; tips #134 and #89
Ingredients
Email Grocery List
Directions
Line 2 to 3 large baking sheets with parchment paper.
In a medium bowl, whisk together the confectioners' sugar and salt.
In a small bowl, stir the meringue powder and water together until well blended.
Whisk the meringue powder mixture into the confectioners' sugar. (If using 1 cup confectioners' sugar, the mixture may seem too thin. Add more sugar, a few tablespoons at a time, until the desired consistency is achieved. Or, for thicker sprinkles, simple use 1 1/2 cups confectioners' sugar right away.) Whisk in the vanilla and then add drops of food coloring until the desired color is reached.
Fit a piping bag with a #134 or #89 tip. Spoon the sprinkle mixture into the bag. Pipe tiny lines in parallel rows on the prepared baking sheets. [Editor's Note: You can also make larger designs using other types of piping tips.] Let the sprinkle batter dry at room temperature for at least 24 hours and, if you're in a humid environment, up to 48 hours.
When the sprinkles are dry all the way through, cut the rows into sprinkles with a sharp knife or bench scraper or even a pinch of your fingertips. Carefully remove the sprinkles from the parchment and use them right away or store them indefinitely in an airtight container at room temperature. Be careful as smaller sprinkles tend to crumble. Our sprinkles kept their shape better when cut in larger sections. Use to decorate cupcakes, cookies, and cakes.
Print Recipe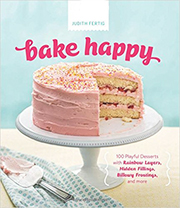 Homemade Dots Variation
Instead of piping strips or rows or lines, pipe the homemade sprinkles batter into little dots. Let dry for 48 hours.
Recipe Testers Reviews

I love the idea of making my own homemade sprinkles for decorating cakes, cupcakes, and cookies. The idea that I could make my own and make them in any color I wanted really excited me. I started with just 1 cup confectioners' sugar and found it a bit runnier than I liked, and my piped lines spread. There were also globs, and in the photo, I noticed that there were lines but also globs. If I'm making my own sprinkles, I'd expect them to resemble something closer to their commercial counterpart. I was looking for a stiffer paste that would result in sprinkles with more body. Using 1 1/2 cups confectioners' sugar created a thicker paste and rounder piped lines, and I was happier with this result. I used the #89 tip, which worked well, and I also tried a #2 tip, which produced slightly thicker sprinkles that I preferred. I also piped some dots and other simple shapes to test other applications. These needed to dry longer—closer to 48 hours to ensure they were completely dry. The piped lines slid off the parchment with ease, and I didn't need a knife to cut the sprinkles—I just crumbled the thin lines with my fingers, and that worked well. Now I can customize my sprinkles to any color I want. Oh what fun!

Homemade sprinkles? I am in! These were easy to make, and it's so rewarding—an excellent project for a rainy day (although I made these on a humid, stormy, Sydney autumn day, so they did take a little longer to dry than the recipe said). I love how easy they were and how rustic and charming they ended up! I piped on both parchment and silicone and would not recommend silicone. I didn't use a piping tip, just a resealable plastic bag with a tiny hole cut in it. For once, this was not an okay substitute. You do need a proper piping bag with a tip. Some more directions about how to pipe—it took me 3 trays to finally figure out that you need to go steadily and not too slow or fast to get an even thickness. I tried piping fast and piping slow, so my results were much more rustic than I hoped, but they were not far off from the sprinkles in the picture. These probably needed a good 48 hours to dry out on a very humid Sydney day, when even your newspaper feels damp. I cut them after 30 hours, and they weren't quite as firm as they should be. The sprinkles do not come out like sprinkles you buy—they are much rougher and more rustic. (I like that.) My sprinkles were a little lopsided, and they were charming to look at. I'll be making this again with proper equipment. P.S. I re-tested the sprinkles, and here in the chilly and not humid Canadian springtime, they took much less time to dry properly than in humid Sydney. Definitely adjust the drying time for the climate. I also used a tiny piping tip to pipe them out, and it was so much easier.
Homemade Sprinkles Recipe Recipe © 2015 Judith Fertig. Photo © 2015 Steve Legato. All rights reserved. All materials used with permission.
If you make this recipe, snap a photo and hashtag it #LeitesCulinaria. We'd love to see your creations on Instagram, Facebook, and Twitter.