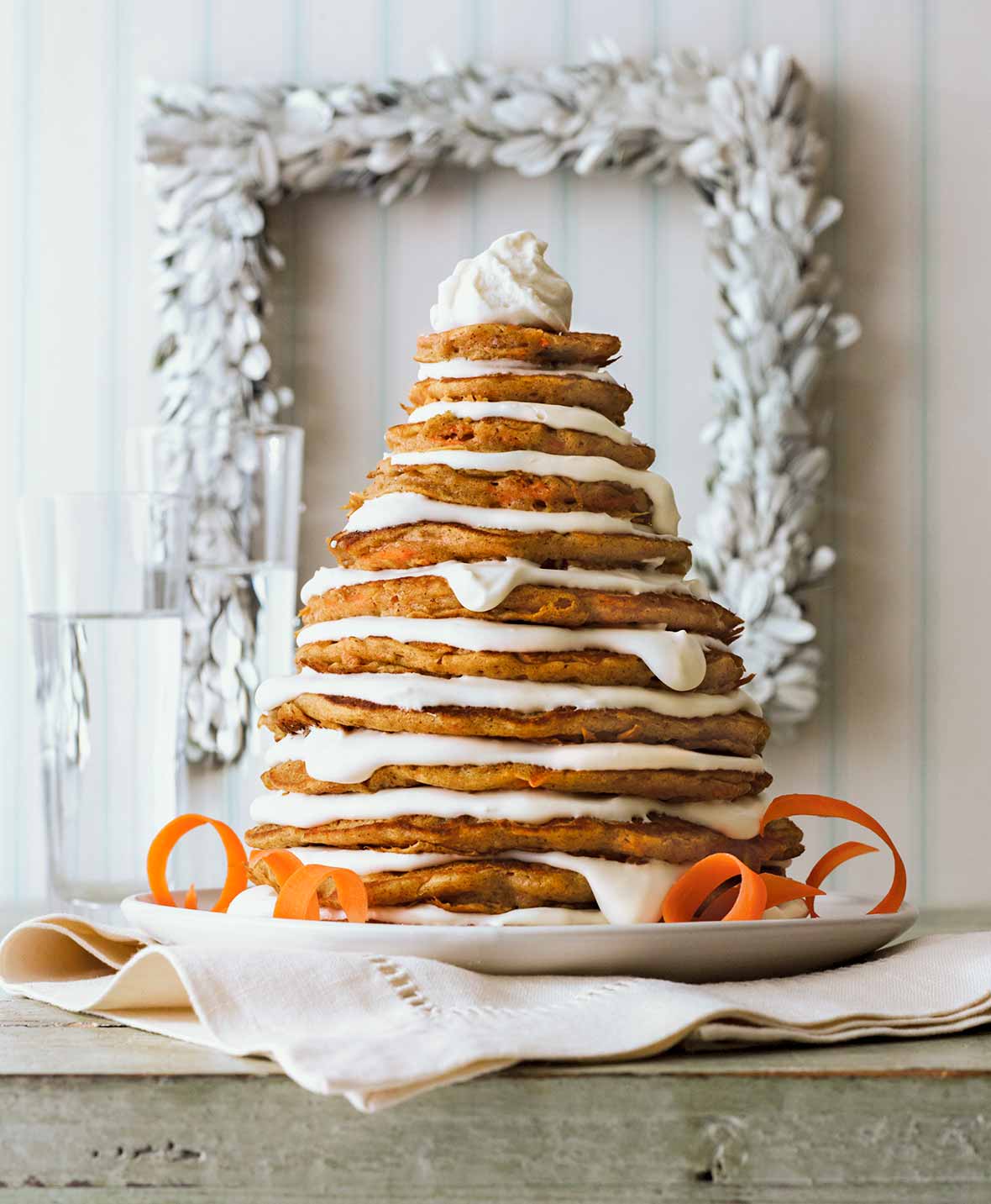 This carrot cake pancakes recipe creates a majestic stack of sorta healthy deliciousness on a cake stand. And it's relatively easy to make. You can, of course, opt to simply flip some pancakes onto individual plates and call it a day and no one will judge you. But if you want to replicate this carrot cake pancake Christmas tree, just read the note below for the how to.–Renee Schettler Rossi
LC How To Make A Carrot Cake Pancake Stack Note
Wanna replicate that lovely Christmas tree-esque stack of carrot cake pancakes in the photo? As if the stunning appearance isn't enough incentive, they're easy, healthy, and simpler than you'd think.You'll need to make pancakes in varying sizes on your griddle or in your skillet, allowing for an incremental difference from one pancake to the next. Depending on just how ambitious your stack, you'll probably need to make a double batch of pancake batter. The only tricky part is when it comes time to flip those gargantuan pancakes—you know, the big ones that form the foundation of your stack. Consider using a spatula in each hand to shimmy the pancake onto a plate situated alongside the skillet and then, once the pancake is safely on the plate, quickly invert it onto your griddle or skillet. And remember, each pancake will be smothered with billowing frosting and topped with another pancake, which means even if your pancake looks like a flop, nothing is lost. If you'd prefer you could opt for your favorite cream cheese frosting, although truth be told, these pancakes really need no embellishment aside from a smidgen of butter. But since when has a lack of need ever stopped us from indulging before?
Carrot Cake Pancakes
Quick Glance
1 H
1 H

Makes about 18 pancakes
Print Recipe
Ingredients
Email Grocery List
For the carrot cake pancakes

1 3/4 cups all-purpose flour

1 1/2 teaspoons baking powder

1 teaspoon baking soda

1 teaspoon ground cinnamon

1 teaspoon sea salt

2 cups buttermilk (either low-fat or full-fat)

1/3 cup firmly packed light brown sugar

4 tablespoons (2 ounces) unsalted butter, melted, plus more for serving

2 large eggs, lightly beaten

2 teaspoons vanilla extract

2 cups carrots finely grated on the small holes on a box grater (you'll need about 2/3 pound carrots; do NOT shred in a food processor)

1/2 cup toasted pecans, chopped

1/3 cup golden raisins, chopped

Carrot curls (optional; see How to Make Carrot Curls below)

Homemade Mascarpone Cream (optional; recipe follows)

For the mascarpone cream

One 8-ounce container mascarpone cheese

1/4 cup confectioners' sugar

2 teaspoons vanilla extract

1 cup heavy cream
Directions
Make the carrot cake pancakes

1. Grab a large bowl and stir together the flour, baking powder, baking soda, cinnamon, and salt. In a slightly smaller bowl, whisk together the buttermilk, brown sugar, butter, eggs, and vanilla. Gradually stir the buttermilk mixture into the flour mixture just until the dry ingredients are completely moistened and barely any trace of flour remains. Gently fold in the carrots, pecans, and raisins.

2. If making standard pancakes to serve in small stacks, use a 1/4-cup measuring scoop to dump blobs of batter onto a hot, buttered griddle heated to 350°F (177°C) or a large, preferably nonstick, skillet over medium heat. Cook for 2 to 4 minutes, until the tops are covered with bubbles and the edges look dry and cooked. Flip and cook until done, 1 to 3 minutes more. Either make small stacks of the pancakes on plates and pass them out to be consumed at once or place the pancakes in a single layer on a baking sheet and keep them warm in a 200°F (93°C) oven for up to 30 minutes if you want everyone to sit down at the same time. If replicating that lovely Christmas stack of carrot cake pancakes (as seen in the photo above), follow the instructions in the LC How To Make A Carrot Cake Pancake Stack Note found above the recipe.
Make the mascarpone cream (optional)

3. In a large bowl, whisk the mascarpone, sugar, and vanilla just until blended. (Yes, we mean a standard whisk that's powered by your biceps rather than a plug in the wall.)

4. In the bowl of a stand mixer or in a largish bowl with a handheld electric mixer, beat the heavy cream on medium speed until stiff peaks form. Gently fold the whipped cream into the mascarpone mixture. You should have about 2 1/2 cups.

Serve the carrot cake pancakes

5. When it comes to serving these lovely carrot cake pancakes, you can set a short stack before each person at the table and pass butter, maple syrup, confectioners' sugar, and/or mascarpone cream on the side, as you would for any pancakes. [Editor's Note: Not that these are any old pancakes. Most definitely not.]
How to Make Carrot Curls
To make carrot curls, reach for your vegetable peeler and peel the outer layer from a big fat carrot. Use a sharp knife to trim the ends. Toss those peels and the ends in the compost. Continue to peel the carrot repeatedly on the same side, without rotating the carrot, to create wide, paper-thin carrot slices that are nearly translucent. Toss these in a bowl of ice water until they curl, at least 20 minutes and up to 2 hours. If you prefer your carrot curls super curly, first twist the carrot peel around a finger and secure it with a toothpick prior to plopping it in the ice water. Drain the carrot curls and pat them dry before using.
Recipe Testers Reviews

These carrot cake pancakes made a nice change to Saturday morning pancakes. They were rich and tender but hearty with nuts and carrots. The fragrance of vanilla and cinnamon perfumed the house as they were cooking. It was a perfect incentive to get the family out of bed and to the breakfast table. If you do most of your prep work the night before, you can have your pancakes on the table in virtually no time. I would have liked a bit more spice in the pancakes—vanilla was the dominant flavor. I like my carrot cake with lots of spice, so I would add nutmeg and ginger and increase the cinnamon. I was afraid the carrots would be crunchy, but they were not. They gave a nice body to the batter, but not in an obtrusive way. I didn't make the mascarpone cream. We were having these for breakfast, and I thought that might be a little over-the-top in terms of richness. We put a bit of butter on them. Then we tried various things on individual bites. Maple syrup was too sweet. A dusting of confectioners' sugar was pretty but not necessary. The pancakes were lovely with just a touch of butter, but the optional mascarpone topping would be just the thing to gild the lily.

These are a lovely brunch treat, and I didn't feel they needed the additional sweetness or richness of the optional mascarpone cream. I served them with butter and maple syrup on the side, like traditional buttermilk pancakes. If I wanted to go the dairy route, I might use crème fraîche or a nice thick Greek yogurt or even Greek yogurt with some honey mixed in. I skipped the optional golden raisins, though I did opt in on the pecans. I made 18 pancakes. The first few pancakes took the full 4 minutes per side to cook, but as I moved along through the batter, each successive batch took less time, with the last ones needing barely 3 minutes per side. All of them had a lovely saffron-tinged golden color, much prettier than plain golden brown pancakes!
Carrot Cake Pancakes Recipe © 2014 The Editors of Southern Living. Photo © 2014 Iain Bagwell. All rights reserved. All materials used with permission.
If you make this recipe, snap a photo and hashtag it #LeitesCulinaria. We'd love to see your creations on Instagram, Facebook, and Twitter.