Knowing how to make dried orange peel is an undervalued talent. It easily lands you a stash of dehydrated citrus zest that can fancy up all manner of everyday cooking and baking, including sauces, rubs, and garnishes. Use the same technique on lemons and limes.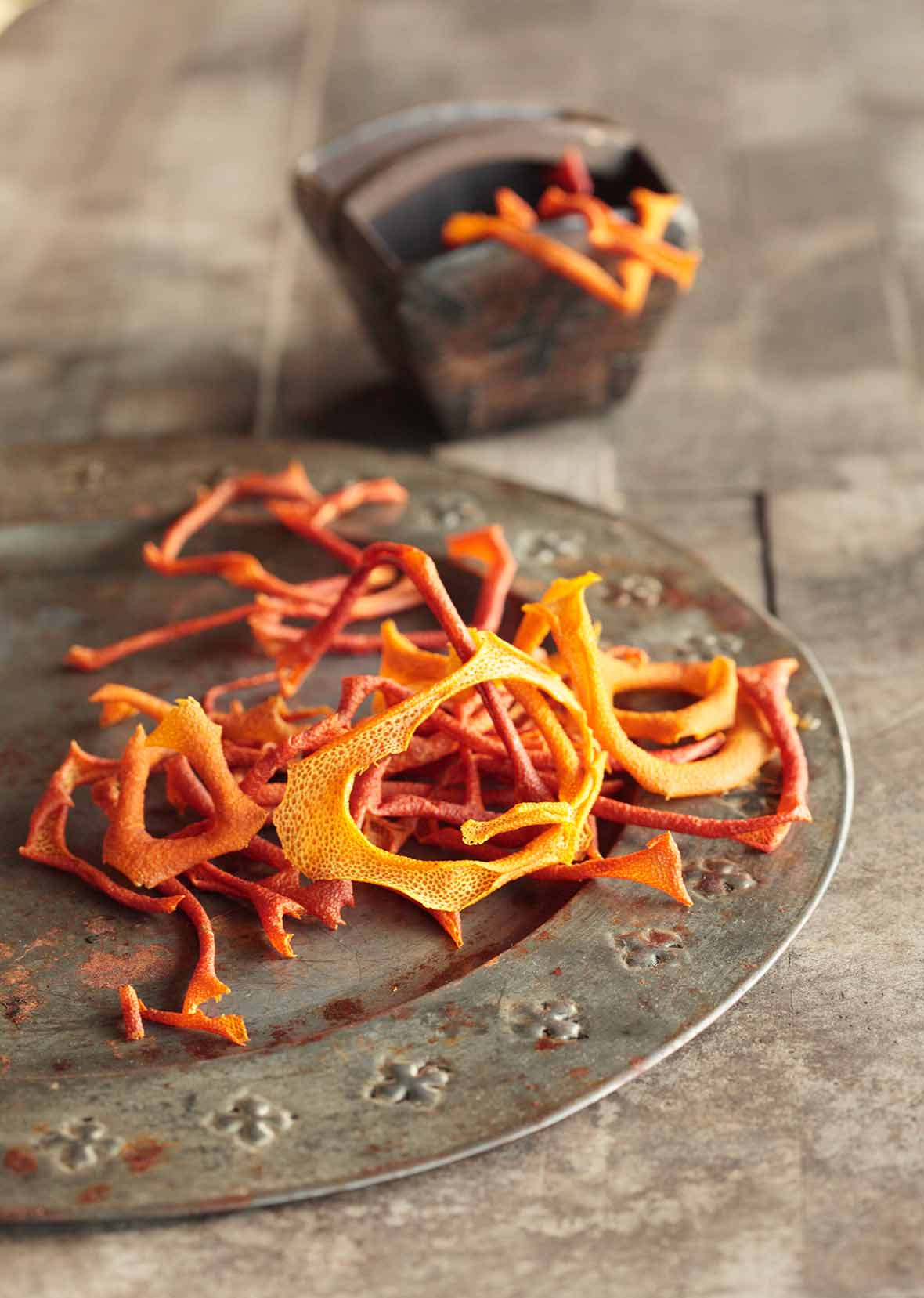 Knowing how to make dried orange peel is both old-fashioned and frugal. Admirable traits. And yet it can impart such a glam and restaurant-worthy vibe to all manner of cooking and baking. It's made simply by leaving strips of orange peel at room temperature. Make a stash and keep the dried orange zest (or lemon or lime, as it works on all citrus) at your disposal for everyday cooking and baking. Originally published February 3, 2016.–Renee Schettler Rossi
How To Use Dried Orange Peel
In case you could use a little creative jumpstart for uses for your dried orange peel, they lend a citrus lilt to all manner of recipes savory and sweet, including…
Toss a strip of dried orange zest or a slice of dried citrus into…
A mug of freshly brewed black tea
Soy- or herb-based marinades
Barbecue sauce
Simple tomato sauce
Mulled wine or spiked cider
Bourbon cocktails
Seafood stews
Pulverize dried orange zest and sprinkle it into…
Spice or herb rubs for meat or seafood
Granulated sugar destined for baking
Simple syrup reserved for making lemonade, iced tea, and cocktails
How to Make Dried Orange Peel
Quick Glance
5 M
3 D

Servings vary
Ingredients
Email Grocery List
Mandarins or oranges, preferably organic (or substitute lemons)
Directions
1. Scrub the citrus and pat it dry. Grab a vegetable peeler and remove the rind in strips, being careful to remove as little of the underlying bitter white pith as possible.

2. Place the strips of citrus rind in a single layer on a wire rack and forget about them at cool room temperature until dry to the touch, which can take a couple days or longer.

3. Once the citrus peel is dry to the touch, store the strips in a jar or other resealable container in a cool, dark place for up to 12 months.
Dried Citrus Slices Variation
To make dried dried citrus slices (we're talking lemon, orange, grapefruit, or lime slices) as opposed to dried zest, cut the fruit no thicker than 1/4 inch and place it on baking sheets lined with parchment paper. Shove in an oven heated to its lowest temperature with the fan on and the door slightly ajar. Flip the slices after about 2 hours and keep cooking, flipping the slices every 2 hours, until there is no moisture left and the slices are dry to the touch yet still slightly pliable, a total of 4 to 9 hours. [Editor's Note: The timing will vary rather dramatically depending on the thickness of the slices and the temperature of your oven.] Turn the oven off and let the slices cool in the oven with the door still slightly ajar. Store in a jar in a cool, dark place for up to 12 months.
Recipe Testers Reviews
Now you have no excuse for ever letting another lemon, lime, orange, grapefruit, satsuma, citron, clementine—you get the picture—turn into an unsliceable rock on your counter. If you're using the juice but have no plans for the zest, go ahead and peel it as instructed here and let it dry in the open air. I've done this accidentally many times with imperfect zest left over from cocktail-making. But it's worth doing intentionally as well.
You can speed up the process in a dehydrator, but the beauty of citrus peels is that it really isn't necessary. They dry nicely at room temperature without molding. I also tried lemon slices dried in the oven. The lowest temperature for my oven is 180°F. At this temperature, the lemon slices dried out in about 2 1/2 hours, with a flip somewhere in between. These, too, are also a lovely addition to a soup or stock, and a great way to use up an excess lemon (or other citrus fruit) before it gets too hard to slice. Also, if you have a "bald" lemon lying around that you've already zested but not juiced, and you're worried about it going bad, this is a great way to preserve it.
You can throw the dried peels into stocks and they will add a bright, vibrant zing. Besides adding them to stock, you can pulverize them in a spice grinder and combine with other seasonings to make a citrus-based seasoning salt or rub.
I tried the dried citrus slices using oranges and tangerines. My lowest oven temperature was 170°F. I've used them in tea, stew, and even seafood soup for further flavor.
How to Make Dried Orange Peel Recipe © 2015 Meredith Kirton & Mandy Sinclair. Photo © 2015 Jeremy Simons. All rights reserved. All materials used with permission.
If you make this recipe, snap a photo and hashtag it #LeitesCulinaria. We'd love to see your creations on Instagram, Facebook, and Twitter.