A veggie bowl can be made with any array of rice and vegetables and nuts, though this one skews toward majestic purple with cabbage, radicchio, radishes, and a tangy balsamic glaze.
You're perhaps familiar with the concept of a veggie bowl, yes? It's also known as a rice bowl, buddha bowls, whole bowls, and hippy health food. But it can be whatever you want it to be. Consider this veggie bowl recipe a blueprint, keeping in mind that ideally a bowl contains rice and an array of vegetables that possess some sorta contrast in terms of taste and texture and even temperature. (Although if you don't fancy raw vegetables, they can be lightly steamed or sautéed until they're warmed through.) This just happens to be a purple veggie bowl because author Allison Day happened to find a lot of that hue in her fridge one day (more on that just below). But you can make it a green bowl, orange bowl, red bowl, or any other color you desire given an assortment of similarly hued produce. And when you do that, kindly let us know in a comment below what your creation comprised.–Renee Schettler Rossi
How This Veggie Bowl Came Into Existence
"This recipe came about after realizing that my refrigerator was beginning to look a bit…purple. Gradients of amethyst vegetables really pop when composed, so I couldn't help but combine them all in one recipe," says author Allison Day. "The sweetness of the beets plays gorgeously off the bitter radicchio, mustardy radishes, and aromatic roasted hazelnuts. This is what I imagine a "classic" bowl to be—it has all of those stock formulaic elements, using what you have on hand." While the color coordinating makes for a pretty spectacular presentation, it's far from essential. Just grab whatever you're in the mood for or whatever happens to be languishing in your veggie bin and go crazy.
Veggie Bowl
Quick Glance
15 M
1 H, 30 M

Serves 1
Print Recipe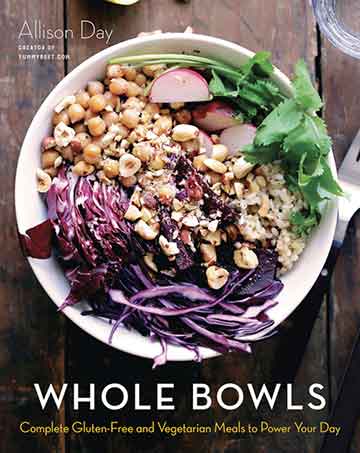 Ingredients
1 red beet, unpeeled, ends trimmed

1/2 up (118 ml) water

1/4 cup (50 grams) uncooked short grain brown rice

1/2 cup (76 grams) canned or freshly cooked chickpeas

1/2 cup (35 grams) finely shredded red cabbage 

4 radishes, quartered 

1/4 cup roasted hazelnuts, roughly chopped (or substitute almonds)

2 sprigs fresh cilantro 

Your favorite vinaigrette

Aged balsamic vinegar or Balsamic Glaze* (optional)
Directions
1. Preheat the oven to 400ºF (204ºC).

2. Crunch the beet up in a sheet of aluminum foil and roast until tender when pierced with a knife, anywhere from 1 to 2 hours, depending on the size and age of the beet.

3. Carefully unwrap the beet and let it cool until you can handle it. Grab a paper towel and give the beet a scrub or slip the peel right off with the paper towel. (Be forewarned that the beet will stain your fingertips.) Slice the beets into wedges.

4. Meanwhile, in a small saucepan, bring the water and rice to a boil, reduce to a simmer, cover, and cook until the water has been absorbed and the rice is tender, about 45 minutes. Remove from the heat.

5. In a bowl or soup plate, arrange sections of cooked brown rice, roasted beet, chickpeas, cabbage, radishes, and radicchio. Drizzle with the vinaigrette and sprinkle with the hazelnuts and cilantro. Dribble with the balsamic vinegar or balsamic glaze, if using.
*How To Make Balsamic Glaze
Gorgeously eggplant-purple, jammy, and sweet, this balsamic glaze can be drizzled over any veggie bowl, savory or sweet to lend it a striking appearance and pronounced tang. In a small saucepan, bring 1 cup balsamic vinegar to a boil (turn on your exhaust fan and stand back so you don't choke on the vinegar steam). Reduce the heat to medium and cook until reduced to 1/4 cup, 10 to 15 minutes. Store in a glass jar in the pantry for up to 6 months.
Veggie Bowl Recipe © 2016 Allison Day. Photo © 2016 Allison Day. All rights reserved. All recipes and photos used with permission of the publisher.
If you make this recipe, snap a photo and hashtag it #LeitesCulinaria. We'd love to see your creations on Instagram, Facebook, and Twitter.