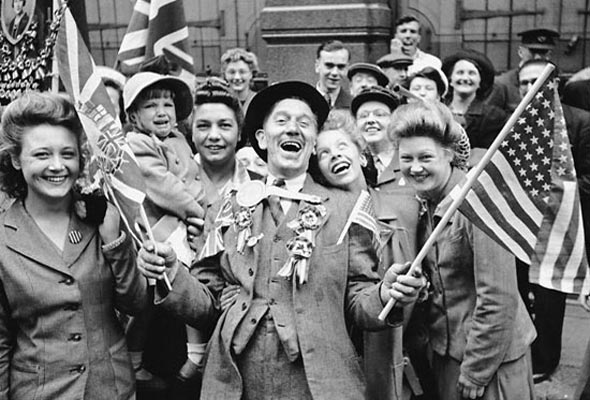 Reader Marg Smart, feeling nostalgic for a cake from the days just after World War II, wrote in for help finding a British recipe for what she called "Allies' Celebration Cake."
My search yielded many, many celebration cakes of varying origins. It seems the British, like we Americans, tend to mark many an important occasion with cake—although not all cake-worthy occasions were celebrations, of course. There were funeral cakes, for example. And some intended-as-celebration cakes actually turned out to be, well, something else. In 1936, Alf Landon was so certain that he would defeat Franklin Roosevelt that he ordered a huge celebration cake, decorated in red, white, and blue icing, to serve his supporters. One presumes the cake was never served, since FDR won in the most lopsided victory in U.S. presidential election history.
As Marg no doubt discovered, there's little mention of any particular cake specifically intended to celebrate the defeat of the Axis—that is to say, Germany, Italy, and Japan (you may recall that our previous president tried to link his cause to the victory of 1945 through the phrase "Axis of Evil"). There were, however, several mentions of cakes—albeit minus recipes, unfortunately—that had been created to celebrate the end of the hostilities. The search for "Allies' Celebration Cake" was ultimately futile.
A search for "Victory Cake," however, led to dozens of recipes. Victory cakes were essential both abroad and at home during World War I, and were revived a generation later for World War II. Their primary function was to make agreeable use of ingredients that weren't rationed for the war effort. This allowed the folks at home to have dessert with their patriotism intact, knowing they weren't taking food from the boys at the front. (It's rather sad to think of all the fresh eggs converted to powdered for the troops.)
As an aside, the K-rations issued to our soldiers included Lucky Strike cigarettes and Hershey chocolate bars. Lucky Strike lost the green ink from their packages so the pigment could be available for whatever the Army needed. The cigarettes seem to have addicted millions, guaranteeing post-war profits. The chocolate bars, on the other hand, had a far more noble ending. Given how the GIs doled them out to civilian women and children, they became a symbol of wartime diplomacy.
Back to Victory Cakes. Most of the ones I found were American, although I did happen upon a British spice cake recipe, which can be found below. The note that accompanied the recipe alluded to the fact that many foods were in short supply at the time, among them sugar, eggs, fats, and chocolate—cake-making staples. As such, it seems a very lean cake, depending on plumped raisins for moistness and calling for only enough cocoa to provide a hint of color and flavor to round out the edges. Then again, this minimal chocolate presence may actually reflect British preference, as cakes in the old world generally featured spices and dried fruits, all the way back to the Middle Ages. (One of the first wedding cakes not to consist of these ingredients was served at the wedding of Queen Victoria in 1840.)
Many foods continued to be in short supply in England for some time even after the war ended, whereas in the United States most rationing—save for sugar—ended with the war. Interestingly, all of the American cakes that celebrated the victory were chocolate. The ingredient was readily available in the United States, given that shipping lanes from cacao-growing regions were safe and the American chocolate industry—like the automotive and aircraft industries—was still geared-up at wartime production levels. While chocolate cakes were not unheard-of in the U.S., before the war they tended to be reserved for special occasions. Celebrations, if you will. Chocolate pies, puddings, and cookies were considered far more everyday fare. I've included a wartime chocolate cake recipe from Swans Down flour's pamphlet titled How to Bake by the Ration Book to give you a sense of the kind of cake popular during this era.
A final word on celebration cakes: The earliest reference I found for a cake meant to celebrate a military victory dated from 1683, and it bears a curious connection to the British cake just mentioned. According to former New York Times food critic Mimi Sheraton, it was baked in a tube pan, much like today's Bundt pans. It was supposed to resemble a turban, to mark the defeat of the Ottoman Turks in Vienna.
.
British Victory Cake | Makes 1 10-inch cake
The note that accompanies this cake from 1950s Britain reads, "This is my Uncle Vic Abbott's recipe, it has no eggs or milk and only uses a small amount of butter. Apparently it was used during the war to save on rationed food." Unfortunately, the recipe didn't list the amounts of the spices. Since tastes change over time, I consulted similar spice-cake recipes from the era to make the recipe as accurate as possible, although I've left the wording largely as it was to reflect the culinary sentiment of the day.—Gary Allen
LC Note: Some things are best left in the past—including this cake.
convert Ingredients
2 cups of seeded raisins, 3 cups flour, 1 tsp. baking soda, 1 tsp. baking powder, 1/2 tsp. salt [ground spices: 1/2 tsp. allspice, 1/2 tsp. cinnamon, 1/4 tsp. cloves], 2 cups of cold water, 3 tbs. butter, 2 cups sugar, 3 tbs. cocoa
Method
Prepare a 10″ tube pan, as described above. [No description was provided, but probably called for the pan to be buttered and dusted with flour]
Boil together for 5 mins.: butter, seeded raisons [sic], sugar, cold water. Let cool.
Sift together flour and all other [dry] ingredients [including the cocoa.]
Mix the boiled ingredients and the flour mixture together until blended.
Place the batter in the tube pan.
Bake at 350F for 1 1/2 hours. In the last 1/2 hour, cover with foil to prevent burning.
.
Eggless Chocolate Cake
This recipe was found in How to Bake by the Ration Book, a helpful, albeit promotional, little pamphlet of wartime recipes published by Swans Down flour company. The note attached to this recipe reads, "They won't believe you, but it's true. No eggs at all and only 1/3 cup shortening in this tender, delicious, quick chocolate cake that took you only 1 minute to beat. The secret in two words." The recipe also appeared in Swans Down advertisements in the early '40s, with similarly persuasive lines such as "Who said 'No cake'? Indeed you can make wartime cakes—minus eggs—with Swans Down! And what cakes…No ordinary flour could give such results."
Ingredients
2 squares Bakers unsweetened chocolate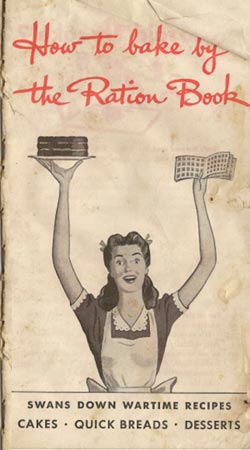 1 cup milk
1 3/4 cups sifted Swans Down cake flour, plus more for the cake pans
3/4 teaspoon soda
3/4 teaspoon salt
1 cup sugar
1/3 cup shortening or butter, plus more for the cake pans
1 teaspoon vanilla
Method
1. Preheat the oven to 375° F (190° C). Grease and lightly flour two 8-inch cake pans.
2. Combine the chocolate and milk in the top of a double boiler and cook over rapidly boiling water 5 minutes, stirring occasionally. Blend with a rotary egg-beater [LC Note: You could whisk it or beat it with an electric or standing mixer] and let cool.
3. Sift the flour once. Measure the flour, add the soda, salt, and sugar, and sift together 3 more times. Cream the shortening or butter, then add the flour, vanilla, and chocolate mixture and stir until all of the flour is dampened. Then beat vigorously for 1 minute.
4. Bake for 20 minutes, or until done. Let cool. Spread Easy Fluffy Frosting between the layers and on top of the cake. (LC Note: As was the fashion at the time, do not frost the sides of the cake.)
Variation: Substitute 1/4 cup Baker's Breakfast Cocoa for chocolate. Sift it with dry ingredients; add cold milk with vanilla.
.
Easy Fluffy Frosting
Makes enough to frost a 10-by-10-by-2-inch cake or the tops and sides of two 8-inch layers
convert Ingredients
1 egg white
Dash salt
1/2 cup light corn syrup or honey
1 teaspoon vanilla
Method
1. Beat the egg white with the salt until stiff enough to hold up in peaks but does not seem dry.
2. Pour the syrup in a steady stream over the egg white, beating constantly until it's of the right consistency to spread, 4 or 5 minutes. Add the vanilla. Use immediately.
References
Bentley, Amy. Eating for Victory: Food Rationing and the Politics of Domesticity. Urbana and Chicago: University of Illinois Press, 1998.
Neil, Edna. A&P Everyday Cook & Recipes Book. Ann Arbor, MI: University of Michigan Library (reprint, 2006).
Witchel, Alex. "The Way We Eat: Man with a Pan," The New York Times, December 25, 2005.
Article © 2010 Gary Allen. Photo © 1945 BBC.com All rights reserved.