From Izy Hossack | Everyday Delicious | Hardie Grant, 2017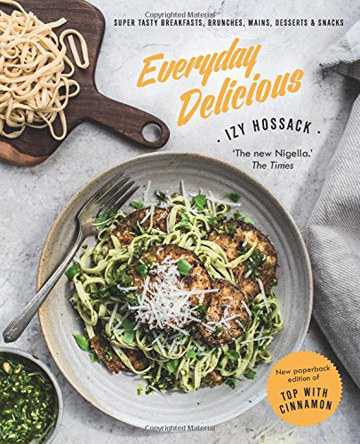 Wondering why you need to know how to line a cake pan with parchment paper? Because one day you'll be perusing recipes and happen upon an irresistibly lovely cake recipe and as you scan the instructions you'll stumble upon the words "Line the cake pan with parchment paper cut to fit." The first time you encounter this command, you may be a touch flummoxed. That's okay. You also may be tempted to omit this step. Don't. It guarantees your cake will come out of the pan as a single stunning creation of butter and sugar rather than a sad heap of chunks that stuck to the pan. And lest you find yourself concerned about not exactly being gifted in the arts and crafts department, rest assured that being able to line a pan with parchment paper requires all the dexterity of a kindergartener. You just need to know what to do. Fortunately for us, blogger and cookbook author Izy Hossack is exceptionally adept at explaining how to accomplish this simple little kitchen trick. Here's how she goes about it. Like what you learn? It's just one of several how-tos that she shares in her latest and loveliest cookbook, Everyday Delicious. –Renee Schettler Rossi
 1. Turn your cake pan upside down. Cut a square of parchment paper a little bigger than the bottom of your cake pan.
2. Fold the parchment square in half to form a rectangle.
3. Fold the parchment in half again to form a small square.
4. Then fold the parchment in half one last time to form a triangle.
5. Place the triangle on the upside-down cake pan, positioning it so the thinnest, longest point is in the center of the pan.
6. Grab your scissors and trim the parchment paper to fit the pan, using the edge of the pan as a guide.
7. Unfold the parchment. It should fit the cake pan perfectly.
8. Turn your cake pan right side up and smooth the circle of baking parchment into the cake pan. See how easy that was?!
Excerpted from Everyday Delicious © 2017 Izy Hossack. © 2017 LC Editors. All rights reserved. All materials used with permission.