Pears poached in red wine is a classic example of how the simplest of ingredients can constitute a seemingly sophisticated dessert with minimal effort. Here pears are gently coaxed to tenderness by gently simmering them in red wine, blackberries, and vanilla. It's unlikely anyone will believe you achieved something so stunning with just five ingredients. And that's okay—it can be our little secret.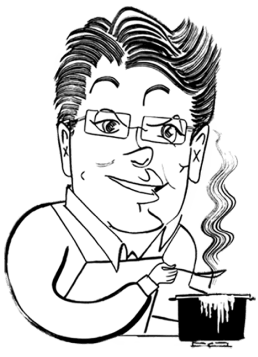 Why Our Testers Loved This
Our testers were impressed that this easy method for poaching pears in red wine was a "very straightforward, simple, yet ultimately elegant recipe." Everyone adored the stunning red color of the tender pears, and they all felt that it paired well with vanilla ice cream.
Notes on Ingredients
Red wine–Use a red wine that you enjoy drinking. It doesn't need to be expensive, but choose something you enjoy.
Pears–Bosc pears are your best choice here as they hold their shape during baking, but Anjou will also work. Avoid Bartletts as they are more delicate and likely to become mushy during poaching. Use just-ripe or slightly underripe fruit for this dessert.
How to Make This Recipe
Prepare the poaching liquid. Combine the vanilla bean, wine, sugar, and berries in a large saucepan.

Poach the pears. Arrange the pears on their sides in the pot, cover with a lid, and bring the liquid to a simmer. Cook, turning occasionally until the pears are tender.

Reduce the sauce. Transfer the pears to serving dishes, and simmer the liquid in the saucepan until reduced by half. Strain the sauce and drizzle over the pears before serving.
FAQs
What is poaching?
Poaching is a technique for cooking foods in barely simmering liquid. This method for poaching pears in wine was developed in France for using up fruit that wasn't quite ripened. The long slow gentle cooking breaks down the fruit slightly, making it tender and juicy, and highlights the natural sweetness of the pears.
How do I select a perfectly ripe pear?
You can tell if the fruit is just ripe by cupping the pear in your hand and giving it a gentle squeeze. You want it to yield slightly but not completely. For this recipe, use Bosc or Anjou pears. Save the softer Bartletts for making apple pear sauce.
Helpful Tips
The poached pears can be refrigerated for up to 3 days in their poaching liquid. Reheat gently before serving, if desired. We don't recommend freezing poached pears.
This elegant dessert is suitable for gluten-free and vegetarian diets. Serve it with coconut whipped cream to make it suitable for vegan and dairy-free diets.
Write a Review
If you make this recipe, or any dish on LC, consider leaving a review, a star rating, and your best photo in the comments below. I love hearing from you.–David
Red Wine Poached Pears
Red wine poached pears are a stunning—and stunningly simple—dessert made from booze and fruit and sugar and not a lot else.
Ingredients
1

vanilla bean

,

split lengthwise, seeds scraped

One

(26-ounce) bottle

good, fruity red wine

,

such as Beaujolais Nouveau or Merlot or, if you prefer something bigger, a Syrah or Shiraz

2/3

cup

light brown sugar

About 1

pint

fresh or frozen blackberries or black mulberries

6

medium (2 lbs)

firm pears

,

preferably Bosc or d'Anjou, peeled

Vanilla ice cream or whipped cream

,

for serving (optional)
Instructions
In a large saucepan, combine the vanilla bean and seeds with the wine, sugar, and blackberries or mulberries.

Cut a thin slice from the bottom of each pear so that they'll sit upright on the plate after being poached. Carefully nestle the pears in the pan on their sides, cover with the lid, and bring to a gentle simmer over medium heat.

Simmer the pears, turning every now and then to ensure all sides get submerged in wine for part of the cooking, until the pears are tender, 20 to 30 minutes. The pears are done when you insert the tip of a knife into the pear and it feels tender but not to the point of collapse.

Using a slotted spoon, remove the pears from the pan with a slotted spoon and stand each pear on a plate or in a shallow bowl. Return the pan to medium heat and simmer, uncovered, until syrupy and reduced by half. The timing will vary depending on the size of your pan but could take as long as 20 to 30 minutes.

Strain the sauce, pressing to release all the juice from the berries. (If you prefer a more rustic presentation, you can leave some of the berries whole and strain the rest of the sauce.) Spoon the sauce over the pears and serve immediately with vanilla ice cream or whipped cream, if using.
Notes
Storage–The cooked pears can be stored in their poaching liquid in the refrigerator in a sealed container for up to 3 days. Do not freeze.
Pears--Choose just-ripe or slightly underripe pears for this recipe. Overripe fruit will break down too much.
Dietary–This recipe is suitable for gluten-free and vegetarian diets. If served with coconut whipped cream, it is also vegan and dairy-free.
Nutrition
Serving:
1
pear
Calories:
336
kcal
Carbohydrates:
62
g
Protein:
2
g
Fat:
1
g
Saturated Fat:
1
g
Polyunsaturated Fat:
1
g
Monounsaturated Fat:
1
g
Sodium:
22
mg
Potassium:
551
mg
Fiber:
7
g
Sugar:
48
g
Vitamin A:
67
IU
Vitamin C:
36
mg
Calcium:
77
mg
Iron:
3
mg
Nutrition information is automatically calculated, so should only be used as an approximation.
Recipe © 2017 Alice Hart. Photo © 2017 Emma Lee. All rights reserved.
---