Adapted from Victoria James | Drink Pink: A Celebration of Rosé | Harper Design, 2017
Sometimes our pleasures veer toward the simple. The understated. Even, at times, the wildly misunderstood. And that's okay. In fact, that's sorta magnificent. Because nothing is more liberating than relaxing into what you love without so much as a care as to what others may think. That's the gist behind sommelier Victoria James' unabashed elation for rosé and her rationalization as to why it deserves a heck of a lot more respect than it gets, as she explains in the below excerpt from her book Drink Pink: A Celebration of Rosé. Perhaps we all would do well to uncork a bottle as we consider some other simple pleasures we could make a point to bring back to our life. –Renee Schettler Rossi
I had my first taste of wine when I was nine years old. When my Grandma Willie wasn't looking, I snuck a swig from her glass. She was a big fan of sitting on the porch at night, reading romance novels, and sipping White Zinfandel. Cooled down with a cup full of ice, the pink drink seemed like such a pleasant escape.
Years later at twenty-one, I would take my first legal sip of rosé. I was feverishly studying for my sommelier exam and tasting up to one hundred wines a day. Taste. Swoosh. Think. Spit. Every day I would go through the painstaking process of trying wines from around the world to register their characteristics. Although barely legal, I passed my exam and became the youngest sommelier in the country.
A few years passed. My obsession with exams dwindled as I traveled to some of the most beautiful places in the world, like France, Portugal, Chile, Italy, California, and Switzerland. I worked in vineyards alongside winemakers learning about the heart and soul of wine. Long lunches flowed into dinners filled with laughter and stories. I fell in love with centuries of tradition and the humble farmers who dedicated themselves to their land, and still do.
Wine is one of the most competitive industries in the world. It is a constant battle to stay relevant. Every day I tackle a bit more of the never-ending world of wine, making sure my knowledge is always up to date. I think these pressures eventually wear down a lot of sommeliers.
However, I have a trick: Drink more rosé. For me, no other wine embodies the joie de vivre like rosé. There is nothing daunting about pink wine. It does not force you to recall complicated French classifications put in place during the 1800s or rules governing vineyard management.
After a few sips of rosé, I am reminded that this is what wine is all about, pleasure and simplicity. Although my palate has evolved past White Zinfandel, I still hold onto my childhood delight in pink wine.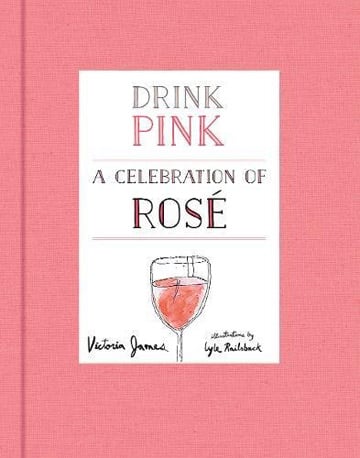 Not too long ago, a guest at the restaurant where I work as the sommelier was fervently flipping through the pages of the wine list. When I offered to assist him, he sighed in relief. A very thick French accent accompanied his words, "Last year I had the most amazing rosé here. I could not find it anywhere in Europe. It is from Clear Lake. Do you still have it?" He was referring to an Arnot Roberts Touriga Nacional Rosé from California that we luckily had a bottle or two of left. I couldn't believe this gentleman was so excited to taste an American rosé again. But then, again, why not? It was delicious.
Some argue that the rosé craze in the United States is just a phase. But many experts disagree. They see this not as a trend but rather as the introduction of a new style. Kermit Lynch, one of the top importers of French and Italian wine in the United States, adds, "I think now rosé has its place, just like white and red and sparkling." Americans are slowly learning more about wine and gaining a deeper appreciation. Rosé is simply a result of this education.
In the early 2000s, rosé's popularity started to build. Resorts and beach destinations around the United States started stocking pink French wine. The Francofascination grew, and many places like André Balazs' Sunset Beach property on Shelter Island in New York starting sporting pétanque courts. Keen on living the authentic southern French lifestyle, rosé starting flowing endlessly. Celebrities like Drew Barrymore and Angelina Jolie along with Brad Pitt started making rosé.
Rosé was suddenly mainstream. Social media turned the pink beverage into a superstar. Instagram stars like Josh Ostrovsky ("The Fat Jew") claimed, "Rosé is like puppies, if you hate it you are an absolute monster." He went on to collaborate on a product called "White Girl Rosé," a California Sauvignon Blanc and Zinfandel blend. Hundreds of thousands of bottles have been sold.
In France, clever collaborations also have taken place. Jeremy Seysses of the highly acclaimed Domaine Dujac and Aubert de Villaine of the outstanding Domaine de la Romanée-Conti, where some of the most expensive wines in the world are made, co-founded Domaine Triennes. Located in the Var, not too far from the Jolie-Pitt owned Château Miraval, Seysses and de Villaine started producing tasty rosés.
Sommeliers from all over the United States rushed to include the wine on their lists. In the summer of 2014, almost every restaurant I went to was pouring it by the glass.
Like the baguette or the beret, we have adopted rosé into American culture. The charming nature of the beverage is hard to deny. As domestic and international examples have drastically improved in quality, it is no longer considered a guilty pleasure. Men have looked past the pink coloring and embraced "brosé" remarks. Rosé is exactly what the wine world needed, a unpretentious but delicious option.
So is the rosé trend fleeting or forever? Sommelier Rajat Parr assures us, "Oh no, rosé, it's here to stay."
Excerpted from Drink Pink © Victoria James. © 2017 Victoria James. All rights reserved. All materials used with permission.