This ice cream is sort of like the Italian classic fior di latte since this one doesn't even include vanilla extract. We wanted a purer flavor for the jam. In the end, the taste here is all about the jam. Buy the best you can comfortably afford.–Mark Scarbrough and Bruce Weinstein
WHY IS POTATO STARCH USED IN ICE CREAM?
In the simplest terms, it's a stabilizer. Cornstarch is commonly used but potato or rice starch are both great alternatives. And the reason for the stabilizer? This recipe has one big missing ingredient for ice cream—eggs. Without cooking egg yolks into the dairy and making a rich custard, your ice cream is going to be thin and melt faster than you'd like. Starches are used extensively in Italian gelato, giving them their recognizable texture. Ice cream without eggs will be a little lighter (because of the absence of fat from the yolks) but potato starch will still give you the creamy thickness that you desire.
Black Currant Ice Cream
Black currant ice cream. It's simply a swirl of slightly tart black currant jam swirled through a rich, creamy, unobtrusive sweet cream ice cream. Perfect on its own, in a waffle cone, or heck, even a la mode atop waffles.
Ingredients
1/2

cup

granulated sugar or superfine sugar

3

tablespoons

potato starch

1/4

teaspoon

kosher salt

2

cups

heavy cream

1 1/4

cups

whole milk

1/3

cup

black currant jam
Instructions
Make the ice cream base
In a large saucepan over medium-low heat, combine the sugar, potato starch, and salt. Vigorously whisk a small portion of the cream and milk into the saucepan, adding just enough to form a slurry, ensuring all the lumps are gone. Then whisk in the rest of your milk and cream. Continue to whisk all the ingredients until the sugar dissolves completely. Continue cooking, whisking frequently (and, in fact, more and more frequently as time goes on) until the mixture is thick and bubbling, 10 to 12 minutes.

Pour the mixture into a bowl and let cool to room temperature. Cover and refrigerate for at least 4 hours or up to 2 days, covering once the mixture is cold—be sure to press your cling wrap directly against the surface so as not to form a skin.
Churn and set the ice cream
Stir the cream mixture to recombine and then freeze it in your ice cream machine according to the manufacturer's instructions, processing the ice cream until you can spoon up a mound and the edges don't instantly start melting.

Spoon some of the ice cream into a loaf pan, top with a thin layer of the jam, add more ice cream, more jam, and on and on, until it's all in the pan, finishing up with a layer of ice cream. Think of yourself as an ice cream bricklayer—constructing jammy heaven one layer at a time. You'll make ribbons in the ice cream later as you scoop it up to serve. Cover and freeze until the desired consistency, at least 4 hours. You can store the ice cream in a sealed container in the freezer for up to 1 month.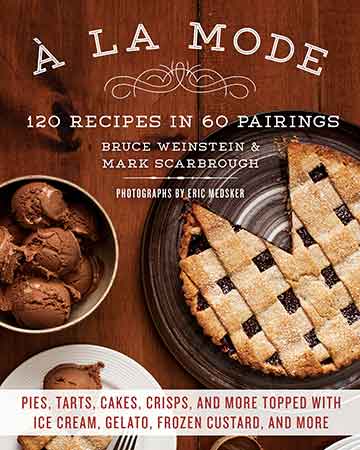 Nutrition
Serving:
0.5
cup, approximately
Calories:
327
kcal
Carbohydrates:
28
g
Protein:
3
g
Fat:
23
g
Saturated Fat:
14
g
Polyunsaturated Fat:
1
g
Monounsaturated Fat:
7
g
Cholesterol:
85
mg
Sodium:
80
mg
Potassium:
136
mg
Fiber:
1
g
Sugar:
21
g
Vitamin A:
936
IU
Vitamin C:
2
mg
Calcium:
87
mg
Iron:
1
mg
Nutrition information is automatically calculated, so should only be used as an approximation.
Recipe © 2016 Bruce Weinstein | Mark Scarbrough. Photo © 2016 Eric Medsker. All rights reserved.
---
Recipe Testers' Reviews
Summer trifle on a spoon. What's remarkable about this black currant ice cream is the lovely vanilla flavor, even though there's no actual vanilla in the recipe, and its compatibility with the black currant jam, which is worth searching for at stores.
The ice cream base comes together quickly and thickens nicely. I took a low and slow setting and I think when using a stabilizer like potato starch that's a good idea. The sugar dissolves easily, especially using the finer baker's sugar, and I turned up the heat a little after 6 to 8 minutes and whisked steadily until it thickened like a pudding or custard. You can help it chill faster (especially if you want to make it the same day) by cooling the "custard" in an ice bath before refrigerating it but a minimum of 4 hours in the fridge is still a good idea.
We exhibited patience while the churned ice cream set firm in the freezer. Okay, we got impatient and had some after 1 1/2 hours but I think it needed longer. I layered it in a rectangular 1.6-quart pan and froze it for 1 1/2 hours before serving. It was still a little soft but it scooped nicely. Better the next day, so I think you want several hours in the freezer before serving and let sit out a short while before scooping.
Using potato starch was a new one for me, and I think it was a completely neutral stabilizer, making this a pudding-like consistency, and the result is a non-icy ice cream that you can make at home with ordinary equipment. I think I might prefer it to using cornstarch, which I'm sometimes hesitant to use, partly because it seems too easily detectable and detracts from some recipes.
This recipe also encouraged me to try freezing ice cream in a low pan, which works much better for scooping, especially with the jammy add-in. I love that you can get this rich texture without eggs, which can overpower an ice cream with richness. This method also gives a good idea of how to proportion mix-ins. The only problem is that now I know how easy it is to scoop it out of an ice cream pan (which is how this container is going to be known). I bet this would be decadent on a waffle cone!
This black currant ice cream tastes (and feels) like really thick whipped cream with some jam. I refrigerated the mix for almost 24 hours and placed the plastic wrap directly on the mix after 1 hour in the fridge. I probably could have just covered the bowl with a lid.
Potato starch for the win! Never have I ever used potato starch to thicken homemade ice cream but it may be my new favorite trick. This ice cream whipped up faster than any I've made before. The result was a creamy and delicious black currant ice cream that only took a few simple steps to make.