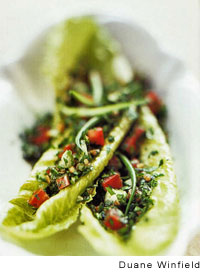 I worry that although everyone has heard of tabbouleh, no one has actually tasted a proper one. Tabbouleh is a Lebanese herb salad made with bulgur, not a bulgur salad with herbs, as it often seems to be made. It's served as a meze in the Middle East and has migrated to America, where it is now regularly sold prepackaged in supermarkets. The taste of a true tabbouleh should not be of wheat but of herbs. The longer the bulgur sits and absorbs the olive oil, lemon juice, tomato, and onion juices, the more it will swell and dominate the salad, so keep that in mind when you prepare this salad. Remember that the proper ratio of parsley to bulgur is about 7 to 1. Many cooks make tabbouleh with a food processor by pulsing in short bursts, although I still prefer the texture of the labor-intensive method of hand-chopping all the ingredients with a large chef's knife. Tabbouleh is properly eaten by scooping up small-amounts of it with pieces of romaine lettuce, not with a fork and knife, nor with pita bread.–Clifford A. Wright
LC The Real Deal Note
As author Clifford Wright says, this tabbouleh is the real deal. That fact in and of itself makes it a conversation starter, to say nothing of its taste.
Tabbouleh
Quick Glance
25 M
4 H, 35 M

Makes 6 servings
Print Recipe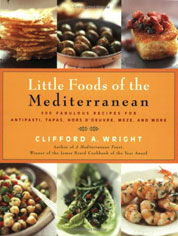 Ingredients
1/2 cup medium or coarse bulgur (no. 3 or 4)

Juice of 4 lemons

6 cups finely chopped flat-leaf parsley leaves (from 2 or 3 punches)

1 cup finely chopped mint leaves

1 pound ripe tomatoes, very finely chopped

2 large onions, very finely chopped

Salt and freshly ground black pepper, to taste

1 1/4 to 1 3/4 cups extra-virgin olive oil, as needed

1 bunch romaine lettuce, leaves separated, washed, and dried

8 scallions, cut into 1-inch lengths
Directions
1. Cover a strainer with cheesecloth. Add the bulgur, place the strainer in a pot filled with cold water, and soak the bulgur for 10 minutes. Pull up the sides of the cheesecloth, encasing the bulgur, and squeeze out all the water. Transfer to a large bowl.

2. Toss the bulgur with the lemon juice. Toss again with the parsley, mint, tomatoes, and onions and season with salt and pepper. Stir in 1 1/4 cups olive oil and let rest at room temperature until the bulgur has absorbed enough liquid to be tender, 4 to 6 hours. Correct the seasonings and olive oil, knowing that there should be enough that it looks shiny and moist but not gooey and oily.

3. Serve the tabbouleh garnished with romaine lettuce leaves and scallions. Teach everyone at the table to place a few slices scallion in a leaf of romaine lettuce, then scoop up the tabbouleh with the lettuce leaf.
Tabbouleh Recipe © 2003 Clifford A. Wright. Photo © 2003 Duane Winfield. All rights reserved. All recipes and photos used with permission of the publisher.
If you make this recipe, snap a photo and hashtag it #LeitesCulinaria. We'd love to see your creations on Instagram, Facebook, and Twitter.