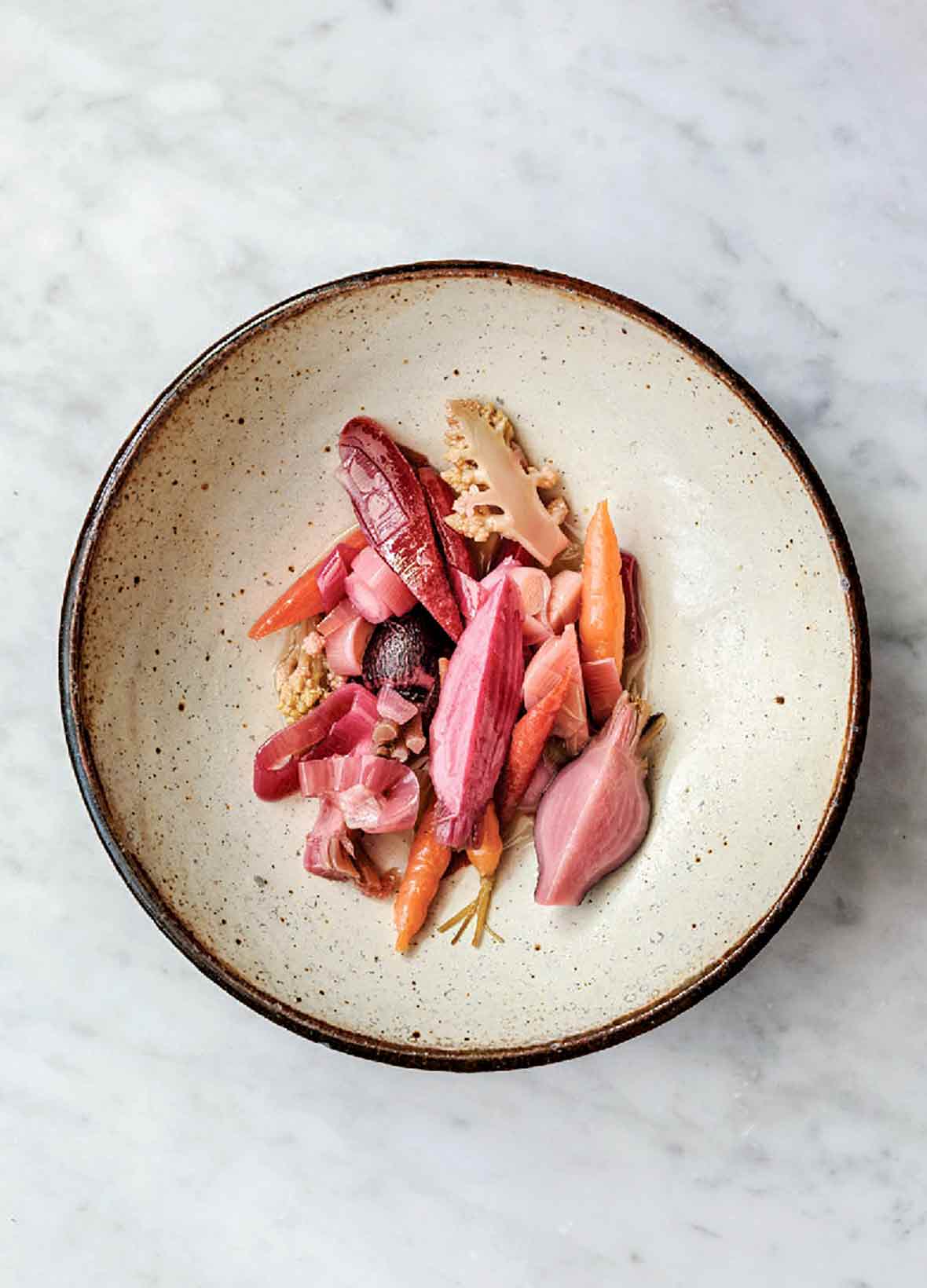 Giardinera or Italian-picked vegetables are whatever veggies you love left to soak in vinegar, spices, and herbs. So easy. So addictive. Here's how to make them.
Giardiniera is the Italian name for pickled vegetables. Whatever assorted veggies you fancy or happen to have languishing in the vegetable bin of your fridge. And they're a godsend alongside ridiculously rich, unctuous meats such as pulled pork and smoked brisket. So much so that you'll be grateful for the rather big batch this recipe makes, which disappears faster than you can imagine.–Renee Schettler Rossi
Giardiniera ~ Italian Pickled Vegetables
Giardinera or Italian picked vegetables are whatever veggies you love left to soak in vinegar, spices, and herbs. So easy. So addictive. Here's how to make them.
Equipment
Instant-read deep-fry or candy thermometer
Ingredients
5

cups

mild vegetable oil

1 3/4

pounds

assorted firm, raw vegetables (such as cauliflower, carrots, peppers, turnips, Brussels sprouts, and radishes

trimmed and cut into 1/2-inch (12-mm) pieces

3

large (7 oz)

shallots

cut into 1/2-inch (12-mm) rings (about 1 1/2 cups)

6

cups

apple cider vinegar

1/2

cup plus 1 tablespoon

kosher salt

3

medium

garlic cloves

smashed and peeled

1

tablespoon

coriander seeds

1

tablespoon

rosemary leaves

2

teaspoons

black peppercorns
Instructions
Pour the oil into a medium pot. Attach an instant-read deep-fry or candy thermometer to the side of the pot, place it over medium-high heat, and bring the oil to 300°F (150°C). Lower the heat and adjust it as necessary to maintain a steady temperature.

Meanwhile, in a pot large enough to contain at least 4 times the volume of the raw vegetables (to ensure that the hot oil won't bubble over later), combine the vegetables, shallots, vinegar, salt, garlic, coriander seeds, rosemary, and peppercorns. Bring to a gentle boil over medium-high heat, stirring once or twice to help the salt dissolve, and then immediately drain the vegetables, reserving the vinegar mixture. You can strain the vinegar mixture, refrigerate it, and reserve it for future batches of giardiniera making. Return the vegetables to the pot.

Carefully pour the hot oil over the vegetables and let it cool to room temperature.

Divide the vegetables among several containers and add enough oil to cover. Refrigerate at least overnight or up to 1 month. For the most flavor, let the pickled vegetables come to room temperature before devouring since cold temperatures mute flavor.
Nutrition
Serving:
1
cup
Calories:
352
kcal
Carbohydrates:
22
g
Protein:
5
g
Fat:
28
g
Saturated Fat:
4
g
Polyunsaturated Fat:
16
g
Monounsaturated Fat:
6
g
Trans Fat:
0.2
g
Sodium:
1229
mg
Potassium:
391
mg
Fiber:
7
g
Sugar:
1
g
Vitamin A:
6737
IU
Vitamin C:
16
mg
Calcium:
61
mg
Iron:
2
mg
Nutrition information is automatically calculated, so should only be used as an approximation.
Recipe © 2017 Stuart Brioza | Nicole Krasinksi. Photo © 2017
Ed Anderson
. All rights reserved.
---
Recipe Testers' Reviews
What a nice surprise! I've seen jarred giardiniera at the grocery store for years but never thought it would be so easy to make at home. I also didn't think that such a quick cook in the vinegar would be long enough to pickle the vegetables but I was wrong. The vegetables have a mild pickled flavor and the rosemary REALLY comes through! I enjoyed these with a quick lunch today and am planning to serve the rest with charcuterie for the holidays.
This giardiniera yields a soft-crunchy, lightly pickled, addictive final product that I could not help but eat with a fork straight from the jar. I used a mix of cauliflower, bell peppers, and watermelon radishes. I preferred the cauliflower and radishes to the peppers, which were a little softer than I would like, but that's the beauty of this recipe. It has an infinite number of combinations according to your preference. I loved this recipe and am happy for the lovely jars of pickled vegetables in my fridge and look forward to adding some to sandwiches this week.
I think it's good, but I do think it could just be made better. I love good giardiniera on almost anything I can put it on or just eat it plain alongside my sandwich. I was excited to try making my own. I couldn't find bran oil except in very small quantities at the health food store and it was cost prohibitive to get 5 cups so I used grape seed oil that I had on hand.
I used cauliflower, carrots, celery, olives, and red peppers. I really liked the shallots in the recipe, I was going to add pearl onions anyway and I realize now that I like the shallots even better. My shallots come out to 1-1/4 cups loosely placed in the measure. In the pickling mix I used Morton's coarse sea salt.
I ended up with three 1-quart containers. After letting it sit overnight, I tried it the next day, not really happy with the flavors, it was too mild. After a week it was a little better but I just didn't get the pickle flavor I like, it seems like sitting in the oil tames the pickling and I'm not sure it will get any better over time. I'm going to try and cook the vegetables longer, or let them sit in the pickling before I drain it to see if it gets any more flavorful.
Originally published January 31, 2018