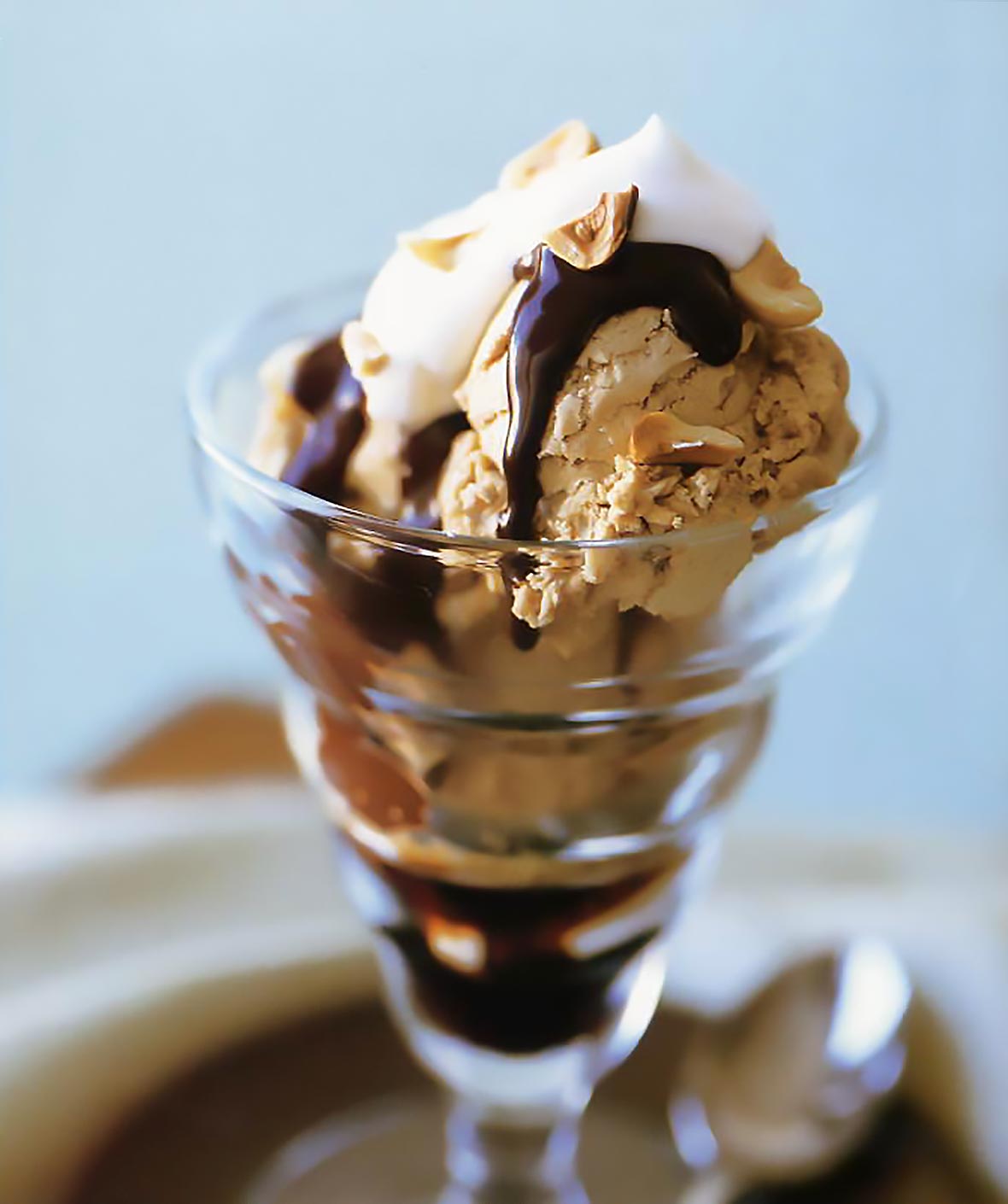 This dessert is after-dinner coffee, ice cream, and liqueur all in one parfait dish. It has all the visual appeal of a hot fudge sundae topped with whipped cream and nuts, but the flavors are more sophisticated. I made this with the help of Terry Paetzold. Terry was my first pastry chef at Postino, and part of the crew that opened my restaurant. She graciously contributed her recipes for ganache and coffee ice cream to this affogato recipe.
Think of this dessert in steps. If you're very rushed, you can use store-bought ice cream and chocolate sauce. But with just a few extra minutes, you can make Terry's ganache and you'll find it a world away from what you find in a jar. Be sure to use a premium chocolate when making the ganache. I like Callebaut, Scharffen Berger, or Valrhona. If you really go the distance and make Terry's coffee ice cream yourself, this dessert soars. I like to serve it in clear glass so you see the layers — either parfait glasses or tall, straight-sided bistro glasses.–Cat Cora
Homemade Affogato
Quick Glance
1 H
5 H, 30 M

Serves 4 to 6
Special Equipment: Ice cream maker
Print Recipe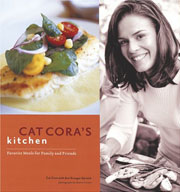 Ingredients
Email Grocery List
For the Warm Chocolate Ganache

1 cup finely chopped premium bittersweet chocolate

1/2 cup heavy cream

For Terry's Coffee Ice Cream

1 cup whole Italian-roast coffee beans

2 cups whole milk

1 1/4 cups sugar

2 cups heavy cream

8 large egg yolks

For the dessert

1 cup heavy cream

1 teaspoon sugar

1 teaspoon vanilla extract

1/2 cup brewed espresso

1/2 cup amaretto

3 cups (twelve 1/4-cup scoops) Terry's Coffee ice Cream (above)

1 cup Warm Chocolate Ganache (above)

1/2 cup roasted hazelnuts, roughly chopped
Directions
Make the ganache

1. Place the chopped chocolate in a bowl. In a saucepan, heat the cream over medium heat until it begins to bubble. Remove from the heat and immediately pour the hot cream over the chopped chocolate. With a whisk, stir the mixture until the chocolate has completely melted and mixed with the cream to form a thick sauce. Use immediately or keep warm over a hot water bath on very low heat until ready to use.

Make the ice cream

2. Place the whole coffee beans in a small lock-top bag and close tightly. With a rolling pin crush the beans into coarse pieces. Pour the crushed beans into a saucepan with the milk, 1/2 cup of the sugar, and 1 cup of the cream. Place the saucepan over medium heat and slowly bring the milk mixture to a simmer, stirring to dissolve the sugar. Remove from heat as soon as bubbles break the surface. Allow the coffee beans to steep in the heated milk and cream for at least 1 hour. Strain the mixture into a saucepan and set aside. Discard the coffee beans.

3. Have ready a large bowl filled with ice water. In another bowl, with an electric mixer, whisk the egg yolks with the remaining 3/4 cup sugar until the mixture becomes pale yellow and forms a ribbon.

4. Reheat the espresso-flavored milk mixture, bringing it to a simmer. Immediately remove it from the heat, and with the mixer on low speed, slowly ladle about 1/2 cup of the hot milk mixture into the beaten eggs and sugar. While mixing, add the remaining hot milk mixture in a slow, steady stream until incorporated. Scrape the mixture from the sides and the bottom of the bowl mix well, and pour through a sieve into another bowl. Add the remaining 1 cup cold cream and stir well to combine thoroughly.

5. Place in the ice bath. Stir until the mixture has completely cooled. Transfer the mixture to a covered container and chill thoroughly in the refrigerator for at least 2 hours or until ready to churn.

6. Follow the manufacturer's directions for your ice cream maker for churning and freezing. After churning the ice cream, cover tightly and place in the freezer to set for at least 1 hour or until ready to serve.

Make the dessert

7. In a bowl, using a whisk or an electric mixer, beat the cream with the sugar and vanilla until soft peaks form. In the bottom of each of 4 tall dessert glasses, pour 2 tablespoons each of the espresso and amaretto. Place three 1/4-cup scoops of ice cream into each glass.

8. Pour 1/4 cup of the warm chocolate ganache over each serving of ice cream. Top with two heaping spoonfuls of whipped cream and sprinkle with the hazelnuts. Serve immediately.
Recipe Testers Reviews

This is a rich, creamy coffee ice cream recipe. I added chopped up bits of dark chocolate towards the end of churning as a fun add-in.
Homemade Affogato Recipe © 2004 Cat Cora. Photo © 2004 Maren Caruso. All rights reserved. All materials used with permission.
If you make this recipe, snap a photo and hashtag it #LeitesCulinaria. We'd love to see your creations on Instagram, Facebook, and Twitter.