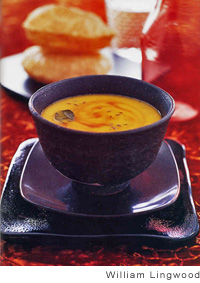 Among Gujarati families in India and South Africa, this wondrous, sweet, sour and hot, soupy dish is served in small bowls (katoris) as part of the meal, with fried puffy breads (pooris) as an accompaniment. What I do at my dinners is something different. I strain it, removing most of the seeds and leaves, and then serve it all by itself as a soup in very small quantities.
Both India and South Africa produce excellent mangoes, so this is really a seasonal dish made when good mangoes are abundant. In the West, mangoes of that caliber are hard to find and I make use of the canned purée of India's very best Alphonso mangoes, sold by all Indian grocers. It takes me about 10 minutes to make the soup, from start to finish.
If you can find fresh, sweet, juicy, fully ripe mangoes, wash them, then, one at a time, squeeze them with both hands, almost as if you were giving them a good massage. The flesh should turn to pulp. Then peel them. "Milk" the stone or seed, collecting all the juice in a bowl. Pour a little hot water on the stone and "milk" it some more. Do the same to the skin, pouring a tablespoon or so of hot water on it to get at all the juice. Collect all the mango juice in a bowl. You should have about 5 1/2 to 6 cups. Use this thin juice whenever water is called for, letting it cool first. You may need to add a bit more sugar.–Madhur Jaffrey
Gujarati Mango Soup
Quick Glance
40 M
1 H, 10 M

Serves 6
Print Recipe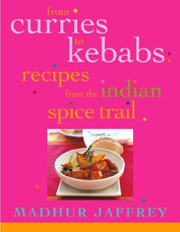 Ingredients
2 tablespoons chickpea flour

1/8 teaspoon ground turmeric

3/4 teaspoon ground cumin

3/4 teaspoon ground coriander

1/2 cup plain yogurt

3 cups thick Alphonso mango pulp (sweetened) from a can

1 1/4 to 1 1/2 teaspoons salt

1/2 teaspoon sugar, or to taste

2 bird's-eye chilies, with small slits cut in them

2 tablespoons corn or peanut oil, or a mixture of 1 tablespoon oil and 1 tablespoon ghee

A generous pinch of ground asafetida

1/2 teaspoon whole brown mustard seeds

1/2 teaspoon whole cumin seeds

2 whole hot dried red chilies

1/8 teaspoon whole fenugreek seeds

10 to 15 fresh curry leaves, if available
Directions
1. Put the chickpea flour, turmeric, cumin, and coriander in a medium bowl. Very slowly add 1/2 cup of water, mixing with a wooden spoon as you go. There should be no lumps left. Add the yogurt, mixing it in with a whisk. Pour in the mango pulp and an additional 2 cups of water. Add the salt, sugar, and fresh chilies. Mix well.

2. Pour the oil into a thick, medium, lidded pan and set over medium-high heat. When the oil is very hot, put in first the asafetida and then, in quick succession, the mustard seeds, the cumin seeds, the chilies, the fenugreek seeds, and, lastly, the curry leaves. Take the pan off the heat.

3. Stir the mango mixture from the bottom and quickly pour it into the pan. Stir. Put the pan over medium heat and bring to a simmer. Simmer over very low heat for 5 minutes, stirring with a whisk or spoon as you do so. Take the pan off the heat, cover, and leave for at least 30 minutes to allow the spices to release all their flavors.

4. Before serving, stir the soup and reheat it gently. Strain it through a coarse strainer. Spoon out some of the smaller seeds — the mustard and cumin — from the strainer and stir them back into the soup to add some colorful flecks.
Gujarati Mango Soup Recipe © 2003 Madhur Jaffrey. Photo © 2003 William Lingwood. All rights reserved. All recipes and photos used with permission of the publisher.
If you make this recipe, snap a photo and hashtag it #LeitesCulinaria. We'd love to see your creations on Instagram, Facebook, and Twitter.