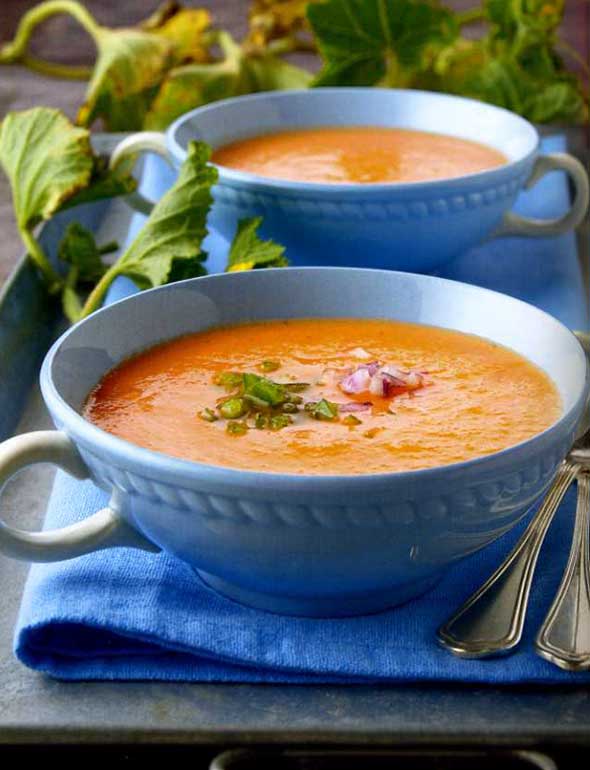 Icy and gorgeously orange, this chilled cantaloupe soup is flecked with the bright green of freshly grated lime zest. When you get down to eating the soup, pile in the red onion, green chile, and fresh basil. (The basil and jalapeño are the essential finishes for the soup, while the onion is an attractive option.) It's an uncommon mix of ingredients that always delights.–Lynn Rossetto Kasper and Sally Swift
LC Can You Catch A Decent Cantaloupe? Note
Authors Lynn Rosetto Kasper and Sally Swift Track advise relying on "a truly sweet cantaloupe" for this soup, and they were kind enough to include advice on how to catch a cantaloupe in their book. "A melon's fragrance tells you everything you need to know," they explain. "If it smells sweet, almost perfumed, you have a good one. If a melon has no scent, it'll have no flavor." There you go. Can you catch a decent cantaloupe?
Iced Cantaloupe Soup with Basil
Quick Glance
20 M
20 M

Serves 2 to 4
Print Recipe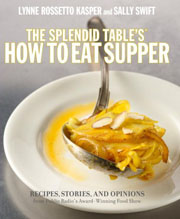 Ingredients
One 2 1/2-pound cantaloupe, ripe and intensely sweet-smelling

2 cups ice cubes

Generous pinch salt

4 or 5 grinds black pepper

2 tablespoons granulated sugar

Juice of 2 large limes (about 1/2 cup)

Grated zest of 1/2 large lime (preferably organic)

Condiments

1 or 2 jalapeños, seeded and cut into fine dice

10 to 12 basil leaves, coarse chopped

1/2 medium red onion, cut into 1/8-inch dice (optional)
Directions
1. Cut the melon into quarters. Scoop out its seeds and trim the rind. Slice it into chunks and put them in a food processor. Add the ice, salt, pepper, sugar, and lime juice, and purée until smooth. Stir in the grated zest.

2. Place the jalapeños, basil, and onion in separate small serving bowls. Pour the purée into individual soup bowls or, if not serving the soup immediately, into a pitcher for further chilling.

3. Pass the jalapeños, basil, and onion on the side.
Canteloupe Jalapeño Cocktail
When colleague Judy Graham gave this soup recipe a run-through, she went into overdrive and came up with this drink that's perfect for brunch. Prepare the soup as described up to the point where it has been puréed. Before adding the lime zest, strain the soup. Then blend in the lime zest and 1 seeded and minced jalapeño. Divide the blend among 4 to 6 tall glasses filled with ice. Add a splash of vodka to each one and stir. Serve garnished with wedges of lime or a sprig of basil.
Iced Cantaloupe Soup with Basil Recipe © 2008 American Public Media. Photo © 2008 Mette Nielsen/Tony Kubart. All rights reserved. All recipes and photos used with permission of the publisher.
If you make this recipe, snap a photo and hashtag it #LeitesCulinaria. We'd love to see your creations on Instagram, Facebook, and Twitter.