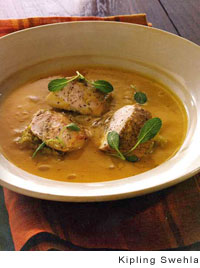 A hearty autumnal or winter soup, this dish is brimming with the kind of soul-warming ingredients we all love: pumpkin, chicken, ginger, and leeks. If that weren't enough, its silky smooth consistency makes it the kind of soup you just want to curl up with in front of the fire.
It's also a recipe to feature at a dinner party, as the soup and leeks can be prepared several hours ahead and the bowls assembled at the last minute.–Charlie Trotter
LC Ginger-tastic Note
This recipe doesn't dally when it comes to ginger – we would say it packs a punch, but it's more like a big hug. Maybe one of those hugs that takes your breath away for a moment with its enthusiasm, but not one of those that makes you wonder if you'll get out with all your ribs intact. Preserving the ginger as directed, in several changes of syrup, softens the flavour from an outright burn to a sweet smolder, and combining the end result with pumpkin and a hint of sage is a marriage made in autumnal heaven.
Pumpkin Soup with Chicken and Ginger-Braised Leeks
Quick Glance
1 H
3 H

Serves 4
Print Recipe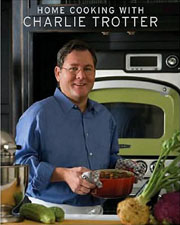 Ingredients
For the preserved ginger

6 tablespoons peeled and julienned ginger

1 1/2 cups sugar

1 1/2 cups water

For the soup

1 small pumpkin, halved and seeded

Salt and freshly ground black pepper

3 tablespoons extra-virgin olive oil, plus extra for drizzling

8 sprigs thyme

2 leeks (white part only) cut into 1/4-inch-thick slices

5 tablespoons unsalted butter

3 cups homemade chicken stock or canned chicken broth

1 tablespoon plus 1/4 cup preserved ginger

2 boneless, skinless chicken breasts

1 tablespoons canola oil

2 teaspoons fresh tiny sage leaves
Directions
Make the preserved ginger

1. Place the ginger, 1/2 cup of the sugar, and 1/2 cup of the water in a small saucepan. Simmer for 10 minutes, strain the liquid, and repeat the process two more times, reserving the final cooking liquid to store the ginger. Use immediately, or refrigerate for up to 1 week.

Make the soup

2. Preheat the oven to 350°F (175°C). Season the flesh of the pumpkin with salt and pepper and rub with the olive oil. Place the pumpkin halves, cut side down, on a baking sheet and place 4 thyme sprigs under each half. Add 1/4 inch water to the pan and roast for 45 to 60 minutes, or until tender. Scrape the pulp into a bowl and discard the skin.

3. Cook the leeks with 2 tablespoons of the butter in a saucepan over medium heat for 10 minutes, or until translucent. Add 1 cup of the stock and the 1 tablespoon ginger and cook over medium-low heat for 25 minutes, or until the leeks are soft and most of the liquid has been absorbed. Keep warm.

4. Season the chicken breasts with salt and pepper. Heat the canola oil in a saute pan over medium heat, add the chicken breasts, and cook for 5 to 6 minutes on each side, or until just cooked. Thinly slice the chicken and reserve.

5. Puree the 1/4 cup ginger and any residual ginger juice, the remaining 2 cups stock, and the pumpkin pulp until smooth. Season with salt and pepper. Cook the soup in a saucepan over medium heat for 5 minutes, or until warm. Whisk in the remaining 3 tablespoons butter and season with salt and pepper.

6. Spoon some of the leeks into the center of each bowl and ladle the soup around the leeks. Arrange some of the sliced chicken in the center of each bowl and sprinkle with tiny sage leaves. Drizzle with olive oil and serve immediately.
Recipe Testers Reviews
Pumpkin Soup with Chicken and Ginger-Braised Leeks Recipe © 2008 Charlie Trotter. Photo © 2008 Kipling Swehla. All rights reserved. All materials used with permission.
If you make this recipe, snap a photo and hashtag it #LeitesCulinaria. We'd love to see your creations on Instagram, Facebook, and Twitter.