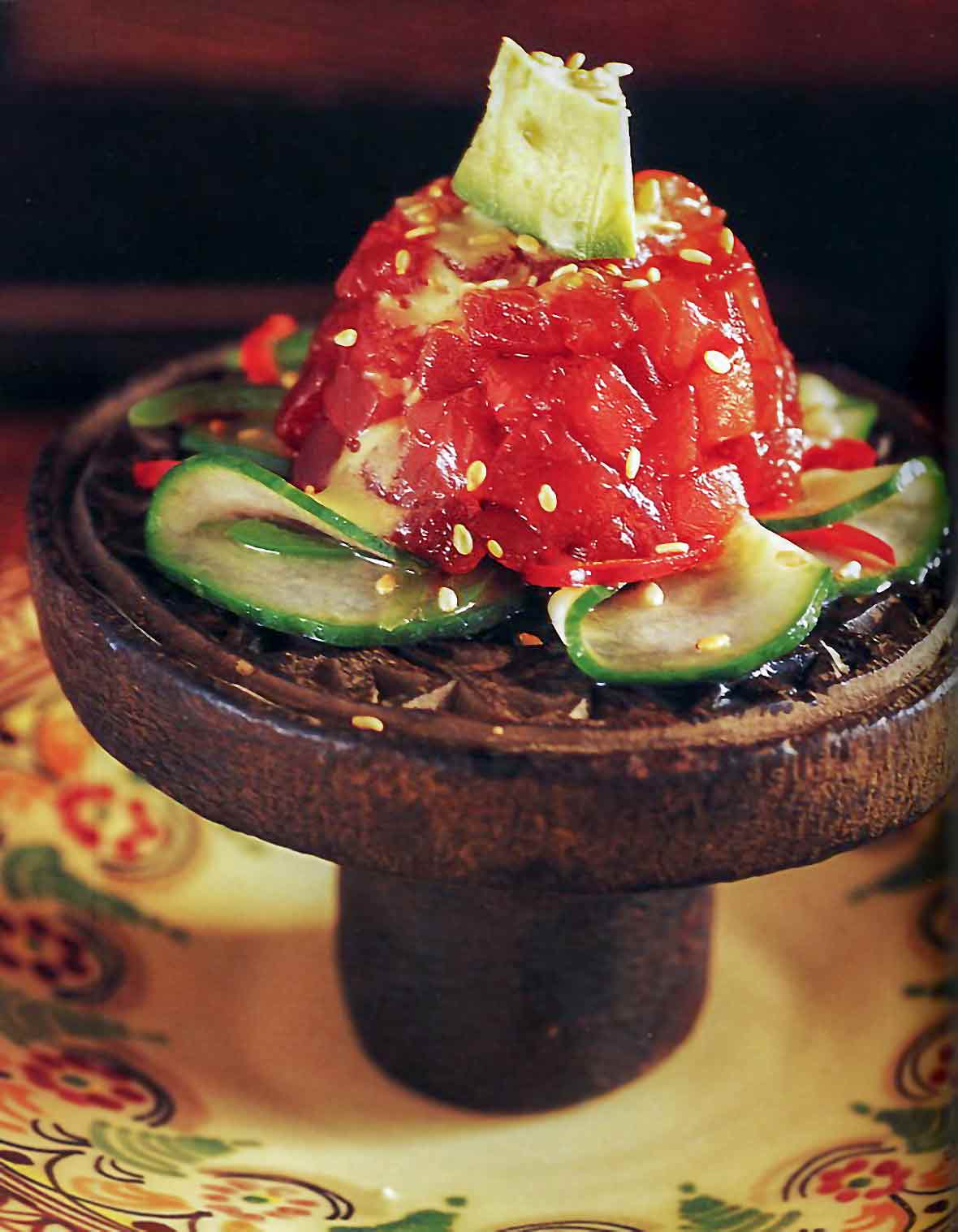 This cool, elegant Japanese-inspired appetizer is great in the summer, especially if you have cucumbers, sweet red onions, and chiles fresh from your garden (or from your favorite farmers' market). For an hors d'oeuvre party you could serve the tuna on crackers. And of course you could feature it as presented below in any small-plates meal.
It takes a bit of time for the cucumber to "weep," and the wasabi paste needs to sit for at least 30 minutes before being used, but everything can be done ahead of time. Then final assembly will take just a few minutes.
Wasabi is a Japanese horseradish. For this dish, we mix wasabi powder with water to make the wasabi paste. You could buy a tube of ready-mixed wasabi paste instead, though you should check out the label to see if it has been loaded up with additives. Wasabi powder and paste are both easy to find at Asian markets. If you're really lucky, you might find fresh wasabi roots, and could try grating your own paste. Fresh wasabi roots are much smaller than Western horseradish roots, dark brown on the outside, and bright light green inside.–Cindy Pawlcyn
Tuna Tartare with Cucumber Salad and Avocado
Quick Glance
40 M
1 H

Serves 6
Print Recipe
Ingredients
12 ounces sushi-grade ahi or albacore tuna

For the wasabi paste

2 tablespoons wasabi powder

1/4 to 1/2 cup water

For the cucumber salad

1 English cucumber, unpeeled, sliced paper-thin

2 teaspoons kosher salt

2 jalapeño chiles, stemmed, seeded, and julienned

3 red Fresno chiles, stemmed, seeded, and julienned

1/2 medium red onion, thinly sliced

2 tablespoons rice vinegar

2 tablespoons extra-virgin olive oil

For the san bai su drizzle

1/4 cup tamari

1/4 cup rice vinegar

1/4 cup mirin

12 slices avocado

2 tablespoons toasted sesame seeds
Directions
1. Cut the tuna into tiny dice, 1/4 inch or smaller. Put it in a bowl, and set the bowl over ice, in order to keep the fish well chilled. Refrigerate until needed, up to 2 hours maximum.

2. In a small bowl, combine the wasabi powder with just enough of the water to make a drizzleable paste. Mix well, cover, and set aside. Let it sit for at least 30 minutes before using. If it thickens too much, add a few drops of cold water to thin.

3. Spread the cucumber slices over a baking sheet and sprinkle them with the kosher salt. Let them sit for 30 minutes to draw out the excess moisture. Combine the chiles, onion, rice vinegar, and olive oil in a mixing bowl large enough to hold the cucumbers, and keep refrigerated until needed. After 30 minutes, pat the cucumbers dry with paper towels and toss them into the bowl with the chiles and onions.

4. Mix the ingredients for the San Bai Su Drizzle together in a small bowl. Chill 6 medium-small plates in the fridge.

5. To serve, drizzle the chilled plates with some of the wasabi paste, then gently measure out 1/3-cup portions of tuna and turn them out onto the center of each plate. Place three mounds of cucumber salad about, and drizzle with San Bai Su. Cross 2 slices of avocado on top of each portion of tuna and sprinkle the sesame seeds over all.
Tuna Tartare with Cucumber Salad and Avocado Recipe © 2006 Cindy Pawlcyn. Photo © 2006 Laurie Smith. All rights reserved. All recipes and photos used with permission of the publisher.
If you make this recipe, snap a photo and hashtag it #LeitesCulinaria. We'd love to see your creations on Instagram, Facebook, and Twitter.