This giveaway has expired. Care to take a look at
some others
?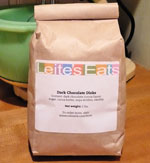 Dark Chocolate Couverture Disks, 60 % Cacao Content
This is the first—and most requested—item Leite's Eats is offering. And no wonder. These dark chocolate couverture disks were made famous in David's article Perfection? Hint: It's Warm and Has a Secret in the New York Times. It's been dubbed the "recipe baked 'round the Internet." Many readers have had a hard time finding the right type of chocolate, one with a higher cocoa butter content so it melts seductively, which makes a significant difference in the recipe. We've sourced it, and you can buy it here. The package has enough disks to make one batch of eighteen 6-inch ultimate chocolate cookies. 20-ounce package. Leite's Culinaria price: $15.00
Sold out!
© 2009 LC Staff. All rights reserved. All materials used with permission.