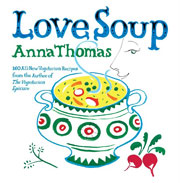 This beautiful soup of carrots and yam is bright orange and full of subtle, interesting flavors. Parsnips and celery root quietly balance the sweetness of carrots and yams, and a light touch of spices and citrus juices brings out the best in the vegetables without dominating. But for drama in the bowl and on your taste buds, try this with a spoonful of dark red chile salsa floating on top of each serving. Fantastic!–Anna Thomas
LC Work Smarter, Not Harder Note
You can't rush a good pot of soup—but you can keep things moving with some clever multitasking. In this recipe, you simmer assorted vegetables, gently sauté some onions, and roast a yam all at once. These elements come together as they're ready to make a bowl of soup that tastes as though you've been slaving over it all day. Work smarter, not harder.
Pureed Soup of Carrot and Yam with Citrus and Spices
Quick Glance
40 M
1 H

Serves 6 to 7
Print Recipe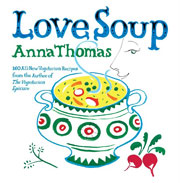 Ingredients
1 large yam

1 large yellow onion

2 tablespoons olive oil

1 teaspoon sea salt, plus more to taste

12 ounces carrots

6 ounces parsnips

4 ounces trimmed celery root

1 tablespoon honey or agave nectar

One 1-inch stick cinnamon

1/2 teaspoon coriander seeds, lightly toasted and ground

1/4 teaspoon ground nutmeg

Pinch of hot paprika or cayenne

About 4 cups light homemade vegetable broth, or 3 cups canned vegetable broth diluted with 1 cup water

Grated zest of 1 orange

3 tablespoons fresh orange juice

1 tablespoon fresh lemon juice, plus more to taste

1 tablespoon (1/2 ounce) unsalted butter (optional)

Fruity green olive oil, for garnish

Cooked chile salsa, optional garnish
Directions
1. Preheat the oven to 375°F (190°C).

2. Wash the yam, pierce it once or twice with a fork, and place it in a small roasting pan lined with foil. Roast it until completely soft, about 45 minutes (or longer if you've got a very large yam). Let it cool slightly, then peel.

3. While the yam is roasting, chop the onion and saute it in a skillet with the olive oil and a pinch of salt over medium-low heat, stirring often, until it's soft and browned, at least 20 minutes, longer if needed.

4. Peel and slice the carrots, parsnips, and celery root and toss them in a soup pot with about 3 cups water, 1 teaspoon salt, the honey, and the spices. Simmer the vegetables, covered, until they are completely tender, about 30 minutes. Add the roasted yam and the onion as soon as they are ready, along with the vegetable broth, grated orange rind, and citrus juices.

5. Puree the soup in batches in a blender or in the pot with an immersion blender until perfectly smooth. Return it to a clean pot, bring it back to a simmer, and taste it. Correct the seasoning with more salt or a little more lemon juice if needed. Stir in the butter for a richer taste and silky texture—or leave it out if you prefer a vegan soup.

6. Serve the soup with a drizzle of fresh olive oil on top. For a really spectacular dish, drop a spoonful of dark red salsa in the center of each bowl. (A salsa that is not hot, just mildly spicy, and incredibly flavorful, is a splendid finish.)
Pureed Soup of Carrot and Yam with Citrus and Spices Recipe © 2009 Anna Thomas. All rights reserved. All recipes and photos used with permission of the publisher.
If you make this recipe, snap a photo and hashtag it #LeitesCulinaria. We'd love to see your creations on Instagram, Facebook, and Twitter.