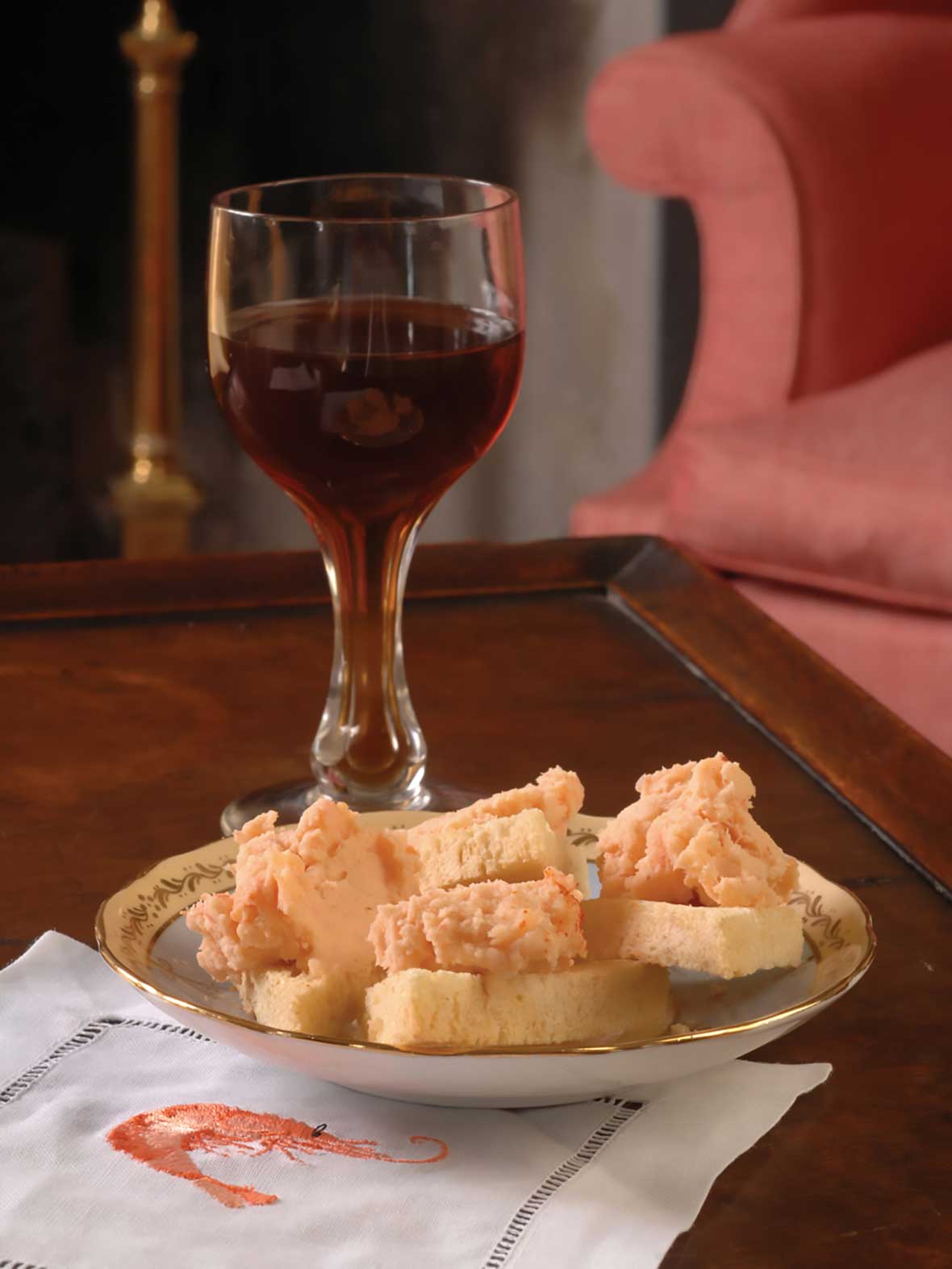 Modern recipes for this venerable Lowcountry shrimp paste dish can be complicated by up to a dozen ingredients. But the traditional ones, which have withstood the test of time and the canned-soup craze, are simple almost to the point of austerity, containing little more than butter and shrimp. To my way of thinking, those are the best, for their apparent simplicity is deceptive; rich, creamy butter is the perfect background for the delicate taste of the tiny inlet shrimp that inhabit our coast. One needs only the barest trace of onion or pepper to point up and enliven the taste; too much of either throws the entire dish out of balance.
Traditionally, shrimp paste appeared mostly on tea tables, supper-party buffets, and at breakfast, where it might be served sliced and lightly fried. Its richness withstands most cocktails, so it translates nicely to a modern cocktail hour, and makes a handsome first course for a summer luncheon. Still, there is nothing to equal a shrimp paste sandwich cut thin and served with a cup of good, hot tea.
The traditional methods for making this shrimp paste are a mortar and pestle or using a meat grinder, and their texture is perhaps more interesting than the smooth paste made by the processor, but the machine makes such short work of it and produces a paste that is so much easier to mold and spread that, just this once, even I will admit to preferring it.–Damon Lee Fowler
Shrimp Paste
Quick Glance
15 M
30 M

Serves 6 as a first course, or 20 for cocktails or tea
Print Recipe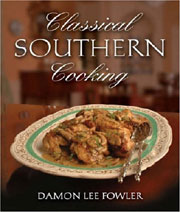 Ingredients
1 1/2 pounds cooked shrimp, peeled

1/4 pound unsalted butter, softened

2 tablespoons grated shallots or yellow onion

Salt and whole white pepper, in a peppermill

Ground cayenne pepper

Biscuits, crisp toast points, or Melba toasts
Directions
1. Fit the bowl of the processor with a steel blade and put in the shrimp. Cover and pulse until coarsely ground.

2. Add the butter and shallots and process until the mixture forms a paste. Don't over-process it to a mousse consistency: there should still be some texture. Season to taste with salt, a liberal grinding of white pepper, and a pinch or so of cayenne. Pulse a few times to mix the seasonings. Taste and adjust the seasoning and pulse until mixed.

3. Lightly butter a 3-cup metal mold, or two smaller molds, or a small loaf pan. Press the paste firmly into it, making sure there are no pockets of trapped air. Cover with a plate or plastic wrap and chill for several hours until firm.

4. To unmold, stand the mold in a basin of hot water for 1 minute. Loosen the edges with a knife, and invert the mold over a serving plate—the shrimp paste should come out with a couple of firm taps on the top of the mold. Smooth any gaps with a spatula and let it stand until it's soft enough to spread. Serve with biscuits, toast points, or Melba toasts.
Shrimp Paste Recipe © 2008 Damon Lee Fowler. Photo © 2008 John Robert Carrington. All rights reserved.
If you make this recipe, snap a photo and hashtag it #LeitesCulinaria. We'd love to see your creations on Instagram, Facebook, and Twitter.