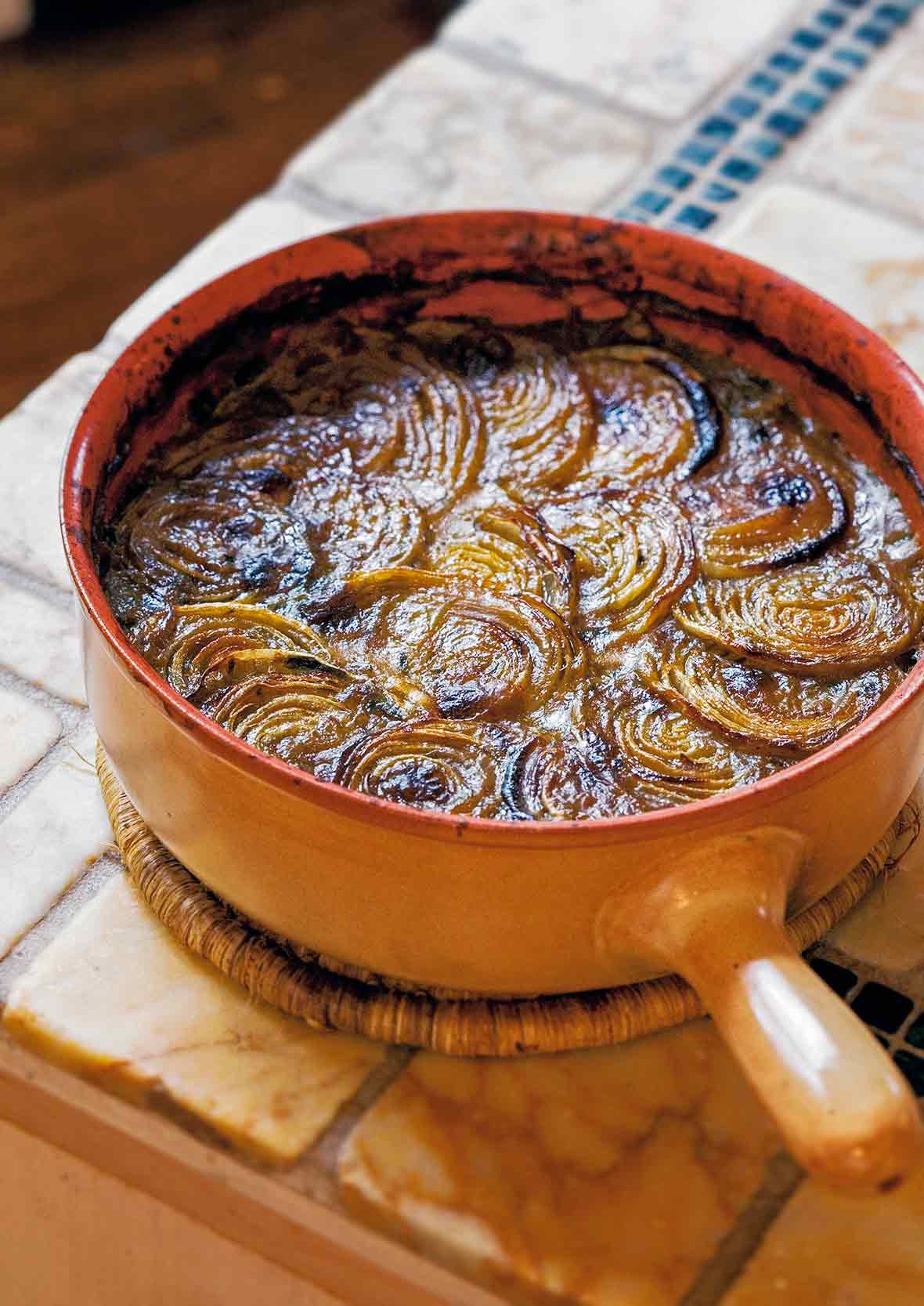 This famous ribollita soup is not really a soup in the literal sense; rather, it is a thick panade, or porridge, of bread, vegetables, and beans baked under a sheet of caramelized onions. It makes a wonderful meal in a bowl.
The word ribollita means "reboiled" in Italian, which is just what is done in Tuscan homes with a two- or three-day-old minestrone. A good ribollita is thick with greens, such as Italian black kale (also called Tuscan kale, dinosaur kale, or lacinato kale) and spinach, mashed and whole beans, and a mix of vegetables cooked and recooked so many times that they've turned meltingly soft. The topping of the ribollita of thinly sliced, cooked-till-crusty caramelized onions gives this dish a lovely appearance, especially when prepared, as is proper, in a wide-mouth earthenware casserole.
A good ribollita is truly divine. I like it so much I skip its earlier minestrone incarnations. Rather, I make the base soup, let it sit for three days, and then go for the masterpiece! In addition, if you don't eat it all up, which wouldn't be surprising since the dish is so rich, reheat it again, and it will only get richer and thicker. It's also good served lukewarm.–Paula Wolfert
LC More From Paula Note
Paula is so impassioned when it comes to this ribolitta recipe, she has even more advice about its preparation. And we're so grateful she shared it with us.
I save Parmigiano-Reggiano and Romano cheese rinds in the freezer in a plastic bag, so a piece or two can be added whenever I make ribollita, or any bean soup with an Italian accent. Submerged in liquid, the rind will turn soft and add depth of flavor. If you sliver a softened piece and return it to the soup, it will dissolve and impart flavor throughout.
I learned a great method for preparing large volumes of greens in a soup pot from cooks on the Ligurian coast. After washing the greens, tear them up, salt lightly, and leave for 30 minutes. They will exude much of their moisture and will collapse but will retain full flavor and all their vitamins while giving up much of their bitterness. Before cooking, rinse off the salt, shred the greens even finer, and add to the soup pot.
Ribollita in the Style of Siena
Quick Glance
Quick Glance
1 H, 20 M
5 H, 15 M

Serves 8
Print Recipe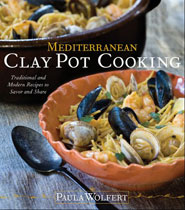 Special Equipment: A 4- to 5-quart glazed or unglazed earthenware or flameware casserole and a deep 12-inch-wide ovenproof ceramic casserole or Spanish cazuela. If using an electric or ceramic stovetop, be sure to use a heat diffuser with the clay pots.
Ingredients
Email Grocery List
Directions
Begin the soup 2 days in advance. Rinse the kale and other greens and strip away the hard stems. Sprinkle the leaves generously with salt and drain in a colander in the sink for 30 minutes. Rinse and squeeze dry; then coarsely chop them.
Meanwhile, heat half the olive oil in the 5-quart casserole over medium heat. If using earthenware, be sure to start on low and raise the heat gradually. Add the chopped yellow onions, celery, and carrot and cook until the vegetables are soft and just turning golden, about 20 minutes. Add the greens to the pot, stirring to coat them with oil.
Crush half the cannellini beans to a puree. Add all the beans, the garlic, parsley, thyme, bay leaf, tomato sauce, and cheese rind to the mixture and cook, stirring, for a few minutes. Pour in 3 quarts warm water and slowly bring to a boil. Cover, reduce the heat, and simmer for 30 minutes to blend the flavors. Remove from the heat, uncover, and let cool.
Stir the bread into the cool soup and return the pot to low heat. Raise the heat to medium-low and cook, stirring, until the bread crumbles and the soup turns creamy with small bread chunks here and there. Add water if necessary to keep the mixture smooth but always so thick a spoon can stand up in it. Let cool, cover, and refrigerate for 2 days.
About 3 hours before serving, remove the ribolitta from the refrigerator. Correct the seasoning with salt, plenty of black pepper, and a splash of vinegar. Remove the cheese rind (see Note). Preheat the oven to 350°F (175°C).
Lightly oil the 12-inch-wide casserole and turn the ribollita into it. Top with slightly overlapping slices of red onion. Drizzle the remaining 1/3 cup olive oil over the top and bake for 2 hours. Turn off the heat and leave the ribollita in the oven until it cools down to warm, 35 minutes. Serve with a pepper mill and a cruet of your best Tuscan extra virgin olive oil.
Print Recipe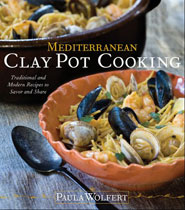 Ribollita in the Style of Siena Recipe © 2009 Paula Wolfert. Photo © 2009 Ed Anderson. All rights reserved. All materials used with permission.
If you make this recipe, snap a photo and hashtag it #LeitesCulinaria. We'd love to see your creations on Instagram, Facebook, and Twitter.