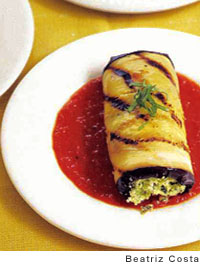 These rolls also make an excellent sandwich filling for a late-night snack: put a whole rollatini in a hamburger bun, squish it a bit, and rock on! Be sure to use medium, not large, eggplants, so they won't be too seedy.–Mario Batali
LC No Grill? No Problem! Note
We imagine these would still be quite nice even if the eggplant were cooked in a grill pan or under a broiler rather than over an open flame.
Eggplant Rollatini with Goat Cheese
Quick Glance
1 H
1 H, 30 M

Serves 6
Print Recipe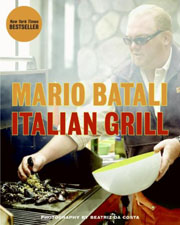 Ingredients
For the pesto

3 garlic cloves

2 cups lightly packed basil leaves

3 tablespoons pine nuts

Generous pinch kosher salt

1/2 cup plus 2 tablespoons extra-virgin olive oil

1/4 cup freshly grated Parmigiano-Reggiano

3 tablespoons freshly grated pecorino Romano

For the basic tomato sauce

1/4 cup extra-virgin olive oil

1 Spanish onion, cut into 1/4-inch dice

4 garlic cloves, thinly sliced

1/2 medium carrot, finely shredded

3 tablespoons chopped thyme leaves

Two 28-ounce cans whole tomatoes

Kosher salt

For the eggplant

3 medium eggplants

1/4 cup extra-virgin olive oil, plus about 1/3 cup for brushing

Kosher salt and freshly ground black pepper

1 cup soft fresh goat cheese, such as Coach Farm

1/2 cup pesto (homemade or store-bought)

1/4 teaspoon freshly grated nutmeg

1 cup basic tomato sauce

Generous 2 tablespoons marjoram leaves
Directions
Make the pesto

1. With the motor running, drop the garlic into a food processor to chop it. Add the basil, pine nuts, and salt and pulse until the basil and nuts are coarsely chopped, then process until finely chopped. With the motor running, slowly drizzle in the oil. Transfer to a small bowl and stir in the Parmigiano and pecorino. (The pesto can be stored in a tightly sealed jar, topped with a thin layer of extra-virgin olive oil, for several weeks in the refrigerator.)

Make the basic tomato sauce

2. In a large saucepan, heat the olive oil over medium heat. Add the onion and garlic and cook, stirring occasionally, until soft and light golden brown, 8 to 10 minutes. Add the carrot and thyme and cook, stirring, until the carrot is softened, about 5 minutes.

3. Add the tomatoes with their juices, breaking up the tomatoes with your hands, and bring to a boil, stirring often. Lower the heat and simmer until the sauce is as thick as hot cereal, about 30 minutes. Season with salt and remove from the heat. (Once cool, the sauce can be refrigerated, tightly covered, for up to 1 week or frozen for up to 6 months.)

Make the eggplant

4. Preheat a gas grill or prepare a fire in a charcoal grill.

5. Trim the eggplants and cut each lengthwise into 1/3-inch-thick slices, discarding the first and last slices from each one; you should have about 18 slices. Place the slices on a baking sheet and brush the slices on both sides with 1/3 cup olive oil. Transfer the eggplant over the hottest part of the grill, in batches if necessary, and cook, turning once, until soft and golden brown, 3 to 5 minutes on each side. Return the slices to the baking sheet as they are done.

6. Season the eggplant slices on both sides with salt and pepper and arrange the slices on a work surface with a narrow end of each slice toward you. In a small bowl, mix the goat cheese, pesto, and nutmeg until smooth and well blended. Season to taste with salt and pepper. Place about 1 tablespoon on the narrow end of each slice of eggplant and roll up, not too tightly, like a jelly roll.

7. Put the tomato sauce in a medium bowl and whisk in the remaining 1/4 cup olive oil. Season with salt. Spoon the sauce onto a rimmed platter or small serving plates. Arrange the eggplant rolls, seam side down, in the sauce and sprinkle with the marjoram leaves.

8. You can serve the eggplant slices now or refrigerate them for at least 1 hour or up to overnight to allow the flavors to marry. If you chill the eggplant, remove it from the refrigerator 30 minutes before serving to come to room temperature.
Recipe Testers Reviews

These came together easier than I thought they would. My only complaint was that the garlic was too strong—I love garlic, but half of the amount called for would've sufficed. I may be biased because I love eggplant and grill it regularly in late-summer, but this dish will definitely enter my regular rotation.
Eggplant Rollatini with Goat Cheese Recipe © 2008 Mario Batali. Photo © 2008 Beatriz da Costa. All rights reserved. All recipes and photos used with permission.
If you make this recipe, snap a photo and hashtag it #LeitesCulinaria. We'd love to see your creations on Instagram, Facebook, and Twitter.