This Christmas Hibiscus cocktail is made from a traditional holiday offering in Jamaica made from fragrant, sweet hibiscus flowers and spices, sorta like mulled wine. Just add Prosecco and you have yourself even more cheer.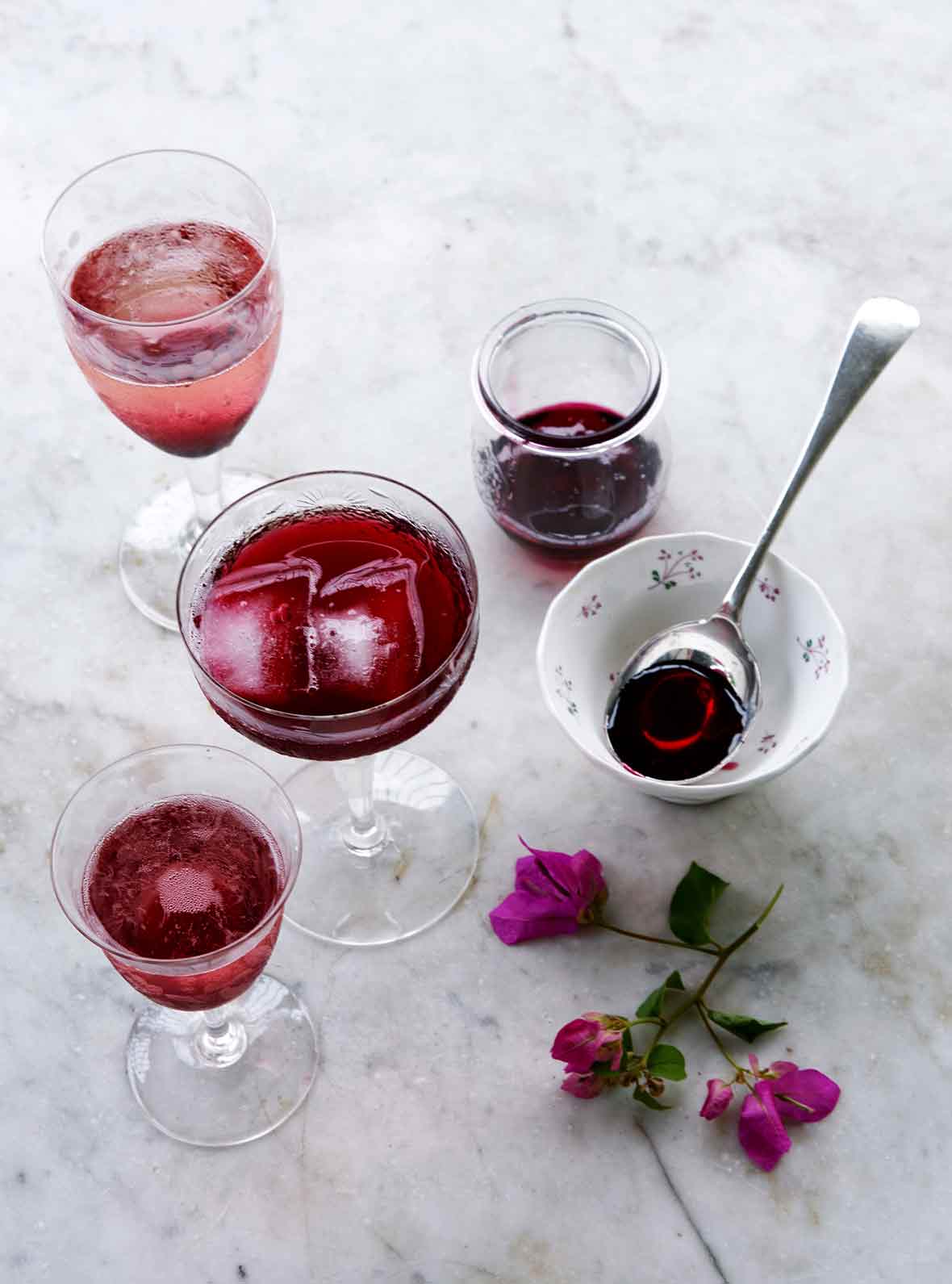 In the Caribbean, where life is easier in some respects and the important things tend to take more prominence in life, Christmas isn't Christmas without this gorgeous crimson-hued mulled wine of sorts made from steeped hibiscus flowers. It's traditionally served on Christmas Eve, often with the added punch of rum, although you could omit the booze. It also makes the lovely basis for an effervescent Christmas morning mimosa. We'll let you decide. Or even better, try it each way. We dare say you'll have a difficult time discerning which you prefer. Either way, there's enough loveliness to bring about even more Christmas cheer.–Renee Schettler Rossi
What Is Hibiscus And Why Am I Seeing Cocktails With It At Christmas?!
A little background on this stunning holiday sipper from the author of this recipe…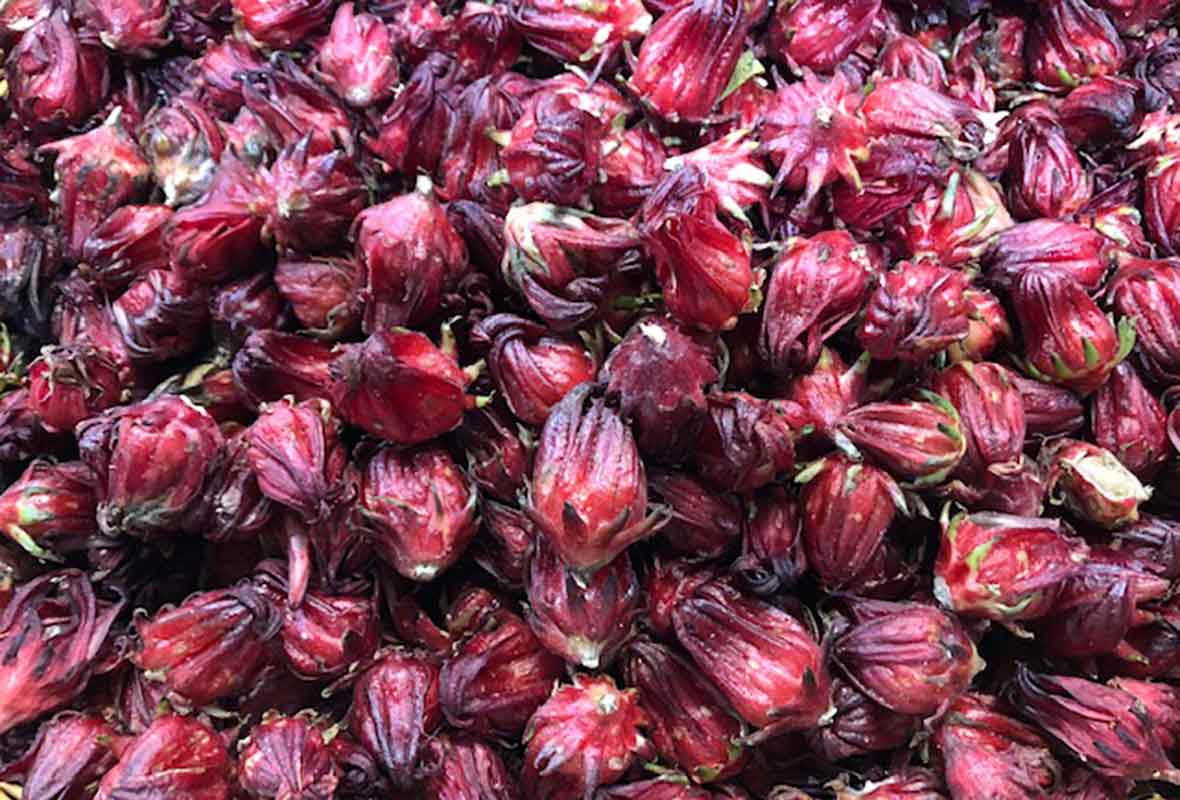 Photo: Beth Price
"The festive season in Jamaica is heralded by the appearance of a profusion of gorgeous sorrel blossoms at markets, vendors, and groceries across the island. Sorrel is our name for hibiscus or roselle, and is also the name of a drink made by blending the plant's beautiful crimson flowers with generous amounts of white rum, wine, ginger, and sugar. A notoriously sweet, strong, almost thick beverage, it is the drink of choice for many during Christmastime, when most households are busy steeping the flowers to make this divine concoction. Sorrel can be made without alcohol if desired; simply eliminate the wine and rum. Feel free to adjust the alcohol and sugar quantities to suit your own tastes; that said, the best way to enjoy sorrel is in the traditional way as the flavors improve over time, much like a good bottle of wine. Sorrel can be stored in the refrigerator in a sealed bottle or container for a long time."
Christmas Hibiscus Cocktail
Quick Glance
20 M
6 H, 30 M

Serves 4
Print Recipe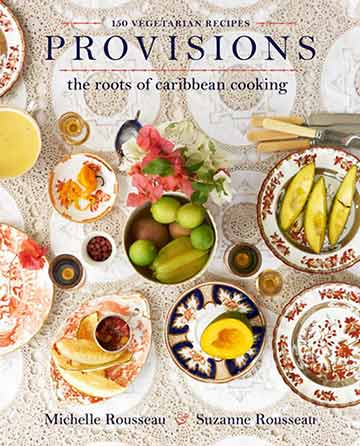 Ingredients
For the mulled hibiscus

2 quarts water

1/2 pound ginger root, peeled and chopped or smashed

3 to 5 cinnamon leaves or 1/2 teaspoon ground cinnamon

3 to 5 whole allspice berries

1 pound fresh hibiscus (sorrel) buds or 2 cups (87 g) dried hibiscus (sorrel) flowers*

1 to 1 1/2 pounds light brown sugar or superfine sugar

1 1/2 cups red wine

1 1/2 cups white or dark rum

For the hibiscus mimosas

8 fluid ounces strong and sweet mulled hibiscus, chilled

16 fluid ounces prosecco or other good sparkling wine, chilled

4 pieces star anise, for garnish
Directions
Make the mulled hibiscus

1. In a large saucepan set over high heat, bring the water, ginger, cinnamon leaf or ground cinnamon, and allspice berries to a boil and let boil for a few minutes. Add the hibiscus buds, remove from the heat, and let cool. Cover and refrigerate the mixture for at least 6 hours and, preferably, 2 to 3 days. The longer the hibiscus mixture steeps, the richer the flavor. (You can also pour the mixture into bottles and refrigerate the mixture for longer, whether for yourself or to gift with the instructions that follow for how to make this into cocktails.)

2. Once the hibiscus has steeped, strain the mixture into a large bowl or lidded container and discard the solids. Sweeten the mixture with sugar to taste, starting with 1 pound, and stir well to dissolve the sugar. Stir in the wine and rum. Taste and, if desired, add more sugar and stir to dissolve. [EDITOR'S NOTE: If you've experienced this traditional Caribbean Christmas cocktail in Jamaica, you know they serve it sweet. Quite sweet. We toned down the sugar a touch but feel free to add more as desired. It is also often served without the wine and rum, so that's also an option.]

Serve
3. To serve as mulled hibiscus, do as they do in the Caribbean and rewarm the mixture over low heat. Then ladle the gorgeous crimson liquid into small cups and serve warm.

To serve as hibiscus mimosas, pour 1/4 cup (2 fluid ounces) chilled mulled hibiscus into each of four Champagne flutes and top with a generous splash of chilled sparkling wine, aiming for a 1:2 ratio of mulled hibiscus to sparkling wine, depending on the size of your flutes. Taste and, if desired, add more bubbly and perhaps a piece of star anise.
*Where Can I Find Hibiscus?
While fresh hibiscus, or sorrel, blossoms aren't readily available stateside, you can easily find dried hibiscus online, including Amazon, or, as one of our recipe testers reminded us, in the bulk section of a well-stocked grocer. It's a touch pricey but you'll only need about 4 ounces and it's worth every cent. Frontier brand is one quality option. You can also find it less expensively at most any ethnic market, whether Caribbean, Mexican, Indian, or Middle Eastern (as "sadaf").
Christmas Hibiscus Cocktail Recipe © 2018 Michelle Rousseau | Suzanne Rousseau. Photo © 2018 Ellen Silverman. All rights reserved. All recipes and photos used with permission of the publisher.
If you make this recipe, snap a photo and hashtag it #LeitesCulinaria. We'd love to see your creations on Instagram, Facebook, and Twitter.