This Brussels sprouts Caesar salad has the traditional creamy Parmesan and anchovy dressing of a classic Caesar salad but swaps in charred sprouts for the romaine, caraway breadcrumbs in place of croutons, and adds pickled onions. Wowza.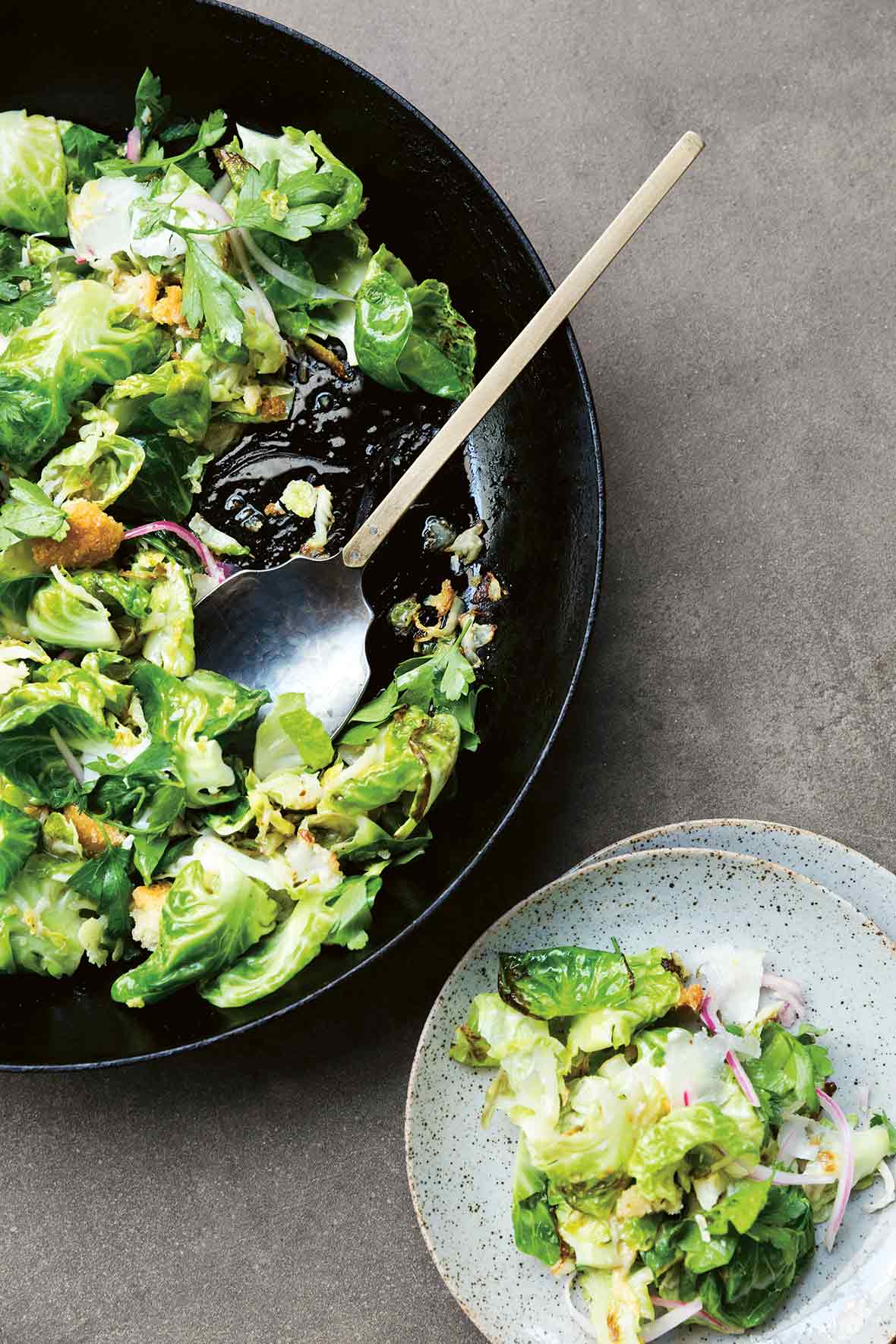 This unexpected riff on the classic Caesar salad is a pretty far cry from tradition with its lightly charred wee cabbages, pickled onions, and sourdough breadcrumbs. But it's no less enticing. In fact, even the most sprouts-averse diners at our tables were singing the praises of this Brussels sprouts Caesar salad. Our kinda health food.–Angie Zoobkoff
What To Do With Leftovers
This recipe makes ample bread crumbs, Caesar dressing, and onions. More than what you'll need for the salad. This is a good thing. Chances are you'll want to keep them on hand to toss together a second batch of the salad stat. (Yeah, it's THAT sensational.) And if not, following are a couple suggestions as to what we did with the abundance…
Use the breadcrumbs to add a crunchy topping to pasta and casseroles or mix them into meatballs.
Pile the pickled onions on tacos, sandwiches, salads, and roast or grilled meats. Or, for an easy appetizer or quick fix when you're craving cheese for dinner, pile them atop a block of feta, drizzle with extra-virgin olive oil, and scatter some torn herbs atop.
As for the extra Caesar dressing, we think you can figure that out on your own. Although when you tire of salads, here's some creative chicken skewer inspiration.
Brussels Sprouts Caesar Salad
Quick Glance
1 H
1 H

Serves 4
Print Recipe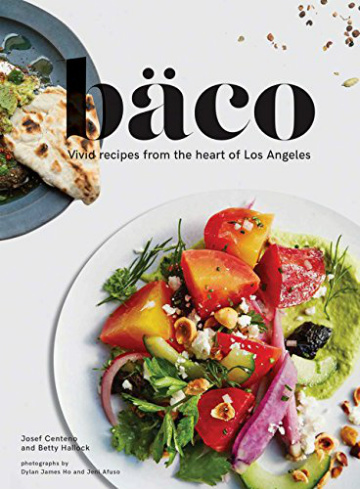 Ingredients
Email Grocery List
For the caraway bread crumbs

2 tablespoons unsalted butter (1 oz)

2 tablespoons olive oil

10 sprigs thyme, tied with kitchen string

1 garlic clove, crushed

2 teaspoons caraway seeds, coarsely ground

8 ounces country white bread, crust removed and torn into 1-inch (25-mm) chunks

1/4 cup grated Pecorino cheese

1/2 teaspoon salt

1/8 teaspoon freshly ground black pepper

For the Caesar dressing

5 oil-packed anchovy fillets

1/2 cup grated Pecorino cheese

Juice of 2 lemons, preferably organic

1 garlic clove, peeled

1 teaspoon Dijon mustard

1 tablespoon sherry vinegar

1 teaspoon freshly ground black pepper

Pinch salt

1 cup extra-virgin olive oil

For the pickled red onions (optional)

1 medium red onion

1/2 serrano chile, seeded

1/2 habanero chile, seeded (optional)

3/4 cup red wine vinegar

1/4 cup olive oil

1 1/2 teaspoon granulated sugar

1/2 teaspoon kosher salt

6 mint leaves, torn

6 basil leaves, torn

1 dried rosebud (optional)

Freshly ground black pepper

For the Brussels sprouts Caesar salad

1 pound Brussels sprouts

1 tablespoon unsalted butter (1/2 oz)

1 tablespoon olive or avocado oil

1/4 teaspoon salt

1 tablespoon sherry vinegar

1/3 cup parsley leaves

1/4 cup mint leaves

1/4 cup Pickled Red Onions (optional)

4 radishes (about 28 g), thinly sliced

3 tablespoons grated Pecorino cheese

2 tablespoons Caraway Bread Crumbs (see preceding recipe)

1/2 tablespoon chopped chives
Directions
Make the caraway bread crumbs

1. Preheat the oven to 400°F (200°C). Line a rimmed baking sheet with parchment paper.

2. In a large skillet set over medium-high heat, combine the butter, oil, thyme, garlic, and caraway. When the butter begins to foam, add all of the bread and heat, stirring frequently, until lightly browned, 3 to 4 minutes.

3. Scatter the toasted bread on the baking sheet and sprinkle evenly with Pecorino, salt, and pepper.

4. Bake until dark golden brown and crunchy throughout, rotating the baking sheet and stirring the croutons once during cooking, 10 to 15 minutes total. Remove the baking sheet from the oven and let cool completely. Discard the thyme sprigs and garlic clove.

5. Transfer the croutons to a food processor and pulse until coarsely ground, maybe 10 to 12 times. Store in an airtight container at room temperature for up to 3 days.

Make the Caesar dressing

6. In a blender, combine the anchovies, Pecorino, lemon juice, garlic, mustard, sherry vinegar, black pepper, and salt and purée on medium speed until nearly smooth. With the blender running, drizzle in the extra-virgin olive oil and blend until creamy.

Make the pickled red onions (optional)

7. Thinly slice the red onion, serrano chile, and habanero chile, if using. Place the onion in a heatproof bowl.

8. In a small saucepan set over high heat, combine the vinegar, oil, chiles, sugar, and salt and bring to a boil. Remove from the heat and immediately pour the vinegar mixture over the onion. Stir in the mint and basil. The onion will wilt slightly.

9. Crumble the rosebud, if using, into the mixture. Add 3 grinds of black pepper. The onions will keep, covered, in the refrigerator for up to 1 week.

Assemble the Brussels sprouts Caesar salad

10. Remove and discard the outer leaves from the Brussels sprouts and, using a paring knife or the sharp tip of a vegetable peeler, carefully trim and core each one. Peel the leaves of each sprout until you reach the paler center, tossing the leaves in a large bowl. Then thinly slice the centers, preferably using a mandoline or handheld slicer, and toss them in the bowl along with the leaves.

11. In a large skillet over medium-high heat, warm the butter and olive oil. When the butter begins to foam, turn the heat to high, add the Brussels sprouts and salt, and cook, stirring or tossing occasionally, until the leaves have wilted and their edges begin to char, 3 to 5 minutes.

12. Using tongs, return the Brussels sprouts to the bowl and toss with 3 tablespoons Caesar dressing and the sherry vinegar. Gently stir in the parsley, pickled onions if using, radishes, Pecorino cheese, bread crumbs, and chives. Transfer to a platter and serve immediately.
Recipe Testers Reviews

This is a fabulous recipe! So declared my husband when he tried this Brussels sprouts salad. And I have to agree! Do not be put off by the prep for the individual components as it can be done the day before. The final product is so worth it with layers of flavor and texture adding a lot to make theses sprouts shine! This is going on the next Thanksgiving menu.
I did not use habanero in the pickled onions. I'll be using the leftover onions on roast beef and I tossed the delicious bread crumbs into the freezer for my next lamb meatball recipe.

We really enjoyed this warm riff on Caesar salad. The slightly charred Brussels sprouts added an unexpected depth of flavor to the dish and the pickled onions and caraway bread crumbs completely elevated the dish. It's a little bit of work and time to get all the components ready, but the combination is outstanding.
Brussels Sprouts Caesar Salad Recipe © 2017 Josef Centeno | Betty Hallock. Photo © 2017 Dylan James Ho & Jeni Afuso. All rights reserved. All materials used with permission.
If you make this recipe, snap a photo and hashtag it #LeitesCulinaria. We'd love to see your creations on Instagram, Facebook, and Twitter.