These Catalan lamb skewers, seasoned with a marinade made with garlic, paprika, and cumin and served with a spicy pepper and sofregit sauce and a cooling cucumber-yogurt salad, are an authentic tapas or entrée. Who doesn't love food on a stick?
These Catalan lamb skewers take their gentle heat from a Moroccan-inspired marinade of paprika, garlic, and cumin, which is a nod to the northern African influence on much of southern Spain's cuisine. They're embellished with a spoon-licking-good Spanish pepper sauce and then counter-punched with a cooling cucumber-yogurt salad that hints of the Middle East. Whether served as tapas (or, as happened with us, intended as tapas but turned into dinner when we just couldn't stop polishing them off), this is our sorta fusion food.–Jenny Howard
.
Technically, these Catalan lamb skewers aren't skewers. They're instead referred to as pinxo morú, at least in Catalonia, which runs along the northeast edge of Spain bordering the Mediterranean. Here pinxos are, more often than not, skewered foods displayed in Catalan bars for guests to nibble while drinking, explains author Daniel Olivella. "Traditionally, the bartender keeps track of how much to charge you by how many skewers you leave on the bar." These pinxo morú are a bit larger than other pinxos, similar to a kebab.
Although as one of our testers said, call these little offerings what you will—skewers, kebabs, brochettes, or pinxos moru. We're just going to call them perfectly delicious.
Catalan Lamb Skewers
Quick Glance
1 H
5 H

Serves 4 to 8
Special Equipment: 8 to 10 skewers, soaked in water for 30 minutes if wooden
Print Recipe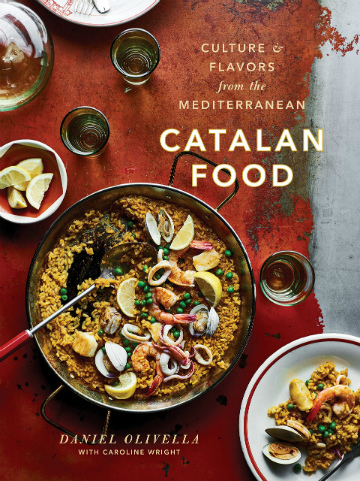 Ingredients
For the lamb skewers

1 tablespoon finely chopped cilantro leaves

2 teaspoons paprika

2 teaspoons kosher salt

1 teaspoon ground cumin

1 garlic clove, minced or pressed

1 tablespoon fresh lime juice

3 tablespoons extra-virgin olive oil

1 pound boneless leg of lamb or top round, trimmed of silver skin* (see NOTE below) and excess fat and cut into 1-inch (25-mm) chunks

For the pepper sauce

2 dried árbol chiles, stemmed and seeded

1 red bell pepper, roasted, stemmed, and seeded
1 cup homemade sofregit or store-bought sofrito

1/4 cup extra-virgin olive oil

1 tablespoon fresh lime juice

1 teaspoon ground cumin

Kosher salt

For the cucumber-yogurt salad

1/4 cup plain whole-milk yogurt (not Greek-style)

1 tablespoon chopped mint leaves

Kosher salt

1/2 medium English cucumber (5 oz), peeled, any seeds removed, and thinly sliced on the diagonal
Directions
Make the lamb skewers

1. In a large resealable plastic bag, combine the cilantro, paprika, salt, cumin, garlic, lime juice, and olive oil. Add the lamb and shake to coat. Press the air out of the bag, seal, and toss in the refrigerator to marinate for at least 4 hours or preferably overnight.

2. If using wooden skewers, soak them in water at least 1 hour before grilling.

Make the pepper sauce

3. Bring a small saucepan of water to a boil over high heat. Add the chiles, remove the pan from the heat, and let stand until the chiles are soft, about 20 minutes.

4. Transfer the drained chiles to a blender or food processor. Add the roasted red pepper, sofregit, olive oil, lime juice, and cumin and season generously with salt. Pulse until the mixture is smooth and very thick.

Make the cucumber-yogurt salad

5. In a medium bowl, stir together the yogurt, mint, and a generous pinch salt. Add the cucumber and toss to coat. Use immediately or chill for up to 3 hours.

Assemble the Catalan lamb skewers

6. Place a grill pan over medium heat or prepare a charcoal or gas grill for direct grilling over medium heat.

7. Remove the lamb from the marinade and thread 4 to 5 pieces on each skewer. Grill the skewers, turning once, until the meat is charred in spots and the desired degree of doneness, about 8 minutes for medium-rare.

8. Divvy the cucumber yogurt salad among plates and top with the skewers. Drizzle the pepper sauce over the skewers and salad and pass any extra pepper sauce on the side.
*NOTE: HOW TO REMOVE SILVER SKIN
The silver skin is the thick, shiny, opaque membrane that covers some cuts of meat. It can keep a rub or marinade from penetrating the meat and it's also unpleasant to chew. To remove it, use a sharp knife to make a small cut through the silver skin at one end of your cut of lamb. Then insert the tip of a sharp knife between the membrane and lamb and angle the blade slightly toward the silver skin. Use a paper towel in the other hand to grasp the slippery silver skin and pull it away from the meat as you carefully slide the blade against the silver skin, slowly working your way along the length of the cut of meat. Trim any other bits of silver skin that remain.
Catalan Lamb Skewers Recipe © 2018 Daniel Olivella. Photo © 2018 Johnny Autry. All rights reserved. All recipes and photos used with permission of the publisher.
If you make this recipe, snap a photo and hashtag it #LeitesCulinaria. We'd love to see your creations on Instagram, Facebook, and Twitter.