These skillet cinnamon rolls are giant and can be made with an easy make-ahead brioche dough that's rolled and baked with cinnamon sugar and slathered with cream cheese icing. Can be made as a single giant roll or multiple rolls in your cast-iron skillet.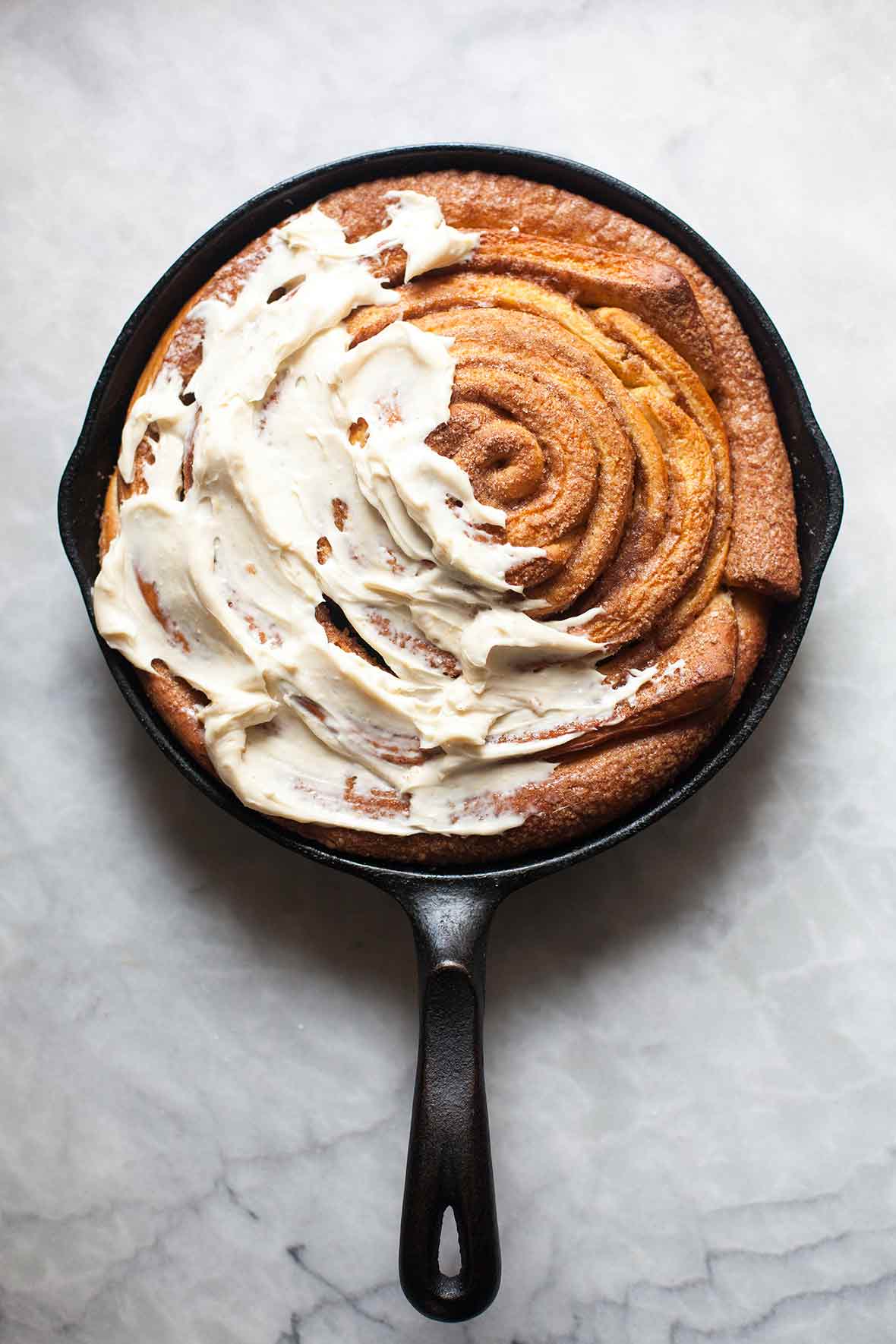 We aren't the first to sing the praises of the dutiful cast-iron skillet, although we may croon the loudest when it comes to recommending it for this ingenious skillet cinnamon roll recipe. Tender brioche coils around sugar and spice and a citrus-inflected cream cheese icing seals the deal. The simple, no-knead dough comes together in a cinch and can even hang out in the fridge overnight so you can bake it at your convenience the next morning. Indulge your whimsy with a single giant cinnamon roll or stick to tradition with several more modest-size rolls. The skillet not only creates crisp, golden edges but a stunning and simple oven-to-table presentation. Either way, get ready for a chorus of accolades.–Jenny Howard
What To Do With The Leftover Bread Dough
Another benefit from this recipe, aside from the obvious, is that you'll end up with more brioche dough (or, if you opt for the variation that follows, white bread dough) than you'll need for these skillet cinnamon rolls. Lucky you! The superfluous dough can be covered and refrigerated for up to 5 days and used for additional batches of  cinnamon rolls, baked into bread, or transformed into our off-the-charts gooey monkey bread.
Skillet Cinnamon Rolls
Quick Glance
45 M
7 H, 35 M

Serves 6 to 8
Special Equipment: 8- or 9-inch (20- or 23-cm) cast-iron skillet
Print Recipe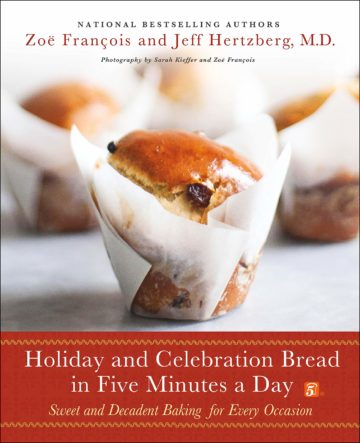 Ingredients
For the brioche dough

1 1/2 cups lukewarm water (about 100°F | 38°C)

1 tablespoon instant yeast

1 tablespoon kosher salt

6 large eggs, lightly beaten

1/2 cup honey

3 sticks unsalted butter (12 oz), melted

7 cups all-purpose flour

For the skillet cinnamon roll(s)

2 tablespoons unsalted butter (1 oz), melted, plus more for the pan

1 pound brioche dough

All-purpose flour, for dusting

1/4 cup granulated sugar

1/4 cup well-packed light or dark brown sugar

Pinch salt

1 1/2 teaspoons ground cinnamon

1/2 teaspoon grated orange zest, preferably organic

For the cream cheese icing

4 ounces cream cheese, preferably Philadelphia brand, at room temperature

3 tablespoons confectioners' sugar

1 to 2 tablespoons heavy cream

1/2 teaspoon vanilla extract

1/4 teaspoon grated orange zest, preferably organic
Directions
Make the brioche dough

1. In a 6-quart (6-liter) bowl or other large container, or in the bowl of a heavy-duty stand mixer, stir together the water, yeast, salt, eggs, honey, and melted butter.

2. Using a spoon and strong biceps, or the paddle attachment of the stand mixer, blend in the flour until combined. If you're not using a mixer, you may need to use wet hands to incorporate the last bit of flour. The dough will be loose but will firm up when chilled. Don't try to work with it before refrigerating it.

3. Loosely cover the container and let it rest at room temperature for 2 hours.

4. Refrigerate the dough until it's thoroughly chilled, at least 3 hours, and loosely covered for up to 5 days.

Make the skillet cinnamon roll(s)

5. Generously butter an 8- or 9-inch (20- or 23-cm) cast-iron skillet.

6. Dust the surface of the refrigerated dough with flour and cut off a 1-pound (455-g) piece. (Return the rest of the dough to the refrigerator and use within 5 days.) Place the dough on a lightly floured surface and quickly shape it into a ball by stretching the surface of the dough around to the bottom, rotating the ball a quarter-turn as you go.

7. Roll the dough out into a rectangle, roughly 9 inches by 12 inches (23 by 30 cm) and 1/4 inch (6 mm) thick, using just enough flour to prevent it from sticking to the work surface.

8. Brush the melted butter over the entire surface of the rolled dough. In a small bowl, mix together the sugars, salt, cinnamon, and orange zest. Evenly sprinkle the mixture over the butter-topped dough.

9. For one giant skillet cinnamon roll (pictured), use a sharp knife or pizza cutter to cut the dough lengthwise into 1 1/2-inch-wide (40-mm-wide) strips. Roll one of the strips into a tight coil. Place the coil on the end of the next strip and roll that strip around the coil, connecting the two ends together. Repeat with the remaining strips of dough until you have a giant coil of dough. At some point, you will have to lay the coil down on the work surface and wind the dough around it, or it will get too large and unwieldy. Use a large spatula to set the entire coil into the buttered cast-iron skillet. Cover loosely with plastic wrap and allow to rest at room temperature for 75 minutes.

For several smaller skillet cinnamon rolls, start at the short end and roll the dough into a log. Using a sharp knife or pizza cutter, cut the log crosswise into 6 equal rolls. Arrange the rolls inside the butteredcast-iron skillet. Space slightly apart for rolls withcrisp edges, if desired, or nestle together for softer rolls. Cover loosely with plastic wrap and allow to rest at room temperature for 75 minutes.

10. Preheat the oven to 350°F (180°C).

11. Bake the cinnamon roll(s) until golden brown and set in the middle (to test the latter, you'll need to probe a little into the center between rolls of dough with the tip of a knife), about 25 minutes. Let the roll(s) cool in the skillet for 10 minutes before icing.

Make the cream cheese icing

12. Place the cream cheese in the bowl of a stand mixer fitted with the whisk attachment and mix on low speed until smooth. Add the confectioners' sugar, 1 tablespoon cream, vanilla, and orange zest and whip until well-combined. If the icing seems too thick to spread, dribble in a little additional cream until the icing is still thick but spreadable.

13. Serve the cinnamon roll(s) straight from the skillet or, if desired, first transfer the roll(s) to a serving platter. Slather the cinnamon roll(s) with the cream cheese icing, slice the larger roll into wedges, if desired, and serve.
Variations
Skillet Cinnamon Rolls with Any White Bread Dough
If you're seeking something a touch less indulgent (for reasons we won't question!), you can easily substitute your favorite white bread dough for the brioche. All the same cinnamon loveliness with a little less richness.
Skillet Cinnamon Rolls with Five-Spice Powder
Simply swap out Chinese five-spice powder for the cinnamon. The blend of warming spices includes cinnamon, so technically these will still be cinnamon rolls. All the same cinnamon loveliness with a little more robust, more complex, more showstopping warmth from its blend of spices.
Recipe Testers Reviews
Skillet Cinnamon Rolls Recipe © 2018 Jeff Hertzberg M.D. and Zoë François. Photo © 2018 Sarah Kieffer and Zoë François. All rights reserved. All recipes and photos used with permission of the publisher.
If you make this recipe, snap a photo and hashtag it #LeitesCulinaria. We'd love to see your creations on Instagram, Facebook, and Twitter.