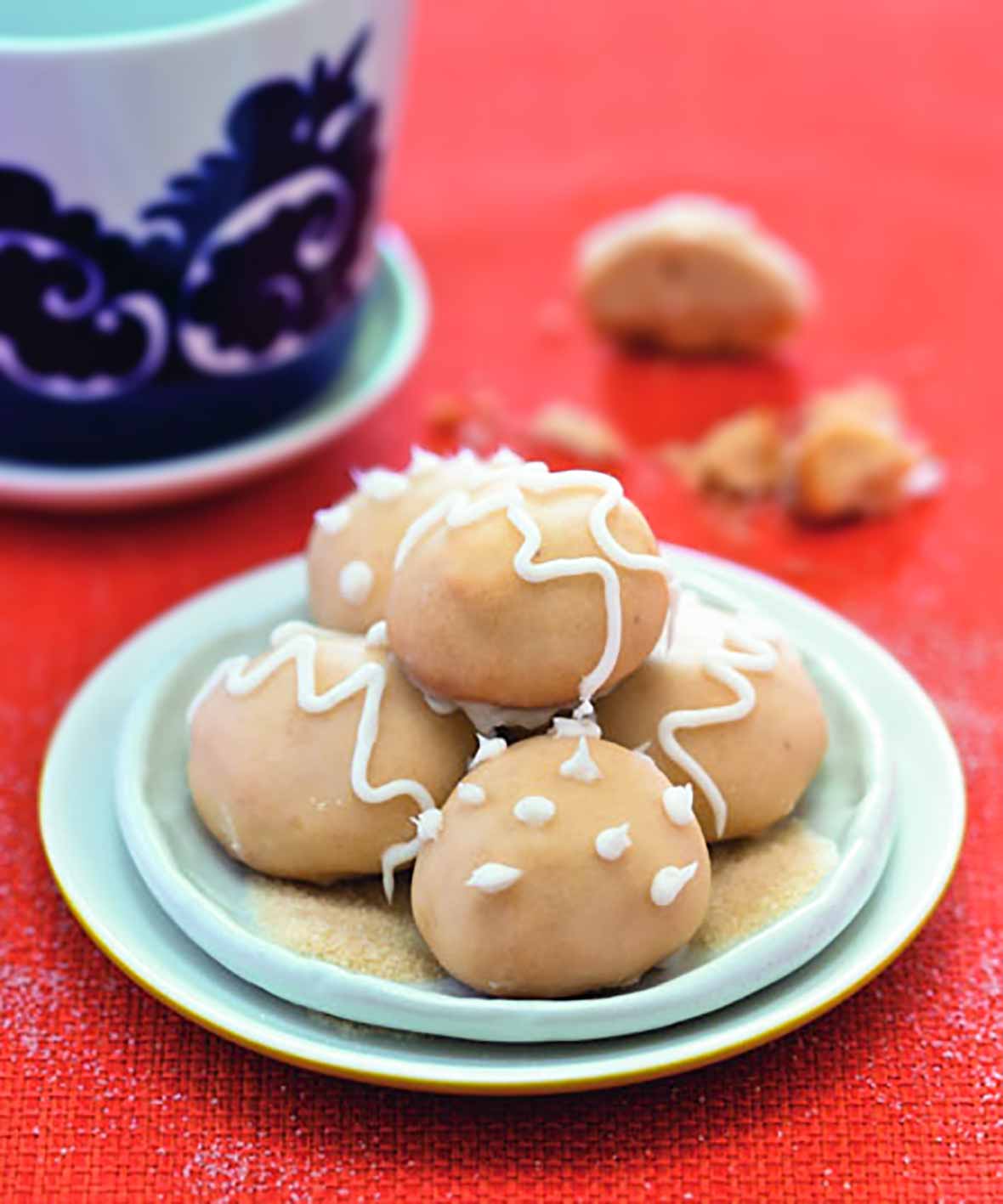 I have eighteenth-century cookery book author Amelia Simmons to thank for inspiring this confection. In her 1796 cookbook, American Cookery—the first cookbook authored by an American—she included two spiced Butter Drop cakes (cookies, really) among her no less than five gingerbread recipes. My version of these buttery gingerbread butter drops indeed puts me in mind of the small spice cakes and sugary confections that adorned dessert tables in Europe and America centuries ago. Usually arranged on silver or glass épergnes or surtouts de tables (ornamented center dishes), sweetmeats of this kind were as visually dazzling as they were celebrations of the confectioner's skill. Cloaked elegantly in sheer white glaze, these petite treats would have been well suited to a gleaming eighteenth-century silver dish or glistening cut-glass tray.
Fortunately, these tender gingerbread butter drops, flavored delicately with lemon and spice, are easier to prepare today than they might have been centuries ago. The dough comes together quickly and requires no chilling before shaping and baking. The glaze (which often seems daunting but really isn't) is also a snap and only requires whisking together a handful of ingredients.
Served for dessert, as part of a petit four tray, or packaged as gifts, these gingerbread butter drops offer a unique and elegant twist on traditional dark gingerbread.–Jennifer Lindner McGlinn
Gingerbread Butter Drops with Lemon Glaze
Quick Glance

(2)

1 H
3 H

Makes 32 butter drops
Print Recipe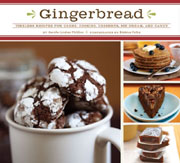 Ingredients
Email Grocery List
For the drops
For the lemon glaze
Directions
Make the drops
Position a rack in the middle of the oven and preheat the oven to 325°F (160°C). Line a large baking sheet with parchment paper.
Whisk together the flour, salt, ginger, cinnamon, and nutmeg in a medium bowl.
Put the butter in the bowl of an electric mixer fitted with the paddle attachment and beat on medium-high speed until smooth. Gradually add the confectioners' sugar and continue beating until light and fluffy. Incorporate the cream and lemon extract, mixing until smooth. Reduce the mixing speed to low and gradually add the flour mixture, mixing just until the dough comes together. (The dough should form a fairly moist clump when you squeeze a bit in your hand. If it seems too crumbly, mix in additional cream, about 1 teaspoon at a time, until you're satisfied.)
Turn the dough out onto a flat work surface and shape into a cylinder about 3 inches in diameter. Divide the dough into quarters. Divide each piece into quarters again, and then cut each of those pieces in half, creating 32 pieces. Roll the pieces into balls and arrange them on the prepared baking sheet about 1 1/2 inches apart. (The butter drops expand slightly during baking.) Press the balls lightly so they stay put and don't roll around on the sheet.
Bake the butter drops for about 20 minutes, or until they are very light golden brown. Cool the butter drops on the baking sheets set on wire racks for about 2 minutes before removing them to the racks to cool completely. (You can store the butter drops at this point in airtight containers for up to 5 days, or proceed to coat them with glaze.)
Make the glaze
Whisk together the confectioners' sugar, corn syrup, hot water, lemon juice, and lemon extract (if desired) in a large bowl until smooth. Warm the glaze in the microwave at about 10-second intervals until it is just barely warm to the touch. (Warming the glaze will loosen it a bit and make it easier to coat the butter drops).
Finish the drops
Arrange the cooled butter drops on a large wire rack set over a large baking sheet or sheet of aluminum foil. Drop the butter drops, one at a time, into the glaze, turning them with a fork to coat them completely. Using the fork, lift the butter drops out of the glaze, tap gently on the edge of the bowl to remove any excess glaze, and return them to the wire rack. Warm the glaze again in the microwave, if necessary, about halfway through the batch.
After the butter drops have dried for about 5 minutes, gently reposition them on the rack, using a clean fork or paring knife, to prevent the glaze from clumping at the bases. Set the coated butter drops aside in a dry, cool area until the glaze is firm, about 45 minutes. Coat the butter drops a second time in the same manner, warming the glaze again to loosen it. (Store any leftover glaze in an airtight container in the refrigerator for up to 3 days.)
To decorate the butter drops, pipe dots or swirls of royal icing on top of the butter drops, if desired. Set aside to dry completely, about 1 hour. (Store the butter drops in an airtight container, layered between sheets of parchment or waxed paper, for up to 1 week.)
Print Recipe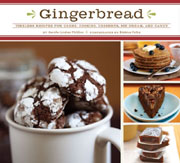 Royal Icing
4 cups confectioners' sugar
1/2 teaspoon cream of tarter
4 large fresh or pasteurized egg whites
Combine the confectioners' sugar and cream of tartar in the bowl of an electric mixer fitted with the paddle attachment and begin beating on medium-low speed. Add the egg whites, increase the mixing speed to high, and continue beating until the icing is smooth, thick, and glossy, about 7 minutes, stopping at least once to scrape the sides and bottom of the bowl. (If you're working on a particularly dry day, you might need to drizzle in more egg whites to reach this consistency.)
Scrape the icing into a bowl and cover with plastic wrap, placing the wrap directly on top of the icing to prevent it from drying. (Use the icing immediately, or store it in an airtight container in the refrigerator for up to 2 days. Warm the icing to room temperature before beating again until smooth).
Recipe Testers Reviews

If you enjoy making a homemade holiday like I do, why not make these fabulous Gingerbread Butter Drops with Lemon Glaze to give as gifts? Pipe little white dots of icing on these cookies, and you'll have people oohing and aahing with delight. Anyone who likes lemon and gingerbread would be proud to have these cookies around for Christmas, or, frankly, anytime of the year. They're scrumptious. So in all your holiday fury, take a stroll down your grocery aisle, stock up on the ingredients, and start baking. These cookies will please you and many this Christmas and for holidays to come.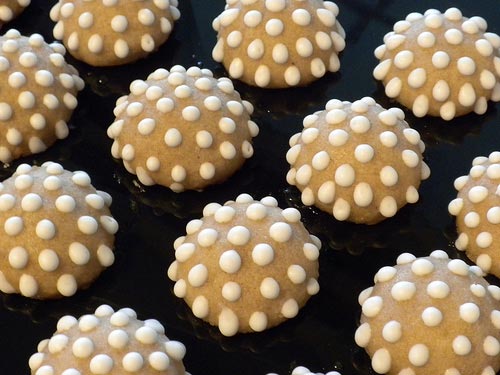 These gingerbread butter drops have the texture of shortbread with the zing of lemon and ginger. The tart glaze contrasts perfectly with the sweeter cookie. This is an easy recipe and is made with pantry ingredients, so it is perfect for those sudden baking urges. These are the perfect bite-size cookies!

I first evaluated this recipe several days ago when I first made the cookies. We thought they were nice but nothing out of the ordinary. I put them in my cookie jar and forgot about them. Then last night I opened the cookie jar, and there were the forgotten gingerbread cookies. Wow, what a difference. They were delicious! The lemon and ginger flavor really came through. I would suggest to anyone making them to let them sit for a couple of days to mellow.

These gingerbread butter cookies were absolutely delicious. The lemon flavor from the glaze and the lemon oil or extract in the cookie is dominant over the ginger and spices. Wonderful with tea. If you like desserts with tang, you will love these. I will definitely be making them again.

These cookies should be re-named "Gingerbread Button Drops" because they are as cute as a button. The double glazing creates a very smooth and hard covering that holds in the lemon and ginger flavors. Perfect for holiday entertaining or gift-giving.

I really liked these butter cookies—firm but not crispy or crumbly—but with a kiss of glaze instead of being enrobed. They looked beautiful on a platter, and I think they'd make a cute gift. Dipping the cookies into the glaze instead of pouring it over made the recipe go by faster, and I don't think the cookies suffered. These are definitely going into the holiday cookie rotation, right next to Russian teacakes!
Gingerbread Butter Drops with Lemon Glaze Recipe © 2009 Jennifer Lindner McGlinn. Photo © 2009 Beatrice Peltre. All rights reserved. All materials used with permission.
If you make this recipe, snap a photo and hashtag it #LeitesCulinaria. We'd love to see your creations on Instagram, Facebook, and Twitter.