This bratwurst and sauerkraut is made with pan-seared sausages and homemade or store-bought sauerkraut that's gussied up with fried bacon and onion. Served with potatoes and grainy mustard, this is the ultimate traditional German comfort food.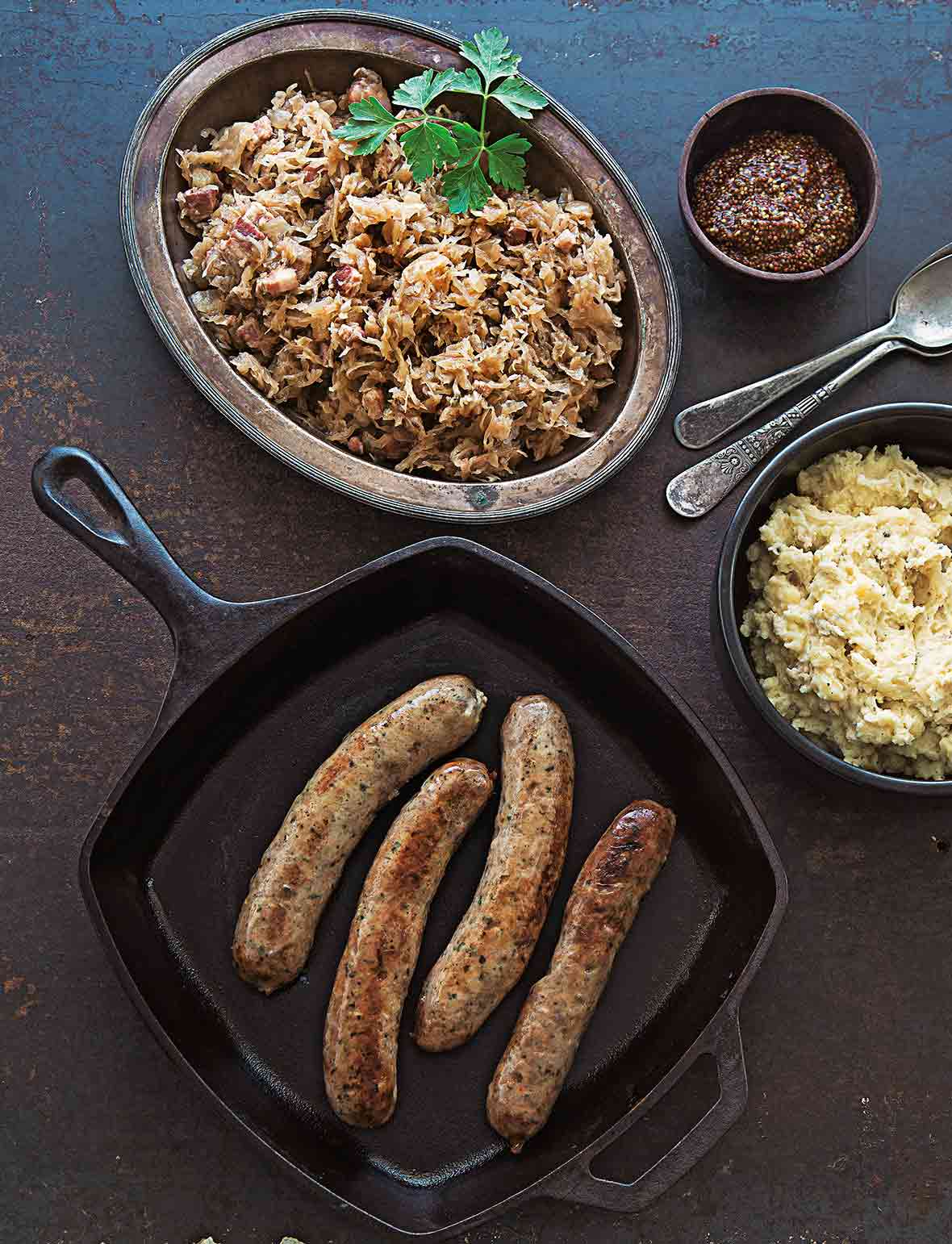 This easy bratwurst and sauerkraut is essentially a slightly gussied-up version of the classic German comfort food. Fried bacon and onion along with caraway seed add depth and flavor to plain old sauerkraut. A dollop of German mustard lends a pleasant zip to the cooked sausages. Serve with some hearty rye bread or mashed potatoes and good German beer, of course.–Angie Zoobkoff
Bratwurst and Sauerkraut
Quick Glance
30 M
45 M

Serves 2 to 4
Ingredients
Email Grocery List
For the sauerkraut

2 tablespoons clarified butter, mild oil, or bacon drippings

1 cup finely chopped onions

4 ounces lean slab bacon, cut into 1/4-inch (6-mm) pieces

One (28-ounce) can sauerkraut, rinsed and well drained

1 1/2 cups store bought or homemade beef broth, apple juice, or white wine

1 teaspoon caraway seeds

1 dried bay leaf

Pinch of granulated sugar

Salt and freshly ground black pepper

For the sausages

4 raw bratwurst sausages

1 to 2 tablespoons clarified butter or mild oil

For serving

German mustard

Mashed potatoes (optional)
Directions
Make the sauerkraut

1. In a large saucepan over medium heat, melt the butter. Add the onions and bacon and cook, stirring occasionally, until the bacon fat has rendered and the onions are translucent, 5 to 7 minutes.

2. Add the sauerkraut and cook until the sauerkraut begins to brown, 3 to 5 minutes.

3. Pour in 1 cup broth, the caraway seeds, and the bay leaf. Stir, increase the heat to high, and bring the broth to a boil. Reduce the heat to medium-low, cover, and simmer, stirring occasionally, until the desired tenderness is reached, 20 to 60 minutes, depending on personal preference, how long you have until dinnertime, and the sauerkraut you use.
☞ TESTER TIP: If the sauerkraut starts to stick to the pan, or if you prefer a more brothy sauerkraut, go ahead and add about 1/2 cup more broth as the sauerkraut cooks.
Make the bratwurst

4. While the sauerkraut is cooking, place the bratwurst in a large saucepan and add enough water to cover. Set over medium-high heat and bring to a boil. Reduce the heat to low and simmer for 10 minutes.

5. Drain the bratwurst. Place the bratwurst on paper towels to drain.

6. In a medium skillet over medium-high heat, melt the butter. Add the bratwurst and fry on each side until nicely browned on all sides and fully cooked through, about 5 minutes. The internal temperature should be 160°F (71°C).

Assemble the bratwurst and sauerkraut

7. Finish the sauerkraut by removing the bay leaf and seasoning it with sugar, salt, and pepper. If your sauerkraut is too liquidy, remove the lid, increase the heat to high, and simmer until the excess liquid evaporates.

8. Serve the sauerkraut and sausages with German mustard on the side and rye bread or mashed potatoes.
Recipe Testers Reviews
This is an easy basic recipe for bratwurst and sauerkraut. We enjoyed this with rye bread, mustard and, of course, beer!
I used half apple juice and half white wine in place of the broth. I simmered the kraut covered for 45 minutes and then added the remaining 1/2 cup of broth and simmered 15 more minutes. Prepared the brats as instructed. Timing was right.
This served 2 of us. Next time I might cook the bacon first and then brown the onions in the drippings and omit the 2 tablespoons butter.
This would be a good "make ahead" recipe. I would put the sausages in the kraut and reheat in the oven.
While growing up, we had steaks on Friday to celebrate getting through the work and school week and on Saturdays we had hot dogs with spicy mustard and baked beans on the side. It was something fun to eat and it took no effort to get it on the table. Sometimes I miss those days and those meals. I ate this thinking that my dad would have loved these simple things: bacon, onions, apple juice, caraway seeds, and a bay leaf. The bratwurst would also have pleased him. It pleased me.
This made enough for 4 servings. We enjoyed it for dinner one night and then for lunch another day.
Bratwurst and Sauerkraut Recipe © 2018 Gerhild Fulson. Photo © 2018 Toni Zernike. All rights reserved. All materials used with permission.
If you make this recipe, snap a photo and hashtag it #LeitesCulinaria. We'd love to see your creations on Instagram, Facebook, and Twitter.