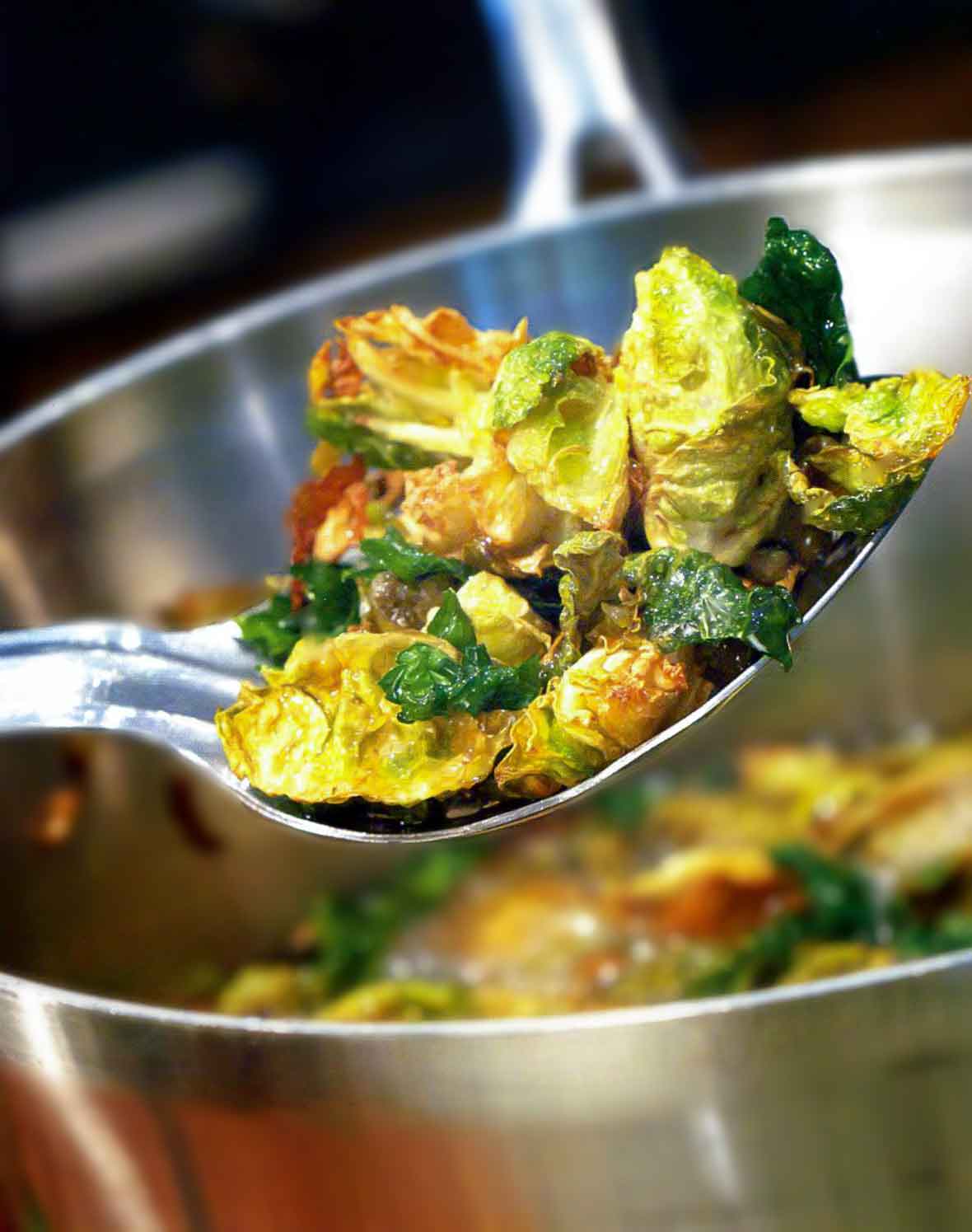 I love Brussels sprouts and I cook them many ways—boiled, toasted, sauteed—but deep-fried is the best. They develop a flavor and a texture that you can't get any other way. These are served with walnuts and a sharp red wine vinaigrette seasoned with anchovies and garlic. This is an excellent side in fall and winter, and it goes especially well with roasted meats. You can also take these fried Brussels sprouts in an Asian direction by omitting the capers and anchovies and adding soy sauce, fish sauce, grated ginger, and Sriracha sauce.–Michael Symon
LC We Know, We Know Note
We know, we know. This may not be the healthiest of veggie preparations. But tell us, can you think of any other way to get an 11-year-old—or, for that matter, a 44-year-old—to eat his Brussels sprouts? Exactly. This recipe just may make believers out of them. And you.
Fried Brussels Sprouts
Quick Glance
30 M
30 M

Serves 6 to 8
Special Equipment: Deep-fry or candy thermometer
Ingredients
Email Grocery List
Canola oil, for deep frying

1 garlic clove, minced

4 salt-packed anchovy fillets, rinsed, filleted, and minced

1 serrano chile, seeded and minced

1/4 cup red wine vinegar

1 tablespoon honey

2 scallions, white and green parts, thinly sliced on the bias

1/2 cup walnut pieces, toasted and coarsely chopped

1/2 cup extra-virgin olive oil

1 pound Brussels sprouts, trimmed and quartered lengthwise

2 cups loosely packed flat-leaf parsley leaves

2 tablespoons salt-packed capers, rinsed and patted dry

Kosher salt and freshly ground black pepper
Directions
1. Pour enough oil into a medium pot so that it reaches a depth of 3 inches. Heat the oil until it registers 350°F (175°C) on a deep-fry or candy thermometer. While the oil warms, do your prep on the remaining ingredients, if you haven't already done so.

2. While the oil is heating, whisk together the garlic, anchovies, serrano chile, red wine vinegar, honey, scallions, walnuts, and extra-virgin olive oil in a bowl large enough to contain all the Brussels sprouts. Set the bowl near the stovetop.

3. Pat the Brussels sprouts completely dry. Working in batches, carefully lower some of them into the oil and deep-fry until the edges begin to curl and turn brown, about 3 minutes. Dump each batch directly into the bowl of dressing and gently toss to coat.

4. After the last batch has been deep-fried, carefully add the parsley and capers to the oil—stand back, as the capers will pop and sputter—and then give the contents of the pot a stir. Remove the parsley and capers when the parsley becomes a deeper, more saturated shade of green, 30 to 60 seconds. Add the parsley and capers to the bowl, season with salt and pepper to taste, and gently toss. Serve within minutes, if not seconds.
Recipe Testers Reviews
Yum! My family really enjoyed this dish—we didn't have enough for seconds, unfortunately. As a person who enjoys texture, I loved the crunch from the toasted walnuts and liked the pungent bite of the capers. It was a pleasure finding different little treasures in each bite. It was different from other sprout Brussels sprout dishes. I would add a bit more chiles next time, too, as I like a bit more heat. The flavours all came together nicely with the addition of honey, vinegar and anchovies. I look forward to making the Asian version as suggested next time.
NOTE: My only complaint is the deep frying. While the texture was pleasingly crunchy next time I would just saute instead.
This recipe is a richly flavorful way to get past everyone's aversion to Brussels sprouts for a fall/winter side dish that also happens to be a great alternative to the same root vegetables we seem to fall into a pattern of serving. If you're careful about small-batch frying techniques, have enough oil on hand, and do some advance ingredient preparation, you should be able to create this dish using this easily available vegetable for weeknight or weekend dinners. Also, what you save on the relatively inexpensive sprouts you can use to splurge a bit on the capers, anchovies, and all that canola oil.
In spite of the messiness of the dish and the prep time (the parsley takes longer to prep than you think; better to work with another on this one), this side dish is delicious and more sweet than hot or sour, which I expected with the serrano chile/vinegar/anchovy/caper blend in there. While the recipe suggested serving it with 'big roasted meats," we ended up serving it with a poached salmon and some leftover casserole potatoes (a baked concoction of fennel, cream, and Parmesan). Quite a surprising combination that worked. I did, however, feel that there was more than enough dressing for the sprouts, so I drained them before serving. It could be that some excess frying oil became part of the mixture and made it more liquid-y and muted the tartness. After making my stove more small-batch frying friendly, it would be fun to try the Asian ingredients Michael Symon suggested.
Delicious! We loved this approach to an unpopular vegetable in our household. Having grown up on vegetables that were cooked beyond recognition, we've only recently begun liking them and making them a staple in our otherwise balanced diets. Now I can honestly say, "I love Brussels sprouts." Frying the Brussels sprouts seemed to develop their flavor, and the vinaigrette dressing with the sweet, salty, and spicy ingredients was a perfect complement. We served the sprouts with a roasted chicken and this made for an ideal winter dinner.
Fried Brussels Sprouts Recipe © 2009 Michael Symon. Photo © 2009 Donna Ruhlman. All rights reserved. All materials used with permission.
If you make this recipe, snap a photo and hashtag it #LeitesCulinaria. We'd love to see your creations on Instagram, Facebook, and Twitter.