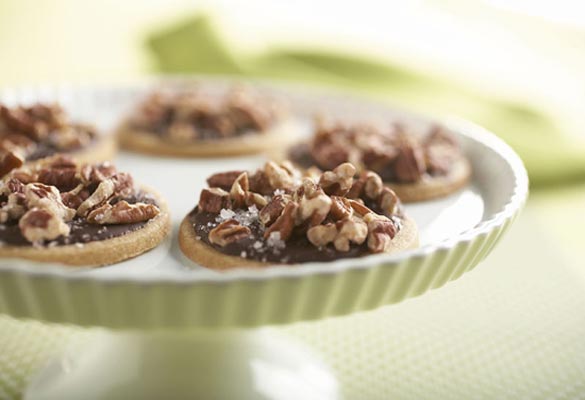 I first made these toffee cookies seven or eight years ago, when I was just starting to learn about the merits of really, really good chocolate. And wow, do these showcase what a difference good chocolate can make. The toffee cookies are sweet and rich, the perfect foil for an intense layer of dark chocolate.–Christie Matheson
LC Wow! Wow! Wow! Note
Sorry, but we're sorta at a loss for words after tasting these toffee cookies. All we can think to type? Wow! Wow! Wow! (We're totally getting crumbs in our keyboards. So worth it.)
Special Equipment: 2-inch cookie or biscuit cutter
Toffee Cookies with Dark Chocolate Glaze Recipe
Quick Glance
40 M
1 H, 5 M

Makes 20 to 24 cookies
Ingredients
2

sticks (8 ounces)

unsalted butter

1

cup

packed dark brown sugar

2

large

egg yolks

2

cups

all-purpose flour

1

teaspoon

sea salt

4

ounces

bittersweet chocolate

1/4

cup

chopped toasted pecans

Fleur de sel
Directions
1. Preheat the oven to 350°F (175°C). Line 2 baking sheets with parchment paper.

2. In the bowl of a stand mixer fitted with a paddle attachment, beat together the butter and brown sugar. Add the egg yolks, 1 at a time, and mix well. Combine the flour and salt in a small bowl, then add the flour mixture to the butter and sugar mixture, mixing until well combined.

3. Shape the dough into a disk, wrap it in plastic wrap, and refrigerate for 10 minutes.

4. Roll the dough out on a lightly floured surface to about 1/4 inch thick. The dough will be quite sticky. Cut out circles with a 2-inch cookie or biscuit cutter and place the cookies on the baking sheet.

5. Bake the toffee cookies for 11 to 13 minutes, until the edges are golden brown. Let cool completely on the baking sheet.

6. In the top of a double boiler or in a heatproof bowl set over but not touching simmering water in a small saucepan, melt the chocolate. When the toffee cookies are cool, gently spread a thin layer of melted chocolate on top of the cookies. Before the chocolate dries, sprinkle it lightly and evenly with pecans and fleur de sel. Let the chocolate set. The toffee cookies will keep in an airtight container at room temperature for up to 3 days.
Hungry for more?
Chow down on these:
Toffee Cookies with Dark Chocolate Glaze Recipe © 2009 Christie Matheson. Photo © 2009 Joyce Oudkerk Pool. All rights reserved.
Hey, there. Just a reminder that all our content is copyright protected. Like a photo? Please don't use it without our written permission. Like a recipe? Kindly contact the publisher listed above for permission before you post it (that's what we did) and rewrite it in your own words. That's the law, kids. And don't forget to link back to this page, where you found it. Thanks!