This pound cake has been a constant in my life and it has been my birthday cake many times. Our family holidays would not be complete without it. The best part is the crisp, brown sugary edges. Much to my mother's consternation, more than once, little pesky elves raided the opaque Tupperware cake container and nibbled away those tasty bits.–Virginia Willis
LC Gluten-Free Goodness Note
Recently, after this recipe had been on the site for years, we received the following plea from a dear longtime reader: "Would you, could you please, figure out how to make a crispy-crackly-crusted GLUTEN-FREE pound cake? Oh, please…" How could we not go straight into the kitchen? You'll find the gluten-free, crispy-crackly-crusted results of our labor (actually, it was quite easy—and we got our just reward) in the variation beneath this recipe. As for our dear reader? We're not certain, but we think she's pretty pleased based on what she wrote later that day: "Thank you, you wonderful people!" Aw, shucks. Just doing what we do best.
Meme's Pound Cake
Quick Glance
20 M
1 H, 20 M

Makes one 10-inch cake
Special Equipment: 16-cup Bundt pan
Print Recipe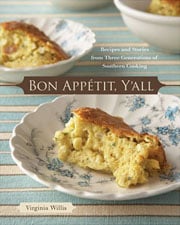 Ingredients
2 sticks (8 ounces) unsalted butter, at room temperature, plus more for the pan

3 cups White Lily or other Southern all-purpose flour (or substitute gluten-free all-purpose flour; see variation below)

1/2 teaspoon baking powder

1/2 teaspoon fine sea salt

1 cup whole milk, at room temperature

5 large eggs, at room temperature

1 vanilla bean split and scraped, or 1 tablespoon vanilla extract

1/2 cup solid vegetable shortening, preferably Crisco, at room temperature

3 cups sugar
Directions
1. Preheat the oven to 300°F (150°C).

2. Generously butter a 16-cup (measure to the rim) Bundt pan with butter. In a bowl, sift together the flour, baking powder, and salt. In a large liquid measuring cup, combine the milk, eggs, and the scraped vanilla seeds.

3. In the bowl of a heavy-duty mixer fitted with the paddle, cream together the 1 cup butter, vegetable shortening, and sugar on medium speed until light and fluffy. Add the flour and milk mixtures to the butter mixture in 3 batches, alternating between dry and liquid, occasionally scraping down the sides of the mixing bowl, beginning and ending with the flour mixture. Fill the prepared pan with batter (it should be no more than 2/3 full).

4. Bake for 15 minutes. Increase the oven temperature to 325°F (160°C) and bake an additional 45 minutes, or until the cake is golden brown and pulls away from the sides of the pan. Place on a rack to cool for 10 minutes. Invert the cake onto the rack to cool completely. This cake will stay moist in an airtight container for up to 1 week.
Gluten-Free Variation
Follow the recipe above, substituting gluten-free all-purpose flour for the all-purpose flour. (The pound cake may only rise about 3/4 of the way up the sides of the pan, and may be slightly moister and denser than traditional pound cake. This is common with gluten-free flours. And don't be surprised if the cake turns a slightly darker shade of golden than you expect yet it may take just a few minutes longer to bake completely through. This, too, is common with gluten-free flours. Always test doneness with a wooden skewer inserted into cake; it's done when the skewer comes out with nary a glob of batter but perhaps just a stray crumb.)
Recipe Testers Reviews

This pound cake has the perfect texture and flavor. The small flecks of vanilla bean were great. The crunchy bits on the top are as good as the author says, and I agree it's hard to not pick them off. This pound cake stays moist if kept covered and is the ideal base for any flavor of sauce or fruit topping. It would make excellent strawberry shortcake. Next time I'll try making the mini Bundt cakes and have individual servings.

Although this is much sweeter than most pound cakes I've made, my family adored it. I really liked the combined use of butter and shortening—the shortening provides a delightful exterior crunch while the butter keeps the cake dense and creamy. I am going to take Kim's suggestion and use it to make strawberry shortcake. And in the future, will gift this sugary goodness to any friends with a formidable sweet tooth! My only change to the recipe is that it took my cake about 58 minutes, not 45 minutes.
Meme's Pound Cake Recipe © 2008 Virginia Willis. Photo © 2008 Ellen Silverman. All rights reserved. All recipes and photos used with permission of the publisher.
If you make this recipe, snap a photo and hashtag it #LeitesCulinaria. We'd love to see your creations on Instagram, Facebook, and Twitter.